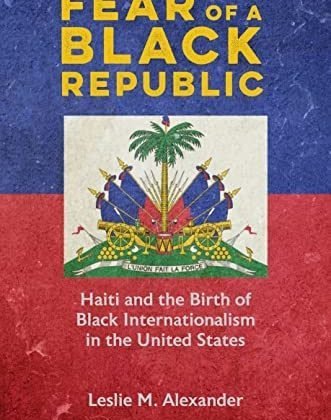 Leslie M. Alexander is Dr. Martin Luther King, Jr. Professor of History at Rutgers University. This interview is based on her new book, Fear of a Black Republic: Haiti and the Birth of Black Internationalism in the United States (University of Illinois Press, 2022).
JF: What led you to write Fear of a Black Republic?
LA: I was inspired to write Fear of a Black Republic because I wanted to contribute to an important scholarly conversation. In the past decade, Black internationalism has become a growing sub-field in African American history, chronicling the role of Black activists in shaping U.S. foreign policy. But until recently, this scholarship focused exclusively on the era after the Civil War. Fear of a Black Republic dramatically expands the timeline of Black internationalism, arguing that Black internationalist consciousness was born at the dawn of the nineteenth century, following the birth of Haiti as the first sovereign Black nation in the western hemisphere.
JF: In 2 sentences, what is the argument of Fear of a Black Republic?
LA: Fear of a Black Republic chronicles how Haiti—as the first sovereign Black nation in the western hemisphere—created a beacon of hope for free and enslaved Black people in the United States during the nineteenth century. Cognizant of Haiti's centrality to the global Black freedom struggle, Black people waged an unyielding battle to defend Haiti and its sovereignty and, in so doing, they gave birth to a new Black internationalist consciousness—one that not only demanded an end to slavery, but also insisted on full freedom, equality, and sovereignty for Black people throughout the African diaspora.
JF: Why do we need to read Fear of a Black Republic?
LA: Fear of a Black Republic is essential reading for anyone who wants to understand Haiti's current economic and political challenges. Following the devastating earthquake that struck Haiti in 2010, news outlets around the country reported, incessantly, that Haiti is "the poorest country in the western hemisphere" until it began to sound more like a chant of accusation rather than a statement of fact. What none of the pundits and commentators seemed willing to explore was the deeper question of WHY Haiti became a poverty-stricken nation in the first place. Instead, scholars and media talking heads alike argued that a range of ills specific to the Black nation—from the prevalence of "voodoo" to a fundamental "pathology" among the Haitian people—explained Haiti's current plight.
In fairness to Haiti's detractors, it is nearly impossible to escape or ignore the crushing poverty and political instability that plagues the country. Even at this moment, Haiti's political destiny hangs in the balance as protestors seek to overthrow yet another corrupt president, placing their hope in another dubious presidential election cycle. Yet, while Haiti has been mocked and demonized for its internal problems, few are willing to ask the hard questions about HOW and WHY Haiti perpetually appears to teeter on the brink of economic and political disaster.
How did Haiti go from the being of "Pearl of the Antilles" in the 18th century to being the most impoverished nation in the Americas in the 20th century? The truth is that it was not an accident of history; it was by design. From the birth of Haitian independence in 1804 until the present day, the United States and other western European nations have used their economic and diplomatic strength to isolate and impoverish the island nation often referred to as "The Black Republic." This is the story that the mainstream media sought to ignore; it's also the story that Fear of a Black Republic seeks to tell.
In order to understand the enduring fear and hatred that shapes the U.S. government's historical and contemporary conduct towards Haiti, one must grapple with a much older story—a tale that stretches back to a time when nothing seemed more terrifying to white people around the world than the rise of a sovereign Black nation. Fear of a Black Republic illuminates that story, and examines the devastating backlash that Haiti endured for centuries, as frightened, angry whites across the globe lashed out against the courageous Black people who eradicated slavery and established a free, autonomous Black nation. Determined to maintain colonial rule, and to fortify slavery and white supremacy, white people throughout the Americas conspired to destroy Haiti, crush its independence, and ensure that a sovereign Black nation could never thrive.
JF: Why and when did you become an Am​erican historian?
LA: In truth, I think of myself not just as an American historian, but as a historian of the Black experience in the United States and across the Atlantic World. I first became inspired to study history when I took my African American Studies class as a sophomore in college. That class really opened my eyes to so much history that I had never been told, and I became obsessed with learning everything I could.
JF: What is your next project?
LA: My next project is currently titled, "How We Got Here: Slavery and the Making of the Modern Police State." Intended for a general audience, this project argues that modern-day systems of policing, surveillance, and punitive control of Black communities are traceable to the seventeenth, eighteenth, and nineteenth centuries—a time when white people desperately sought to control a large unfree population who refused to submit to their enslavement. Black people's desire for liberation haunted white people as early as the seventeenth century, driving them to extreme measures. From the founding of the original thirteen colonies, white colonists lived in a constant state of terror, nervously worrying when and where the next uprising would occur. To curb their fears, authorities enacted laws to monitor and control Black people's movements, interactions, and even their cultural activities. This pattern did not end after the "Age of Revolution" and U.S. independence. Instead, gripped with anxiety, officials throughout the eighteenth and nineteenth centuries passed a network of laws, policies, and social practices that remain endemic in how this nation still fears Black people as violent, criminal, and untrustworthy. Creating a precedent for state policing and social control that tormented future generations of Black people in America, colonial, state, and federal authorities implemented a complex web of legal codes, slave patrols, and militias that monitored and governed Black people's lives in sickening detail, regulating their movement, and ensuring that whites felt empowered to use all means—legal and extralegal—to control Black lives. Ultimately, this project argues that if we ever hope to defeat and destroy the systems of social control that plague Black people's lives, we must have an honest reckoning with the omnipresent white fear that has created, sustained, and fortified them.
JF: Thanks, Leslie!