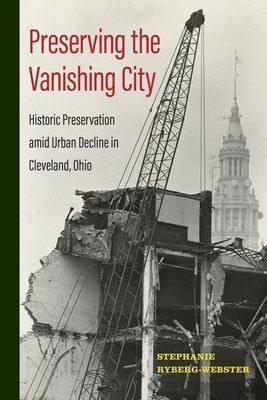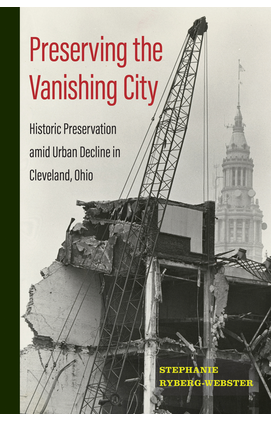 Stephanie Ryberg-Webster is Associate Professor of Urban Affairs in the Levin College of Public Affairs & Education at Cleveland State University. This interview is based on her new book, Preserving the Vanishing City: Historic Preservation amid Urban Decline in Cleveland, Ohio (Temple University Press, 2023).
JF: What led you to ​write Preserving the Vanishing City?
SR: Sometime around 2015 I came across an anecdote about Cleveland having the first local preservation commission (known as the Cleveland Landmarks Commission) in the State of Ohio. As a scholar of historic preservation, an urban historian, and resident in Northeast Ohio, this was really intriguing. I grew up in Cincinnati, left Ohio for a long time, and moved to Cleveland in 2010 for a faculty position in what was then the Levin College of Urban Affairs at Cleveland State University. Although I'd studied urban preservation for years, I didn't know this about Cleveland and was instantly curious to learn more. A few years later I had the privilege of taking a one-year sabbatical from Cleveland State where I was able to really dive into local archives and collections to uncover this history of historic preservation in Cleveland.
My previous work had focused on a mix of historical and contemporary studies about urban preservation with an emphasis on the legacy cities (or shrinking cities) context. I think that prior work positioned me very well for taking this deep dive into the history of historic preservation during the 1970s, when Cleveland's urban decline was really escalating. My goal for the project was to focus on the 1970s – the Cleveland Landmarks Commission was established in 1971. In the end, the book traces the lead-up to that, which really began in the 1950s, while also carrying the story forward into the 1980s and beyond in some cases.
As I dove into the research, the stories of historic preservation from this era were incredibly captivating. The book talks about the city's industrial heritage, adaptive reuse in our downtown Warehouse District, and a variety of neighborhoods and residential rehabilitation efforts. Even though I have studied preservation for a long time, the challenges that preservationists confronted and their strategies for trying to overcome them were fascinating. Many of the stories included in the book aren't actually over – even today, in 2023. That's how incremental, long-term, and slow (or what I call "patient") preservation can be in this context.
JF: In 2 sentences, what is the argument of Preserving the Vanishing City?
SR: The core argument of the book is that historic preservationists worked against seemingly insurmountable odds to save Cleveland's built environment, and only sometimes succeeded when the right mix of partnerships, financing, and timing coalesced. The combination of entrenched and escalating decline, a built environment centered on a history of heavy industry, neighborhoods undergoing population loss and racial change, and a development ethos that sought to quickly change the city's fortunes created a uniquely difficult context for historic preservation.
JF: Why do we need to read Preserving the Vanishing City?
SR: The book provides a useful addition to the literature on urban preservation history, which tends to focus on east coast cities such as New York or Boston, or iconic cases such as Charleston, Santa Fe, or New Orleans. While the book centers the issues and complexities related to preservation within the context of severe urban decline, the stories in the book are also a deep dive into the everyday work and dilemmas of historic preservation. In this way, the book helps shed light on how and why preservation works (or doesn't) for a range of places including industrial landscapes, downtown districts, and neighborhoods of many varieties.​
JF: Why and when did you become an Am​erican historian?
SR: My interest in American history started as a child. My dad taught junior high social studies, geography, and Ohio history. We always took a summer vacation to some historic site (looking back, I'm sure I complained about this way too much!). I ended up majoring in urban planning at the University of Cincinnati, where I became deeply interested in the issues and opportunities of older cities. I thrived on courses in urban and planning history, ended up pursuing a graduate degree in historic preservation and then a PhD in city and regional planning. I feel really fortunate that my career allows me to build a deeper understanding about the diverse and endlessly fascinating history of American cities.
JF: What is your next project?
SR: I have a few projects in the works. I am still working on historic preservation in the legacy city context with a focus on more contemporary activities such as if and how these cities are (or are not) addressing historic preservation in current planning, the tensions around excess buildings, such as schools, and the cultivation of a new generation of preservationists interested in the rust belt. I am also working on a collaborative project called the Place, Arts, and Cultural Systems (PACS) Lab, funded by the National Endowment for the Arts. For that project, we are looking at arts and cultural districts across the United States, with an emphasis on diversity, equity, and inclusion. Finally, I am continuing to look at the history of urban preservation in the other corner of Ohio with a project on Cincinnati's Dayton Street historic district – the first local historic district in Ohio.
JF: Thanks, Stephanie!