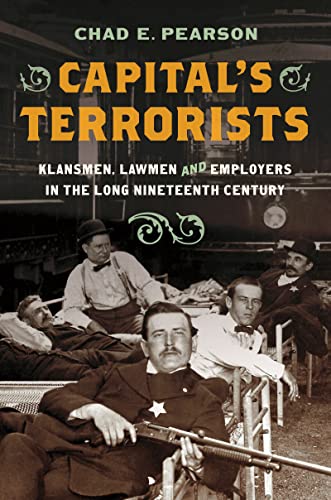 Chad Pearson is Principal Lecturer of History at the University of North Texas. This interview is based on his new book, Capital's Terrorists: Klansmen, Lawmen, and Employers in the Long Nineteenth Century (University of North Carolina Press, 2022).
JF: What led you to write Capital's Terrorists?
CP: I wanted to obtain a better understanding of the individuals responsible for undermining the interests of ordinary people in the late nineteenth and early twentieth centuries. This period, of course, was shaped partially by class conflicts and employer-generated repression. Historians have repeatedly told us that the era's labor relations were exceptionally violent. But they have said little about the elite-activists behind these numerous acts of repression. Capital's Terrorists names and shames many of these people!
JF: In 2 sentences, what is the argument of Capital's Terrorists?
CP: Many employers and other elites from the late nineteenth and early twentieth centuries responded to a series of labor problems not by adopting modern managerial methods, but by practicing various thuggish activities, which included hard (kidnappings, whippings, shootings, and hangings), soft (blacklisting and book-burning), and hybrid (drive-out campaigns) techniques. My book, an exploration of elites in various organizations, including the original Ku Klux Klan, Law-and-Order Leagues, Stock Growers Associations, and Citizens' Alliances, insists that we take seriously the relationship between management and vigilantism.
JF: Why do we need to read Capital's Terrorists?
CP: Folks will want to read the book because it is action packed! More seriously, I think it will appeal to readers who want to learn more about the ruthlessness of large sections of the US ruling class during the Reconstruction, Gilded Age, and misnamed "Progressive" era.
JF: Why and when did you become an American historian?
CP: First, I had excellent history teachers in high school, college, and graduate school. Additionally, as a young person, I was a fan of punk music, and many of the bands in this genre were highly political. I studied the lyrical content of the songs put out by leftist punk bands, which helped spark my interest in politics and history. Decades later, I remain interested in both punk music and history.
JF: What is your next project?
CP: I am very interested in historiography. In particular, I would like to write more about the decline of new left interpretations of the past and the rise and dominance of liberal and centrist scholarship. I have questions: Why do so few colleges and universities teach labor history? Why are so many historians reluctant to call the folks at the top of our society "the ruling class?" Why are there so many studies about postwar conservatism and so few books about the limits of establishment liberalism?
JF: Thanks, Chad!