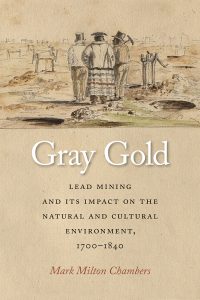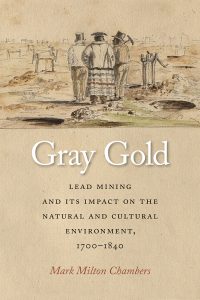 Mark Chambers is Professor of Africana Studies at Stony Brook University. This interview is based on his new book, Gray Gold: Lead Mining and Its Impact on the Natural and Cultural Environment, 1700–1840 (University of Tennessee Press, 2021).
JF: What led you to write Gray Gold?
MC: I started working on this project as a senior completing my undergraduate degree at Washington University in St. Louis, Missouri. In need of one additional history course to complete my application to a master's program in education, I enrolled in an early colonial history class about Ste. Geneviève, Missouri taught by Dr. Carl Ekberg, a professor at Illinois State University. Throughout the semester, Dr. Ekberg continually mentioned the need for more scholarly attention to colonial lead mining in the region, an idea that remained with me in my first environmental history course and eventually became the topic of my dissertation.
JF: In 2 sentences, what is the argument of Gray Gold?
MC: This book is about lead ore, which is not only important for its value to societies, but the story of lead is also significant because it reveals how Native Americans mined lead to produce a metallic blue-gray pigment by crushing galena and grinding it with plants, like beeweed or tansy mustard, and with hematite and manganese to make glaze paints using handheld stones long before French explorers and settlers colonized the lead mines near Kaskaskia, Illinois. While the general body of literature on mining in the United States, iron production, copper mining, and anthracite coal mining or the Georgia gold rush and Michigan copper rushes of the 1830s and 40s, Gray Gold adds to the understanding of mining from early Native Americans through the arrival of French settlers, African slaves, American settlers, and English immigrants to the lead ore terrain in what became the state of Missouri.
JF: Why do we need to read Gray Gold?
MC: Early eighteenth-century lead mining in North America has been largely overlooked, as much of the early mining history is dominated by western developments. Historians have pointed to the expansion of mining in the United States by noting the significance of the California gold rush, and then examining late nineteenth-century mining expeditions, camps, and industrialization. However, examining the emergence and evolution of early eighteenth-century mining highlights the importance of one nonprecious metal, lead. Therefore, understanding how Native American mining practices and knowledge encouraged French miners to reimagine how to conduct mining in a colonial outpost without financial support from Paris opens a window on how colonial–Native American history and mining created an alternative "middle ground."
JF: Why and when did you become an American historian?
MC: The life work of an American historian goes beyond research and the production of white papers, articles, and books – a significant amount of time is spent organizing collaborative lectures and viewing student presentations. The excitement I experience in the archives is just one of the reasons I decided to become an historian in 2003 after enrolling in graduate school. Another reason I became an historian was to stimulate student participation and involvement in the learning process, in a way that makes the information learned pertinent to current events, the everyday life of students, and the shaping of their world view. I convey the most current scholarly interpretations of history to my students, and also assist students in reflecting upon the ways that they interpret the historical material. I am able to observe how their views shape who they are and what they value as human beings, as they increasingly benefit from a solid education in the Humanities that will enable them to make valuable contributions to society.
JF: What is your next project?
MC: As we continue to witness the acceleration of transforming environments, and with recent changes in federal policy that threaten to deny scientists the facts they need to understand the challenges to investigate solutions, since the summer of 2020, I began working to protect data that could impact our shared global future. Currently, as a 2021 – 2023 Rita Allen Civic Science Fellow, I am collaborating with a fellows, volunteers from around the country, and academics with a goal to research methods that will improve environmental data stewardship and promote environmental health and environmental justice that will lead to the production of an article and possible second book.
JF: Thanks, Mark!