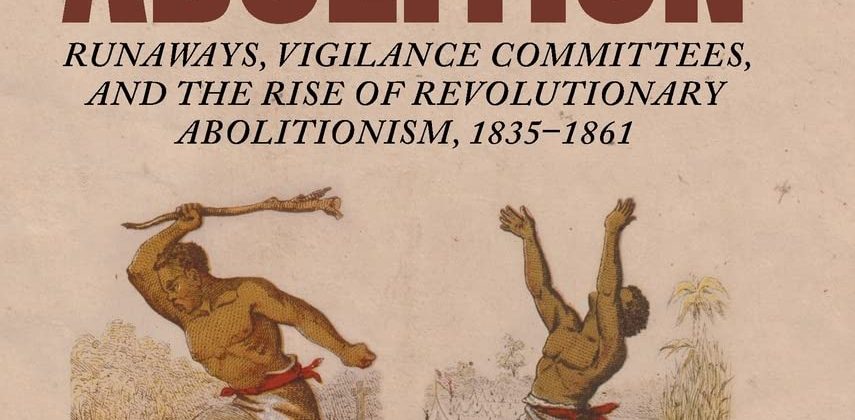 Jesse Olsavsky is Assistant Professor of History at Duke Kunshan University. This interview is based on his new book, The Most Absolute Abolition: Runaways, Vigilance Committees, and the Rise of Revolutionary Abolitionism, 1835–1861 (LSU Press, 2022).
JF: What led you to ​write The Most Absolute Abolition?
JO: Firstly, as a brief introduction, my book explores one part of the history to abolish African slavery in the Americas, by focusing on abolitionist organizations called vigilance committees. From the 1830s to the outbreak of the American Civil War (1861-65), US abolitionists formed vigilance committees to assist runaway slaves in their struggles to free themselves from an ever-growing slave empire. The committees defended Black neighborhoods from police and slave catchers. They forcefully freed fugitives from prisons and courthouses. They also served as the urban wing of the Underground Railroad, assisting as many as 10,000 enslaved people to escape the "prison house" of American slavery, while building an elaborate network of underground allies from the South to the North, from the Caribbean to Canada to the British Isles. In so doing, the committees attracted a diverse array of radicals from all genders, races, and classes, while recruiting underground fugitives into the aboveground movement to overthrow slavery.
In an answer to your specific question, I began researching The Most Absolute Abolition in 2012, the year that I entered graduate school. A combination of political, intellectual, and personal factors led me to study the history of abolition and the vigilance committees in particular. I had long been involved in political activism—such as capital punishment/prison abolition, anti-war activism, and the Occupy Movement. Such activities and experiences shaped my desire to understand the most radical social movement to happen in the US—abolitionism. Moreover, the nationwide protests against racist policing and mass-incarceration, rekindled in 2014, often known under the slogan "Black Lives Matter" further reinforced my devotion to studying that movement's abolitionist precursors. Intellectually speaking, I had been deeply schooled in the methods often known as "history from below" pioneered by such revolutionary scholars as W.E.B. Du Bois, C.L.R. James, E.P. Thompson, and Christopher Hill. I wanted to write a history of how working people tried to make their own history. Finally I have been always personally attracted to the abolitionists' political style—their prophetic imagination, their resistance to power, privilege, and dogmatism, their ability to get straight to the roots of some of the major contradictions of American society, from patriarchy to empire to white supremacy.
JF: In 2 sentences, what is the argument of The Most Absolute Abolition?
JO: The book argues that vigilance committees provided the space in which abolitionists of all genders, races, and classes came into dialogue with thousands of freedom seekers from the "prison house" of American bondage. The rich fugitive-abolitionist dialogues made possible by the vigilance committees radicalized abolitionist tactics and ideals, and helped make abolition a revolutionary movement, both theoretically and practically, in which the enslaved were the main leaders and teachers.
JF: Why do we need to read The Most Absolute Abolition?
JO: The book meticulously documents the lives, ideas, and stories of nearly 2,000 freedom seekers who escaped to the committees, as well as the extensive networks that assisted these self-liberated people and brought them into the movement. But more importantly, The Most Absolute Abolition for the first time offers an intellectual history of the Underground Railroad. All too often, academic histories of the Underground Railroad merely narrate daring stories of how fugitives were moved from one "station" to another. The fugitives' underground is rarely treated as a radical space of learning, imagination, and revolutionary speculation, a movement of ideas as much as of people. The Most Absolute Abolition tells a different story, of a militant, egalitarian movement in which tens of thousands of fugitives taught northern vigilance committee activists, most of whom were black, female, or working class. Together, runaways and vigilance activists exchanged ideas about the political economy of slavery and about antislavery tactics; about religion and culture; about patriarchy, prisons, and empire. In addition to organizing substantial parts of the maritime and landed networks of the Underground Railroad, they also published three dozen slave narratives, wrote novels, histories, and poems, sang songs, and plotted (unsuccessful) slave insurrections.
JF: Why and when did you become an Am​erican historian?
JO: As an undergraduate, at the University of Toledo, I majored in history, focusing on Atlantic/US history, but I also minored in German Literature, with interests in German Idealism (Kant to Hegel) as well as the Romantic Movement. I would have pursued the latter route had it not been for the inspiration of truly great teachers. Prof. Cynthia Ingham taught early American history very thoroughly and helped me a great deal in building my research and writing ability. I learned Atlantic and British history from Peter Linebaugh, who introduced me to the great historians "from below" (mentioned above), and wrote history in a unique and powerful style, filled with poetic eloquence, deep attention to sources, and political conscientiousness.
JF: What is your next project?
JO: In my current and future work, I am moving out of the nineteenth century to explore the little-known revolutionary trajectories of abolitionist thought in the twentieth century. I have started to work on a second book, tentatively titled '"In the Tradition': The Abolitionist Tradition and Human Emancipation." Throughout the twentieth century, numerous emancipatory movements in numerous parts of the world—from Pan-Africanism to Black Power, from Anarchism to Communism to various anti-colonial movements—studied, wrote about, and re-invoked the nineteenth-century abolitionist movement during their own struggles for self-determination. There was, in short, a long history of activists consciously seeing themselves as heirs to radical abolitionism, or as part of what anti-colonial activist Paul Robeson called "the abolitionist tradition." The project will outline the contours of that tradition.
JF: Thanks, Jesse!