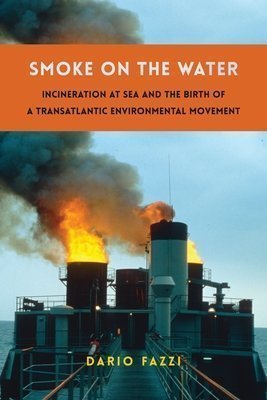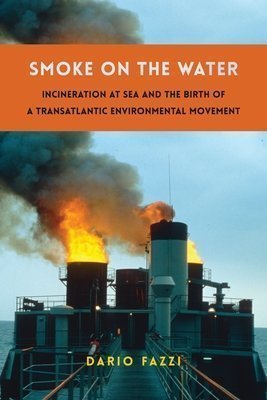 Dario Fazzi is Professor of Transatlantic Environmental History at Leiden University. This interview is based on his new book, Smoke on the Water: Incineration at Sea and the Birth of a Transatlantic Environmental Movement (Columbia University Press, 2023).
JF: What led you to write Smoke on the Water?
DF: As it is often the case for the stuff I write, this book is the result of a curiosity-driven process. A few years ago, while I was trying to figure out how to historically gauge the socio-ecological impact of the US military-industrial complex by focusing on American overseas bases, I stumbled across a document that detailed the early stages of ocean (or at-sea) incineration. It described how the US Air Force was planning to make use of such a method for the disposal of hazardous waste in order to get rid of all the leftovers of Agent Orange from the Vietnam War. I started digging deeper and found out that there was a much more complex story behind that single operation that other historians had already tackled. Throughout the 1970s and the 1980s, indeed, this exploitative practice that consisted in the offshore destruction of toxic chemicals had been a matter of great concern for industries, governments, and a series of social movements across the Atlantic. The reconstruction of its trajectory allowed me to combine my scholarly interests in diplomatic, social, transnational, and environmental history, which are the main academic pillars upon which Smoke on the Water is built. The book stems from years of multi-archival research and it is primarily meant to instruct its readers about the evolution of contemporary environmentalism.
JF: In two sentences, what is the argument of Smoke on the Water?
DF: As I told my little son while I was writing it, Smoke on the Water is largely about "weird ships doing bad stuff in the oceans" and how common people managed to stop them. A series of grassroots initiatives and multichannel advocacy, which the book defines as "trans-localism," successfully challenged those industries and governments that tried to dispose of hazardous waste in the high seas, proving that ought-of-sight does not always mean out-of-mind.
JF: Why do we need to read Smoke on the Water?
DF: I think the book offers, in the end, a message of hope. It stresses how important it is to strengthen the tools of environmental democracy, which means full acknowledgement and protection of citizens' environmental rights, access to correct and unbiased information, and participation in environmental governance and policymaking. Smoke on the Water also serves as a reminder of the fact that ecological risks are usually distributed unevenly. Environmental injustice in fact keeps affecting marginalized communities that need to be fully empowered.
JF: Why and when did you become an American historian?
DF: That's a story I usually tell my students too. In a way I was born to be an American historian. My parents, indeed, met at an anti-nuclear rally in front of an American military base in Sicily in the early 1980s. I grew up with this idea that America represented all the bad and the good in the world. Anti-imperialism and anti-militarism were sided with a fascination with American music, cinema, popular culture, and history. I wanted to understand this country, I was amazed by its complexity, it simultaneously appealed to and appalled me. That's how I ended up studying it, and writing about the similar contradictory feelings it has been able to generate throughout its history.
JF: What is your next project?
DF: I am currently working on two parallel projects. On the one hand, I am co-authoring a book about US military bases in Europe. On the other, I am trying to further explore the history of the US throughout the lenses of water. This latter idea is what is currently taking most of my time and energy. I want to try to understand how the rise of the US into a global power has transformed our global watery environments. In a way, I am trying to explore (part of) America's planetary impact, focusing on how its economic and political systems have brought about many of those anthropogenic changes at the basis of our current climate crises.
JF: Thanks, Dario!