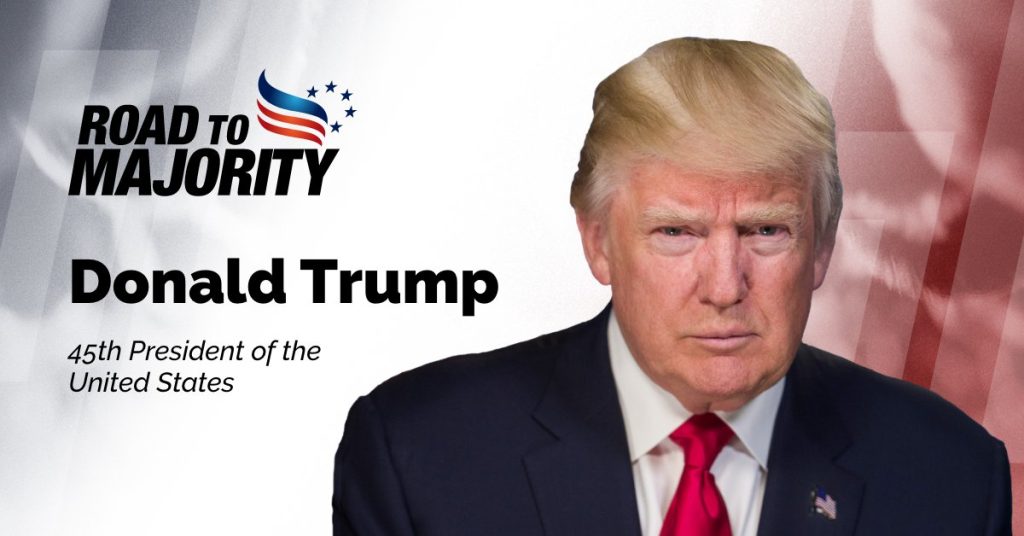 Nearly all the candidates running for the GOP nomination in 2024 got a chance to speak at Ralph Reed's "Road to Majority" conference. Some seemed to get more time than others. But if you want to get a glimpse of the heart and soul of the Christian Right, watch the way those in attendance at last night's banquet responded to Donald Trump.
Here you go:
Trump spoke for nearly 90 minutes.
Ralph Reed started the Road to Majority 2023 conference on Friday morning pushing back against opponents who say that the Christian Right is part of a "cult of personality of the former president of the United States." After watching the entire conference, it is clear to me that Reed was spewing empty rhetoric. This conference was a religious festival devoted to the worship of Trump. Throughout the weekend the crowds cheered whenever a speaker mentioned Trump's name. Their responses to the other presidential candidates was tepid at best. One speaker, North Carolina gubernatorial candidate Mark Robinson, used his speech to endorse Trump for president. Kari Lake, the failed Arizona gubernatorial candidate, unofficially endorsed Trump. With the exception of Chris Christie, not one GOP candidate said anything negative about Trump and when Christie criticized the former president he got booed. The Trump introduction video included Biden's recent fall at the Air Force Academy graduation followed by the words "Miss Him Yet?"
Reed gave Trump a prime-time speaking slot as the banquet keynote. He came out, of course, to thunderous applause from the crowd and the people on the platform treated him like he was some kind of messiah gloriously appearing from the back of the Washington Hilton. Kari Lake, Richard Viguerie, Reed, Mike Huckabee, Alveda King, Frank Pavone, Lindsey Graham applauded as if their savior had just entered the room. Trump stood among the faithful as Lee Greenwood's song "God Bless the USA" filled the room. The applause continued. Trump stood there, with his hands at his sides, for the entire song, basking in the adulation. And when "God Bless the USA" finished playing the conservative evangelical crowd starting changing "USA, USA, USA."
A cult? You can watch and decide for yourself, but it sure looks like a cult to me. Today many born-again Christians who claim to follow the teachings of the Bible support an unrepentant sinner who has been accused of rape and sexual assault, who cannot tell the truth, who will not condemn white supremacists ("very fine people on both sides"), who tried to steal an election, who triggered a riot on the U.S. Capitol and was impeached because of it, who demonizes his enemies, who was indicted on federal charges in the Mar-a-Lago documents case, who lives a life of greed, hedonism, and narcissism, and who was impeached twice.
I am not going to say anything here about the content of his speech. He said nothing he hasn't said before. If he made any news it was when he offered a vague statement about the role the federal government must play in regulating late term abortions. Again, nothing specific. There was no endorsement of Lindsey Graham's 15-week bill.
In a few of my posts on the Road to Majority conference I included commentary from Trumpers who watched the conference on the pro-Trump Right Side Broadcasting Network's live stream. These viewers spewed plenty of venom at Chris Christie, Ron DeSantis, and Mike Pence. Here is what some of them had to say as they watched Trump:
​OUR REAL PRESIDENT! DONALD JOHN TRUMP!
​We appreciate your steel spine, Trump
Trump is the annointed [sic] one for this time. Not a God or Emperor, but the right man at the right time. I trust GOD's plan.
this country was founded on judeo-Christian principals. take God out of life and you get the state of crazy we're in now
we are going g to have to all get involved a d make sure the Democrats don't cheat Trump out of 2024
God help our country!!! We need Trump back ASAP!!!!
LORD Almighty please protect Pres. Trump
TRUMP IS THE REAL PRESIDENT OF THE UNITED STATE OF AMERICA 
THE MOST FEARED AMERICAN PRESIDENT.
President Trump is the one , and only one , I feel safe with him , he defended us , protect us , he is our unique president !!!!
Angels, go minister to Trump, in Jesus' name
This is the Final Battle! Trump 2024!
Saint Donald of Mar-a-Lago
Trump is GOD's DAVID
We are LEGION
MAGA KING
TRUMP!! TRUMP!! TRUMP!! PRAISE GOD!! PRAISE GOD!!!
47 47 47 !!! THANK YOU GOD YOUR WILL BE DONE
All hail king Trump
President Trump we love you! Bring GOD back to our Country. Bring it on your the best!!!!!
The eagles are on his shoulders
GOD PROMISES R YES & AMEN ! TRUMP MADE PROMISES & KEPT THEM ALL & MORE !
ULTRA MAGA KING ETERNAL!! PRAISE GOD!!
God Bless everyone! Jesus just Jesus. Our true President Trump!!!
This is so amazing
Please God We need a MIRACLE for our children and grandchildren. I pray everyday
Lindsey Graham is there…RINO!!!!!
Jesus Is Our Savior – MAGA Is Our Movement – TRUMP Is Our Commander In Chief!!
Hey Chris Christie, THERE IS NO BOOING
SPIRITUAL SHINING LIGHT = OUR PRESIDENT DONALD J TRUMP 
​LORD PLEASE KARI LAKE VICE PRESIDENT
​If Kari isn't going to be his running mate, I'll TAKE HUCKABEE ANY DAY. Huck understands how the world works and what the globalists are doing to us.
UNDER GOD, with no globalists
President Trump is Innocent. It is a witch hunt. Criminals with documented evidence are the clintons, obama, biden, fauci and many others.
TOUCH NOT THE LORD'S ANNOINTED
Trump is great, but he got the vax wrong. if he can learn from mistakes, may be worth a vote
Thank you Father for sending us Trump!
Thanks for all of you have followed our coverage of Road to Majority 2023. Stay tuned to The Way of Improvement Leads Home blog and CurrentPub.com as we move toward the 2024 presidential election.