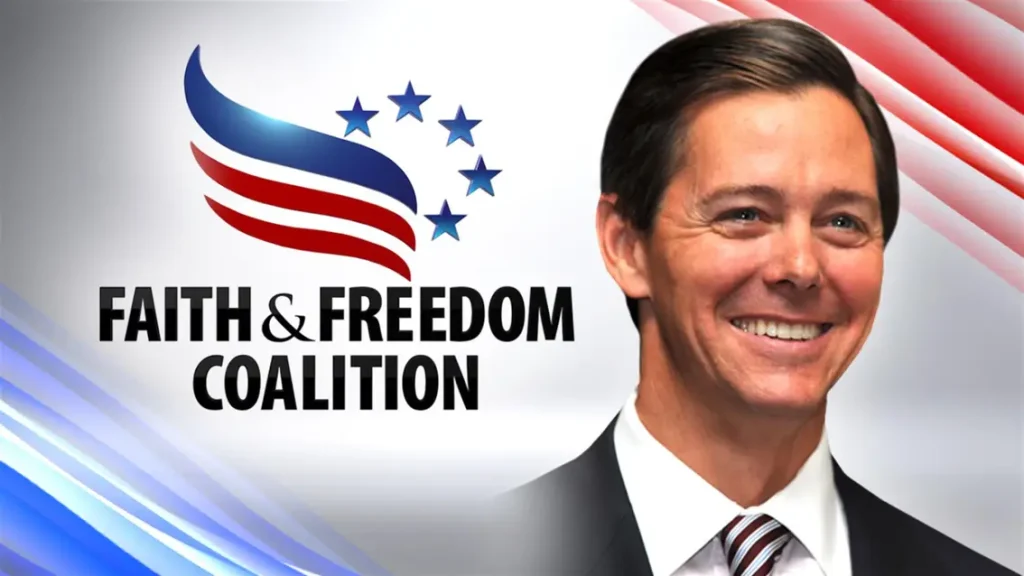 The God and country crowd is gathered at the Washington D.C. Hilton this weekend for the Faith and Freedom Coalition's "Road to Majority Conference." Christian Right political activist Ralph Reed founded the Faith and Freedom Coalition in 2009 to oppose abortion, defend the traditional family, promote limited government, help the needy, champion free markets, and support Israel.
Watch Reed's opening remarks:
In case you don't want to watch the entire thing, here are some highlights (with some commentary along the way).
Reed: "When the Lord gave me the direction to found Faith and Freedom in 2009 it was the vision that he gave me that Christians who love this country and love God and whose only crime is to love their country and to love God should be the head and not the tail, at the top and not the bottom, of our political system." Two observations here. First, notice how Reed uses the "crime" metaphor to frame the conference in terms of victimhood. People are out to get us and we are fighting back. (And please help us fight back by sending us your donations). This approach is what keeps the Christian Right alive. Second, Reed's comment about Christians being the "head" and "at the top" reveals his and his movement's quest for power. The Christian Right is not a Christian movement, it is a political movement. Its goal is to advance a political agenda by gaining control of positions of power.
More Reed:
I just want you to remember two basic truths to encourage you as to how much progress we have made. The first is, as you arrived here, Nancy Pelosi is no longer the Speaker of the House of Representatives. And by the way, Adam Schiff is on his way back to California where he belongs. I think Nancy's going to end up in Palm Beach but we'll see what happens. The other thing that I want you to remember, even though it's not the ultimate victory because we've got a lot of work to do, is that after fifty years of prayer, and fasting, and knocking on doors, and electing candidates, and registering voters, and changing the culture of our country, Roe v. Wade has been overturned and it is on the ash heap of history where it belongs.
When you lead a movement committed to changing the world through political power it makes perfect sense that you begin your annual conference by talking about your political enemy–in this case Nancy Pelosi. Also, Reed makes it clear here that the overturning of Roe was only the beginning. Abortion will continue to drive the Christian Right agenda going forward.
More Reed:
They criticize us and they attack us and they call us every name in the book. You remember Hillary Clinton referred to us as a "basket of deplorables." They accuse us of being part of a cult of personality of the former president of the United States. But this is the truth about us and what animates us and why we're here today and whiy we're involved in the civic arena. We're part of a cult of only one personality, there is only one person that we worship, and that is the person of Jesus Christ of Nazareth who is our Lord and Savior. And we're here today to glorify him and to lift him up.
First, one cannot underestimate how much the Christian Right despises Hillary Clinton. Yesterday, as part of my current book project, I interviewed two evangelical Trump supporters. Both of them told me that the primary reason they voted for Trump was because they could not tolerate Clinton as president. Reed knows how much his followers dislike Clinton, so he uses their anger to pump-up the crowd. Again, we see another small glimpse of Christian Right politics here–use anger to garner support, money, and ultimately votes. Is this what Christian politics should look like? When people like Reed and other Christian Right leaders sat by (and sit by) in silence as Trump provoked a riot on the capitol, tried to rig an election in his favor, faced sexual assault charges, demonized his enemies, and relentlessly lied to the American people, etc. they start looking more like followers of a cult leader than people who worship Jesus and want to "glorify him and lift him up."
Finally Reed says:
We will welcome these candidates today and tomorrow with open arms and we will treat them with courtesy and respect. Amen?…So today, I am asking you that if somebody comes out on stage that you disagree with on one or more issues, keep that to yourself. Because when you go out and run for public office and especially president of the United States you expose yourself to enough abuse, vituperation, venom, and attacks and we don't need them to get it in a room filled with believers in Jesus Christ. Let's act in a way that glorifies him. And if they're not where they need to be, let's just love 'em and pray 'em right where they need to go. Right? And even though we welcome them, and even though we desperately want change in our country, we are not looking for a savior because already have one.
I wonder how Reed squares his thoughts here with the fact that he started the conference by taking shots at Nancy Pelosi and Adam Schiff? I guess his call to civility only applies to Republican politicians. Moreover, I don't think the crowd took him seriously. Here is what happened later in the day:
I hope to cover some more of today's festivities in the coming hours. Stay tuned.