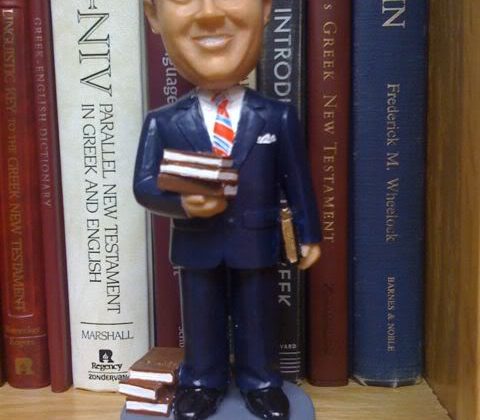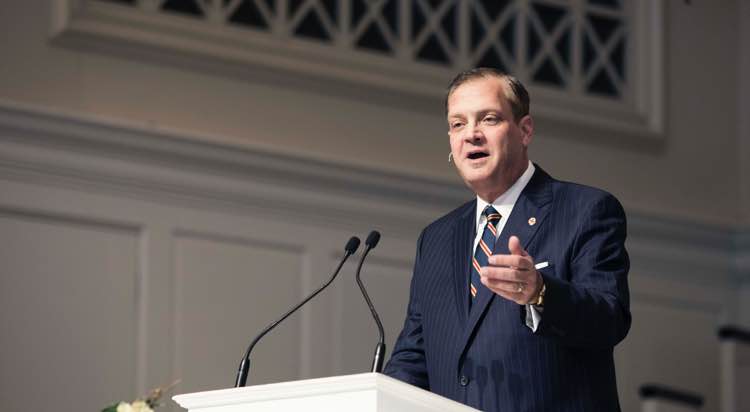 Writing at WORLD magazine, the latest imperial conquest of the fundamentalist fiefdom over which he presides, Southern Baptist Theological Seminary president Albert Mohler has responded to David Brooks's recent New York Times piece on evangelical dissenters. Let's break it down:
Here is Mohler:
Brooks writes of division within evangelicals: "While differing over politics and other secondary matters, they are in theory supposed to be unified by their shared first love—as brothers and sisters in Christ." Indeed, the authentic church of the Lord Jesus Christ is unified in that shared first love, but a visible unity of the church must be founded upon a sufficient consensus in beliefs and convictions, and that consensus is very different than what Brooks has in mind.
Based on what we know from Mohler, his "sufficient consensus in beliefs and convictions" boils down to the inerrancy of the Bible (if you do not believe in inerrancy you are not an evangelical), an affiliation with conservative politics (Democrats are not welcome in the evangelical fold, or at least that's how it appears), a vision of politics focused on winning the Supreme Court and presidency even if that means supporting Donald Trump, a complementarian view of women in the church (egalitarians are heretics), a traditional view of marriage and sexual ethics, a soft belief that the United States must become more Christian, and a staunch belief that Roman Catholics are not Christians.
More Mohler:
Brooks, who has been an unrelenting partisan for President Joe Biden, accuses evangelicals of being overly partisan. According to Brooks, the proof of evangelical nefariousness is the fact that, according to the essay, 80 percent of white evangelicals voted for Trump in 2020. End of story. Evangelicalism hears this prophecy in every generation, usually made by those who crave the approval of influencers like David Brooks and want the cultural cache of being favored by The New York Times.
Three things are interesting here. First, Mohler subtly suggests that one of the reasons we should discredit Brooks's piece is because he supports Biden. I imagine that this reference will draw cheers and huzzahs from WORLD readers. In Mohler's mind, the rejection of Joe Biden is a marker of evangelical identity. Second, Mohler is playing the "Evangelical Elites" card. In other words, he claims that the people mentioned in Brooks's piece are not men and women of intellectual integrity, but mere opportunists and social climbers who want to earn the approval of cultural power-brokers. I've responded to this here. Third, Mohler's piece is obsessed with The New York Times. Again, this is a dog whistle to those in his fiefdom. If he mentions The New York Times enough he will get his WORLD readers to rise-up in righteous anger against the so-called liberal media trying to destroy orthodox Christianity. More on this below.
More Mohler:
Let's be clear—evangelicals are the heirs of the Protestant Reformation, and we must always be working for the reformation of Christ's church by the Word of God. Critics of evangelicalism can serve us, even unintentionally, by pointing to sins among us that point to the undeniable need for such reformation. And there are sins for which repentance is due and challenges to be faced. We also have to recognize that politics does present Christians with hard choices and ethical challenges.
One gets the impression from this paragraph that the "critics of evangelicals" mentioned in Brooks's article are no different from, say, Bertrand Russell, Richard Dawkins, Sam Harris, or the Houston Chronicle. We can learn from the criticism of these outsiders, Mohler claims, and sometimes God can use them to point out our sins, but they are not part of our community.
More Mohler:
But let's understand what we are looking at in this essay. David Brooks is not an evangelical Christian. The New York Times "Review" section is not a forum for determining a faithful future for evangelical Christianity, and that is not the paper's goal. In recent years, Brooks has identified himself as a spiritual seeker attracted to both Christianity and the Judaism into which he was born—but on his own terms. He asked himself in his book The Second Mountain: The Quest for a Moral Life (2019): "Do I believe in the resurrection of Jesus Christ?" and "Do I believe his body was gone from the tomb three days after the crucifixion?" He then tells us, "The simple, brutally honest answer is, It comes and goes."
Here Mohler's fundamentalism comes into full view. He is certain that Brooks is not an evangelical Christian and The New York Times is not the place to discuss the future of evangelical Christianity. This, of course, is coming from a guy who is always ranting about a greater role for evangelical religion in the public sphere. Frankly, I think it is wonderful that The New York Times is tackling evangelical Christianity in America. I am sure that if the editors of the New York Times asked Al Mohler to participate in a conversion on evangelicalism he would jump at the chance. If that happened, I imagine he would stop calling The New York Times an inappropriate "forum for determining a faithful future for evangelical Christianity." It is also worth noting that Mohler seems to have no problem with The Washington Post (and here and here) and CNN (and here and here and here) as sites for conversations about evangelical Christianity.
More Mohler"
Evangelicals must recognize that we are facing a demand to abandon evangelicalism. Every few years, we are told by those working their way out of conservative evangelicalism that if we do not change our convictions and get with the cultural program, we will lose all the young people and find ourselves in the dustbin of history. For any number of reasons, that might actually happen, for we are not promised cultural influence or numerical strength. But evangelicalism hears this prophecy in every generation, usually made by those who crave the approval of influencers like David Brooks and want the cultural cache of being favored by The New York Times.
Michael Gerson, Peter Wehner, and David French (all cited approvingly in Brooks' essay) regularly castigate evangelicals to their right, and they are not alone. There is cultural favor to be found in putting distance between yourself and the unwashed evangelical horde.
Again, Mohler plays the "Evangelical Elites" card. Rather than engaging with the issues raised by the voices in Brooks's piece, or seeking out some kind of unity in Christ that includes them, he responds by drawing boundaries. He suggests that anyone who disagrees with him is bowing a knee to those in cultural power.
The future of evangelicalism can be found in the voices of Russell Moore, Kristin Du Mez, Thabiti Anyabwile, Tim Dalrymple, Peter Wehner, David Bailey, Karen Swallow Prior, David French, Rachael Denhollander, Beth Moore, Lecrae, Justin Giboney, Eugene Rivers, Mark Labberton, Walter Kim, Tim Keller, and Michael Gerson. The future of fundamentalism runs through Albert Mohler and his fundamentalist empire.