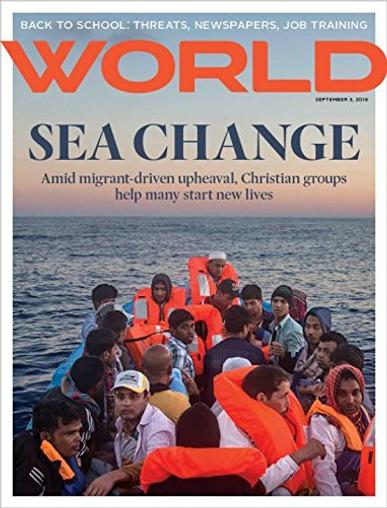 The post-Trump differences in American evangelicalism continue to sharpen.
Marvin Olasky has edited the evangelical magazine World since 1994. Olasky is best known as the architect of George W. Bush's "compassionate conservatism."
On November 1, 2021, Olasky resigned from the magazine after World's board started a newsletter website called "World Opinions" without consulting him. "World Opinions" is edited by Albert Mohler, the Trump-voting president of Southern Baptist Theological Seminary.
Here is a taste of Ben Smith's reporting at The New York Times:
He had, he said, received an effective "vote of no confidence" from World's board, which had recently started a section of the website, World Opinions, without fully consulting him. The new section offers opinion essays on religious issues with the kind of commentary on secular topics like mask mandates, inflation, race and President Biden's spending plans that can be found on any number of other conservative websites.
At one level, Mr. Olasky's departure is just another example of the American news media sinking deeper into polarization, as one more conservative news outlet, which had almost miraculously retained its independence, is conquered by Mr. Trump.
It also marks the end of a remarkable era at a publication that has shaken evangelical churches and related institutions with its deeply reported articles. The far-right writer Dinesh D'Souza resigned in 2012 as president of the King's College after World reported that he had attended a Christian conference with "a woman not his wife." In 2020, World reported that several young women had complained that a North Carolina Republican running for Congress, Madison Cawthorn, had exhibited "sexually or verbally aggressive behavior toward them when they were teenagers." At a time when hot takes get the clicks, these articles offered something old-fashioned and hard for any community to take: accountability reporting.
"I am not interested in the project of a conservative opinion magazine — there are lots out there already and that's not my vision of World," Mr. Olasky, 71, told me Thursday in a telephone interview from his home in Austin, Texas.
The chief executive of God's World Publications, World's nonprofit parent, Kevin Martin, played down Mr. Olasky's resignation, noting that the editor had previously said he'd be departing next summer anyway. He said he admired Mr. Olasky and his definition of biblical objectivity, and "we are not going to diverge from that, by God's grace."
"I don't see in any way that we are becoming more partisan or more Trumpy," Mr. Martin said.
And its founder, Joel Belz, told me he believed Mr. Olasky's departure was simply an episode of "painful growing pains."
But many of World's longtime journalists have sided with Mr. Olasky. A few longtime staff members have left over the last year, and a prominent board member, David Skeel, resigned.
One journalist whose departure particularly rattled the newsroom is Mindy Belz, a writer for four decades and Mr. Belz's sister-in-law. She resigned in October, saying in an internal memo shared with me that World was "heading in new directions, some I don't embrace and fear may compromise the hard reporting many of us have spent years cultivating."
In her final column, Ms. Belz, who was also an editor, wrote of her discomfort "with the strife and stridency that's befallen American evangelicalism, and with some directions World News Group is charting."
Read the rest here.
When a Christian intellectual like David Skeel leaves a magazine board and a journalist like Mindy Belz resigns it is clear that this is more than mere "growing pains." To what extent has World now become just an extension of Al Mohler's "The Briefing," a neo-fundamentalist, anti-vaccine mandate, Trump-voting, complementarian, anti-Catholic outlet?
It looks like the age of compassionate conservatism in American evangelicalism is over.