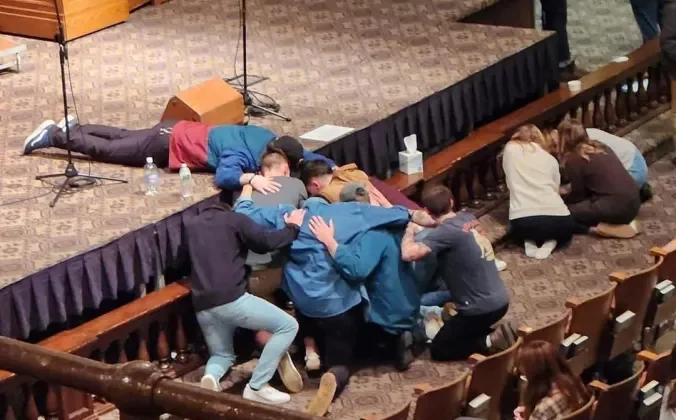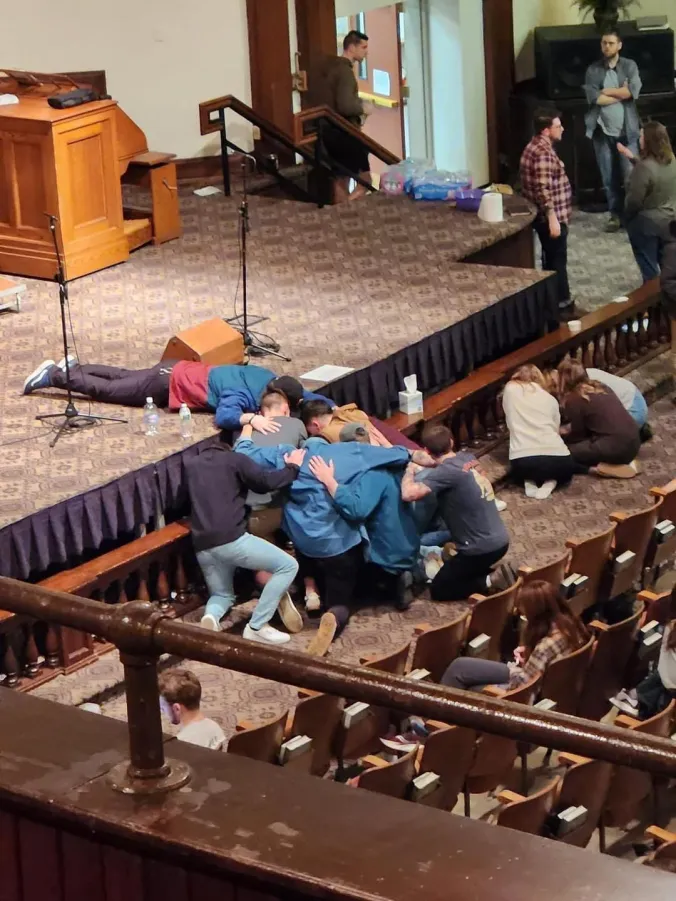 Read all of these posts , including the original post (covering Day 1 to Day 3 of the revival), here.
Some students are concerned about their safety. Today an alum with strong connections to Asbury wrote to me: "Our students are not coming to Hughes [Chapel] to help influencers, news stations, and ordinary people with social media increase their subscriptions, likes and follows. Our dorms are not meant to be wandered. Our classrooms are not museum."
Classes canceled?
I am not sure what this means, but it comes from a Facebook observer. The post is attached to a post from New Apostolic Reformation preacher Todd Bentley:
I have been seeing this from yesterday And this is really sad Asbury is no more Asbury Asbury is no more Asbury because it has been giving its degrees to the people who do not even know English well and the people who are not even qualified to be admitted in Master and Americans are doing the exams for them. It is fake. They are there just to make money not for truth and Jesus. May the Lord bring out His gullible people from the mess and save them! Nepalese speaking youths must run away from them and the leaders who are are involved in such mess.
People have asked this about every revival since the Second Great Awakening:
Things continue to happen at Lee University in Chattanooga. Here is a report via FB:
Revival is breaking out all over this land! My granddaughter goes to Lee University. Revival started there yesterday morning around 11 AM when a few of the students ask a Professor if they could open up the chapel and begin to pray! And is still going on!!! The Holy Spirit is up to something like we have never experienced in our lifetime!!! Today is the the Day of salvation!!! Repent! Jesus is getting ready to come back to gather His children from the 4 corners of the earth!!!
Diane Butler Bass continues to be a snarky Old Lighter:
We need to avoid trying to label what is happening even as we spend four tweets trying to label it:
People pouring into Hughes chapel last night: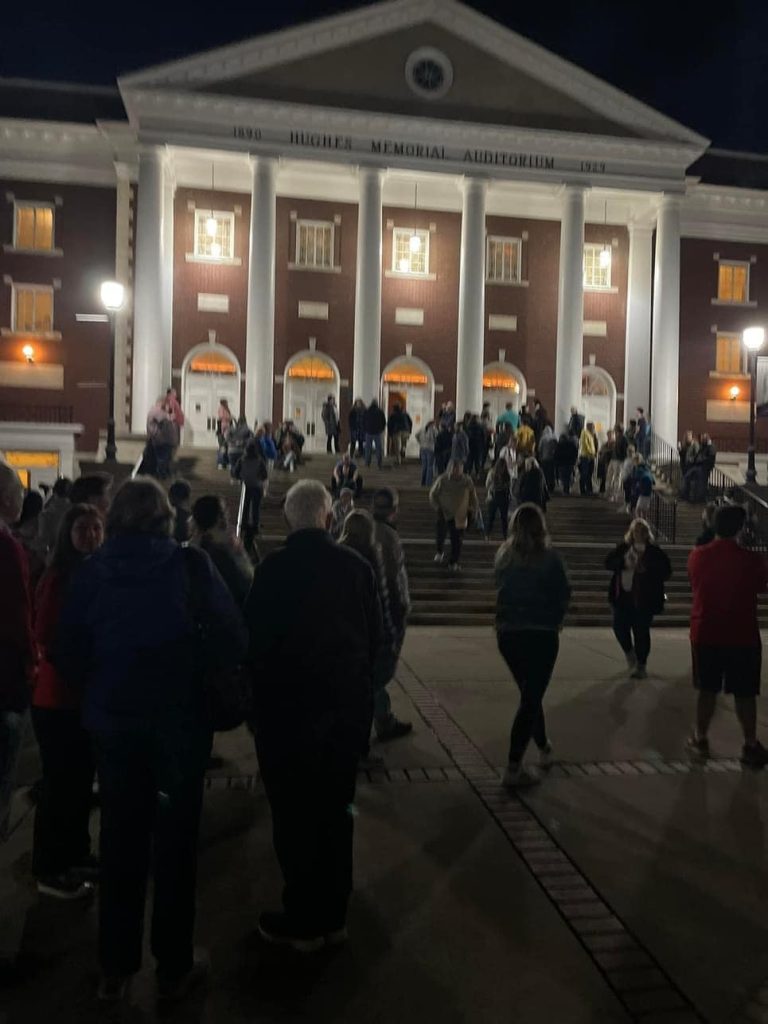 A worship pastor shares his experience:
Another student testimonial.
Will the revival help basketball recruiting at Asbury?:
MAGA court evangelical and election-denier prayer leader Jim Garlow on FB. He doesn't want anyone to claim the revival, but he references his all GOP, MAGA prayer meeting during the recent Day of Prayer.
Asbury Revival Update: I just got this email from a respected leader –
"Jim, the outpouring led by the Holy Spirit is welcome, wonderful, and needed. I am specifically praying that Christian leaders trying to build their own reputations will not jump in there with their 'brand' and interfere with what Jesus is doing through students. I look to you as a Christian statesman who will know how to speak into this if the Lord compels you to do so."
END OF THE EMAIL
Let me say, I agree with this 100%. No one can take credit for this revival. No one should come in and attempt to "claim" it. This is a sovereign act of a sovereign God. The officials at Asbury are shepherding this perfectly.
Beware of anyone who tries to "own" this as theirs. This move belongs exclusively to God Himself.
(When we held the National Gathering for Prayer and Repentance in Washington DC on Feb 1, everyone (including Members of Congress) came without egos, logos and agendas. It was glorious.)
The Asbury Revival is nameless and faceless. That is why God can continue it. He will not share His Glory. Nor should He.
"Lord, May it remain that way. Amen"
Are revivals inclusive or exclusive?:
This guy is making his position very clear and he is doing from a hotel room. How can a revival come from a non-Baptist university? How can a revival come from a non-KJV-only church? And let's not forget the women on the stage. He calls it a "service announcement";
This guy's website praises the revival in one post and lauds Sarah Huckabee Sanders's response to the Joe Biden State of the Union in the next.
No signs and wonders:
Greg Locke is heading to Wilmore. Some of you may remember him from his pro-Trump, anti-COVID restriction views.
Cedarville University in Ohio:
Here is an evangelical pastor from Lexington, KY, via Facebook:
This is what we have been praying for, declaring, and believing. The Lord told me that Kentucky was going to be the forerunner state that would be the key
to unlocking revival to the nation of America, and the nations of the earth. We have been experiencing a unity among the churches in the region unlike anything I have ever witnessed within the confines of the church and we have been witnessing a stirring hunger for the presence of God unlike ever before. Anna and I walked into Asbury on Friday night, and it was incredible to see the amount of people that were flooding this chapel literally from the north, south, east, and west. There were people from different states, different countries, different denominations, different cultural backgrounds and the Lord spoke to me and said "This is greasing the wheel for what's to come."
I believe this last move of the spirit will not be the first great awakening nor the second great awakening. It will be the GREATEST awakening. One that will awaken the bride and she will not fall back asleep into her slumber. It will be marked by genuine repentance and a deep cry of travail that moves heaven. The sound of worship will exude such a sweet and pleasing fragrance to the Lord, and the hunger for intimacy with His presence will burn like never before. It will be a true Joel 2:28 "All flesh" revival where we will see the Spirit of God poured out on all flesh, joining together every tribe, nation, and tongue. I believe it's an authentic move that will bridge denominational walls and barriers, and bring together a unified body of believers to help usher in the return of the bridegroom King.
I have been saying this for months, revival is no longer a distant thing that we keep prophesying is coming. Revival is here, and God is causing a true awakening in the hearts and minds of His people. One of the distinguishing factors of this movement will be the culture of family. Jesus is coming back for a bride, not "brides." There will be a unity unlike ever before as we see the eruption of heaven on earth, and from that place we will see the manifestation of Gods presence and glory, which will follow with mighty signs, miracles, and wonders. May we never be the same in Jesus name.
A David Brainerd reference:
From Kyle of Asbury. So for those interested in the Asbury Revival(or whatever it's being called) it's my understanding that Hughes auditorium is full(1500) and roughly 250 people on the lawn of Hughes waiting to get in and overflow to Estes full(650), overflow McKenna chapel almost full(350). Estes and McKenna are on the seminary side. More churches may be asked to open up for more overflow!! It's getting wild in sleepy little Wilmore, Ky. All because a few college kids decided to skip class and worship Jesus.
Robert Coleman, author of The Master Plan of Evangelism experienced the 1970 Asbury Revival. (Full disclosure: I took a class on evangelism with him when he was teaching at Trinity Evangelical Divinity School in the early 1990s). He is now 94: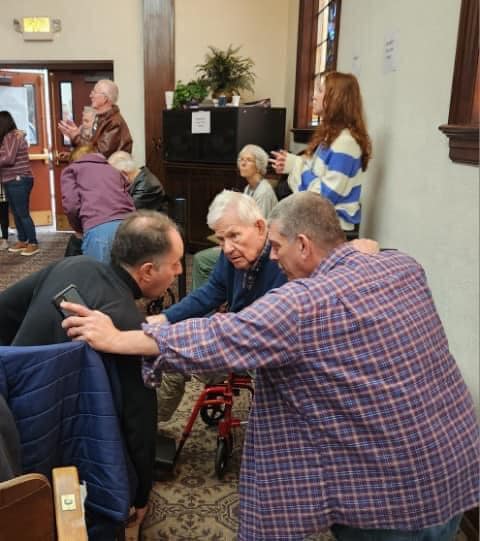 Charismatic preacher and author Lee Grady via this Facebook page:
There was nothing unusual about the 10 am chapel service held at Asbury University on Wednesday, Feb. 8. Guest speaker Zach Meerkreebs shared a message from Romans 12 about demonstrating God's love, and the last thing he said in his closing prayer was, "Revive us by Your love."
Whoever was videotaping the service stopped recording. Eyewitnesses say students began going to the altar to confess their sins after the sermon. Then, students who left the 1,500-seat Hughes Auditorium came back in to worship. The praise team kept singing. More students arrived. By the evening it became obvious that something out of the ordinary was happening.
Continuous prayer, worship and testimonies marked the next few days. There were no famous speakers and no celebrity worship bands. There's nothing fancy about the building itself—it has outdated wooden seats and stained-glass windows. Yet so many people began to flock to the Asbury campus, located in Wilmore, Kentucky, that the school had to open two additional overflow auditoriums.
By Saturday, students from 21 campuses had visited the meetings because they hope to take the revival spirit back to their schools. One group of students from Mount Vernon Nazarene University arrived in a bus at midnight to attend the meetings. Later in the weekend, a pastor who visited Asbury said the carpet near the stage in Hughes Auditorium was literally damp from tears.
"There's not even words to describe it," said Ava Miller, a freshman at Asbury. "It just never stopped. People just never left, never went to class, never went to lunch, and then later people started coming back to chapel," she told Channel 18 News in Lexington.
"No one wants to leave," says Alexandra Presta, an Asbury senior who is editor of the school's website. "I've never witnessed anything like this." And Asbury professor Craig Keener told reporters: "Whatever you want to call it, this is the first time in years anything like this has happened here."
At one point during the early days of the revival an unidentified student took the stage and shared his testimony, noting that he had first come to Christ a year and a half ago. "This is revival. It isn't hype," the young man said. "It's ordinary people crying out for a move of God in our generation! Revival is real! It's not just a story we've heard about. It's come…and it's about to spread out to the nations."
We don't know how long this outpouring will last. When a similar movement broke out at Asbury in 1970, the continuous chapel service lasted for two weeks. What's different this time is that social media has made it possible for the revival fervor and strong sense of God's presence to spread instantaneously.
More coverage from Charisma, the magazine of the New Apostolic Reformation. And here.
This afternoon: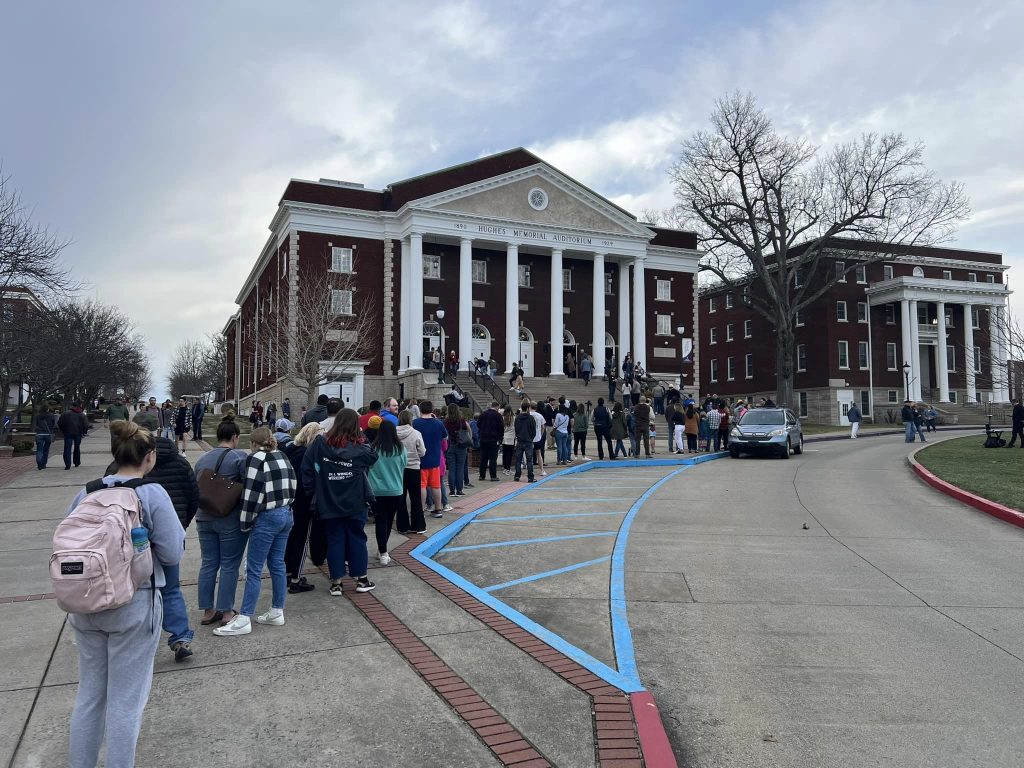 Thoughts from the president of Asbury Theological Seminary.
More on the revival's spread to Lee University.
Dinesh D'Souza just shared this article on his FB and wrote "Amazing"
Another video testimony:
An evangelist came from Minneapolis:
Another testimony:
Here is Wendell's entire testimony. His Twitter feed says he is a pastor:
I went to Asbury to see with my own eyes what exactly is happening. Many of you asked for my thoughts so here they are. I can say what is happening there is special. And rest assured it's not being driven by emotionalism. For starters there are no fancy lights, no smoke machines, no high end lighting etc.. the chapel is older and dated. The only instruments being used when I was there was a piano and a guitar. Furthermore, there are so many things happening outside of the praise and worship. There are Bible studies happening on the steps and in the corners of the chapel. People are in continues prayer in and outside the building. The gospel is being shared and lives are no doubt being impacted. If you are skeptical I suggest going and see for yourself. I offer up this passage of scripture. "John answered, "Master, we saw someone casting out demons in your name, and we tried to stop him, because he does not follow with us." But Jesus said to him, "Do not stop him, for the one who is not against you is for you." Luke 9:49-50 Just because someone is not a part of our faith tradition or click doesn't mean God isn't doing good works through them. Sometimes church can look different from the way we do church and it still be authentic God honoring church. We all must use caution and be careful to not be as the Pharisees by placing our traditions over all else. What I saw at Asbury was a special event. A work that I believe truly of the Lord and not simply a product of emotionalism.
The experience of a Kentucky Baptist.
More harm than good?
More local news coverage:
The Asbury revival as a marketing opportunity for Greg Laurie's new film:
Another eyewitness account.
Nameless and faceless:
David French:
New Apostolic "prophet" Dutch Sheets believes it is connected to a vision he saw on 9-11-01.
And here Sheets on the New Apostolic Reformation, pro-MAGA, Victory Channel show FlashPoint:
Aftershocks?
Church historian John Stackhouse offers some thoughts.
Religion News Service is covering it.
A Christian radio host believes repentance of the sin of LGBTQ should be part of the revival:
The prayer request board:
Trying to get into Wilmore:
More anti-LGBTQ Old Lightism:
Another pilgrim. This one from Detroit:
Big game against Kentucky State tonight, but will anyone be in attendance?:
Another personal testimony:
Testimony from a Baptist pastor.
A form of social justice Old Lightism:
More on the controversial New Apostolic Reformation preacher Todd Bentley:
Local Fox News coverage.
This article connects the Asbury Revival to this Tim Keller piece at The Atlantic.
Some academic thoughts from a Northern Seminary prof:
Sean Feucht is doing his own revival thing:
Sean on "dunking":
Students from a Baptist church in Frankfort, KY are heading to Wilmore tomorrow: