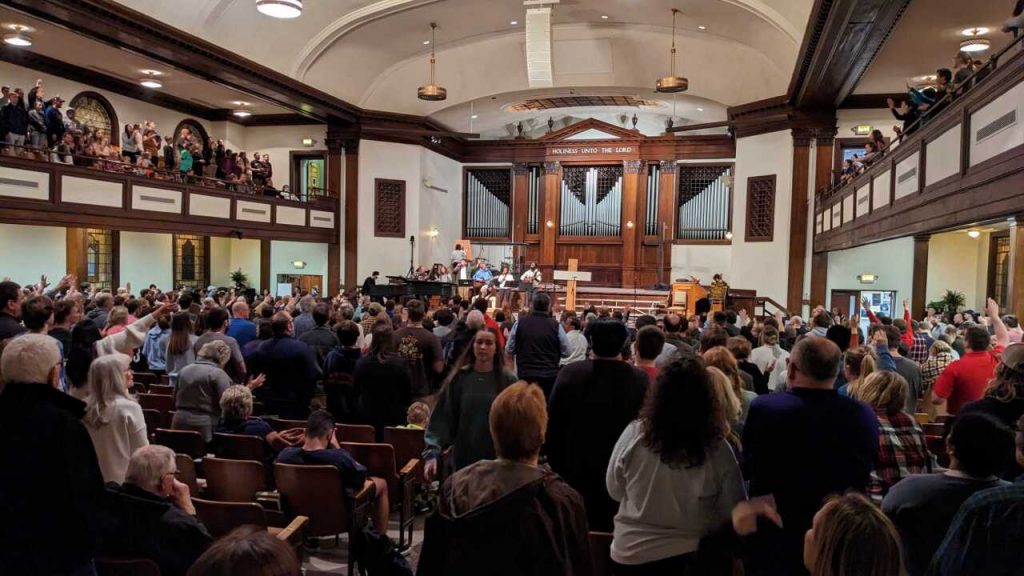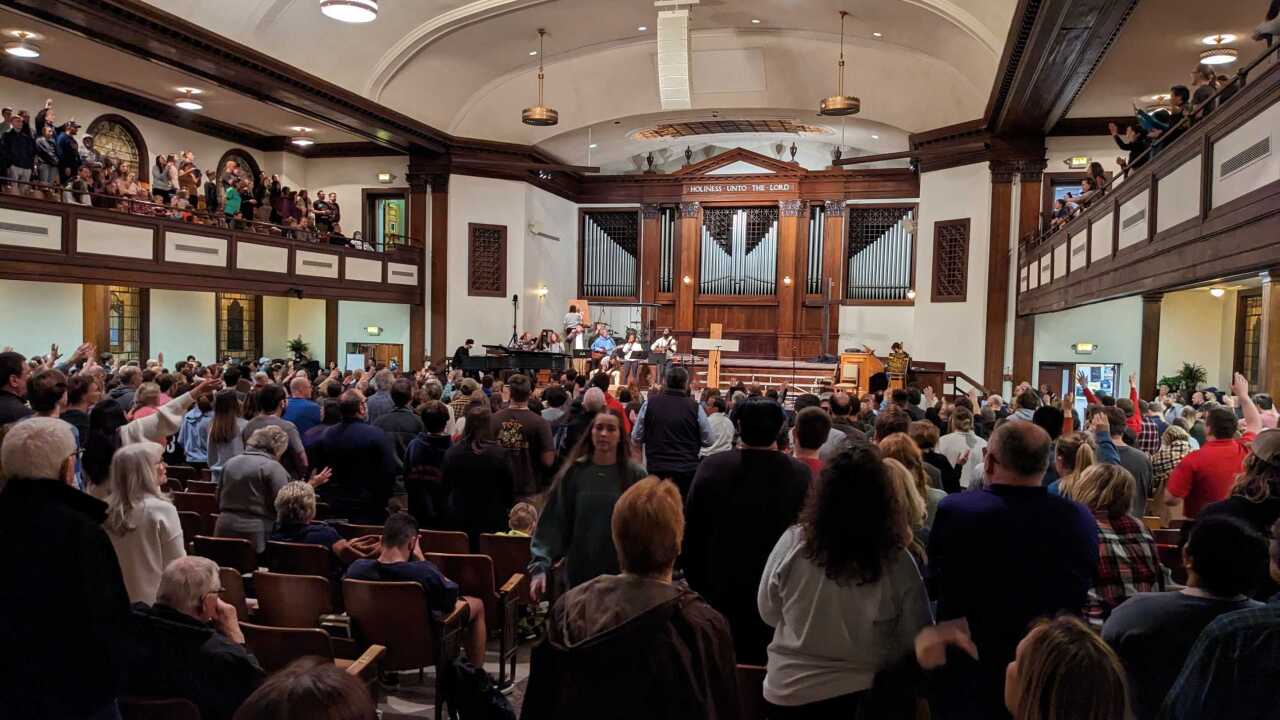 NOTE: I've decided to move the updates to this original post to separate posts. You can read them all here.
What is happening in Evangelical land? Revival has hit Asbury University again. Get up to speed here.
What are people saying? (See some of my questions at the end of the post).
Reporting from the Asbury Collegian.
Asbury College has a long history of revivals.
Coverage at The Christian Post.
Local news:
Sean Feucht, MAGA worship leader, does not seem to be aware of what is happening at Asbury. Will he show up?
Three hours:
Another first hand Facebook account from an Asbury Theological Seminary professor:
A student testimonial:
The Asbury Revival: A First Person Account
I grew up going to revivals and camp meetings. I've seen people shout, run the aisles, and tightrope the backs of pews. I sometimes refer to this sort of thing as "swinging from the chandeliers." That isn't what is taking place at Asbury University in Wilmore, KY. I know, because I just left Hughes Auditorium.
If you are following the revival on social media, you will know that it began on Wednesday morning. My office is directly across the street at Asbury Seminary. Despite this proximity, as of this morning, I had not put in an appearance. I was not avoiding doing so. I'm simply in a busy season of writing about sacramental theology.
When it comes to the manifestation of God's presence, I am no skeptic. Quite the contrary. I am a straight up believer that, across space and time, in the most unpredictable of ways, the holiness of God becomes palpable – the enveloping darkness atop Sinai; Isaiah's woe is me; the light engulfing St. Symeon in his study; laughter in Toronto.
Alas, around 2:30 this afternoon, I crossed Lexington Avenue and made my way up the stairs of Hughes Auditorium, slipping into a seat on the back row. I wanted to see for myself what was happening. The following is a blow by blow account of what I experienced for the next hour and a half.
I had been seated in the auditorium for less than ten minutes when I came to, by which I mean to say when I suddenly found myself having conscious thoughts about my surroundings and about what I was experiencing. The best way I know to put this is to say that it was as though in just a few short minutes, I had completely zoned out.
Upon the resumption of deliberative conscious thought, two things stood out to me. First, there was a noticeable lack of tension in my body. I was completely relaxed. There was also a complete lack of mental tension or distraction. My mind was at utter peace. And I had only been there for ten minutes.
The second thing I recall thinking is that I could sit here in this chair forever. The desire to linger indefinitely was quite unexpected. I had planned to pop in for a few minutes before returning to work. Suddenly, work was the farthest thing from my mind.
I wound up staying for well over an hour. In the time that I was there, I could not get over certain distinctive qualities about the atmosphere. The words that came to mind were: gentle, sweet, peaceful, serene, tender, still. Some people were singing. Others were talking. Many were praying. But there was something like a blessed stillness permeating the place. No one was swinging from the chandeliers. In fact, it was right the opposite. What made this so wild was just how un-wild the whole thing was … is.
So, why leave? After about an hour and half, a particular verse of Scripture impressed itself on my mind — the one about the woman who touched the hem of Jesus' garment. Compared with those who have been there since Wednesday, I was a newcomer in the crowd. But the manifestation of God's holiness, which in this case was, to my mind, a manifestation of sheer peacefulness, was of such a quality that even the most fleeting contact with it is enough. Don't mishear me. I completely understand why so many people want to linger. I did, too. But the peacefulness in that place is so palpable that a mere ten minutes had made an impression that will last the remainder of my lifetime.
More local news here.
A local attendee describes her experience on Facebook:
I went to the #asburyrevival. I'd heard about it for days and I'd never been to a revival, so I was very interested in experiencing it.
I made my way to the back corner seat, sat down and did my best to clear my mind and focus what the Holy Spirit wanted to say to me. A few songs played and a fella started reading scripture – "Then the Lord said to Moses, "I will come to you in a thick cloud, Moses, so the people themselves can hear me when I speak with you. Then they will always trust you." Moses told the Lord what the people had said." Exodus‬ ‭19‬:‭9‬ ‭NLT‬‬
The speaker was inviting the Lord to move in as a thick cloud.
During the reading the sun was shining so brightly through the beautiful stain-glass windows, I had to take a picture. The whole chapel was so bright, I expected a beautiful picture… and this
is what I got.
And I realized, the room was *already* filled with the Glory Cloud. The haze was from the Lord's presence being so thick it filled the room and dimmed the sun bursting through the windows.
We've all heard of bad examples of revivals being manipulated and eventually the presence leaves… but I'm here to tell you, He was there. And it was a beautiful experience
go experience it for yourselves!
Theobro Denny Burk does not feel "cynical."
One of the attendees describes on Facebook what he experienced:
Getting ready to head home after spending the night in prayer and worship at Asbury University with students from 1/3 of the country. I expect there will be representation from at least half the country by Saturday night.
I met Nazarene, Baptist, and Methodists of every brand. Episcopalians, Lutherans, Assemblies, Charismatics, Apostolics, and students from nearly every group you can think of. Some had driven from Jersey, Pennsylvania, Indiana, Illinois, Michigan, Ohio, Tennessee, and Kentucky. Most all of whom had come in individual cars.
You say that their generation doesn't care about anything or anyone but themselves? Students have tried our institutions and found them wanting but they are calling out to Jesus and finding that he's so much more than we told them.
This revival is simply students singing and playing instruments along with other students praying for one another at the altar rail. I tell you this because someone will try to say it's all a bunch of disorganized mess that's not pleasing to the Lord. Don't listen to those people because they are likely upset because they can't control it. Also, the student leaders at Asbury are praying over people that are coming from other schools that they might get a taste there then carry it back to their campuses. I see no signs of anyone wanting to franchise anything.
Students of all ages and leaders, ask the Holy Spirit to guide you about going. You don't want to look back and feel like you were supposed to be there.
People converging on the tiny town of Wilmore (Reminds me of this):
An Asbury professor comments.
Another Asbury professor. His name is Lawson Stone:
"I get calls and e-mails asking for "my take" on the revival happening at AU since I first got here shortly after the 1970 outpouring and have a history here reaching back almost 50 years. I'm so happy to hear of the wonderful things happening at the University. So many people will suddenly become self-appointed experts on revival. Unless they have, say, 50-70 years of experience with such deep and free moves of God's Spirit in this community, listen kindly to them, but ignore them. I"m happy to hear there are many grey heads in Hughes. The old saints know. And they've voted "Yea" by being there. There is a kind of renewal that is distinctive to this community and long-termers recognize it. It doesn't matter how much turnover there has been, there's a kind of trademark transparency, vulnerability, and general absence of "manifestations" and drama. It's focused on confession, repentance, restitution, reconciliation, renewed character and re-ignited love of Christ. Every move of the Spirit will also attract crazies, semi-heretics, sectarians, legalists, and populists wanting to run to the front and claim they are leading it. At the margins are all the nit-pickers and nay-sayers, the ones starting sentences with "We'll know it's REALLY revival when…" That's the sound of someone who is threatened, who doesn't get it. Various groups have tried to force our revivals into different templates, their templates, whether it's "Signs and Wonders" or "Last Days Great Awakening" notions… but they always peter out. But the transparency, openness, the spirit of repentance and reconciliation… that is self-sustaining. That's why people just come to Hughs and…. sit. In the end, it doesn't matter what I think. I don't have to have a "take." I just love the way the Spirit washes over this community every generation or so. Flushes out a lot of junk, resets the community for fresh obedience. That's my take.
One other thought… some ask me do I think this kind of revival is unique to the Wilmore-Asbury community. After a while, I have to say well, no, but then again, yes. A constant theme in all the revivals we've experienced here that led to transformation is a lack of emphasis on manifestations, gifts, miracles, or sensationalism. It's confession, repentance, reconciliation, restitution, and renewed love. People try to get control of it and the sweet water just runs through their fingers."
An Asbury University parent weighs-in.
An Asbury Theological Seminary professor:
Basketball games continue. It's Senior Day:
A local Church of God pastor on what he experienced:
At 5:30PM as I sat on my couch I felt the urgency to get up and go to Asbury. I jumped in my truck and called our Head Usher, David Porter, and told him I'd be there in 10 minutes to pick him up, I wanted him to ride with me. What I experienced is an organic, authentic & powerful move of the Holy Spirit. Nothing organized, planned or thought out, just a group following the leading of the Holy Spirit. No technology, no bells or whistles, no projection screens or led boards, no drums or professional sound, and out of the dozens of songs we sang, only one of them was written in the past 5 years.……….God reminded me, He doesn't need all that.
Yet, I sat there wondering "why did You want me to come here tonight?" Then David Porter said, "isn't that your Pastor up there?" I immediately ran to the front, and it was Him, my Pastor, Tony Cooper, praying for unity & revival for our denomination in Kentucky. I knew God sent me there to stand with him……….I was amazed, and speechless. We cried, prayed, and came into agreement with altar workers from Asbury. Then God impressed two Asbury Staff Altar Workers who were faculty members to begin speaking into my life, confirm things & give me a glimpse into the future. There is nothing hype taking place in Hughes Auditorium, just a genuine move of the Holy Spirit. I left with tons of notes, nuggets & downloads from the Holy Spirit, I'm still trying to process it all.
Today is the 3rd day of this outpouring, it's going on non stop, 24/7, I hope to go back. I'd encourage you to go if you can, as Dot Green told me. "Don't go as a spectator, go to experience the moving of His presence."
I've asked Donald Mott & Renaye Smith Mott to take our students as soon as they can.
No politics:
An Ohio Nazarene pastor on Facebook writes on how local pastors and church leaders should respond to the revival in tomorrow's sermons:
PASTORS AND CHURCH LEADERS- No doubt, you've already been asked about tomorrow's worship services in light of the Asbury University revival that broke out this past week. Some of you probably feel the pressure for "signs and wonders" to show up as you gather. Like me, you may have had parishioners text or call you with messages like, "I can't wait to see if it breaks out at our church this week!" No pressure pastor! lol
Here's my suggestion. Preach what you have planned, unless the Holy Spirit leads differently. Call your people to prayer and repentance. Don't rush through the service. Allow the Spirit to do His work. Each of my visits to Asbury seemed a bit different. God will give your people exactly what is needed.
PARISHIONERS- Come "prayed up" with a hunger for more of God. Pray for your Pastor and worship leader. Don't come in as a spectator, waiting for God to do something so you can report on it or judge whether it was from Him or not. God says, "I will pour out my Spirit on your offspring, and my blessing on your descendants." Isaiah 44:3 He is willing and able. Our part is to prepare our hearts, minds, and schedules to welcome His outpouring. The rest is up to Him and His timing. I have confidence that He who began a good work, will carry it on to completion!
This same pastor will pay for Nazarene college students who want to experience the revival:
SNC Springdale Church of the Nazarene will pay the first 1,000.00 in expenses to any Church of the Nazarene (Official) College or University that is sending students to Asbury University for the revival that is ongoing. Don't let costs keep them from experiencing this move of God. Even if you can just send one, it will make a difference on your campus. Mount Vernon Nazarene University (MVNU)Trevecca Nazarene UniversityOlivet Nazarene UniversityMidAmerica Nazarene UniversitySouthern Nazarene UniversityNazarene Theological SeminaryNazarene Bible CollegePoint Loma Nazarene UniversityEastern Nazarene College (ENC)Northwest Nazarene University. FOR SUCH A TIME AS THIS!
Local churches don't know whether to have regular Sunday services or go to Asbury University. Here is a pastor on Facebook:
Update on Asbury revival from my son-in-law. The debates in town among churches are: do we have church this weekend or come here? In the 70s revival they all cancelled. This time they are saying we need to have our services along with this! Not sure what's happening but it's profound for sure.
A first hand account from Facebook:
MY 5 HOURS AT Asbury University REVIVAL! I headed down for the 2 hour trip shortly after hearing what was going on at Asbury. The Asbury Collegian wrote, "Revival strikes Asbury once again! This was not a scheduled revival. It was a stand alone chapel service and God broke in! I aim to put myself in the place of most potential, and I felt impressed that this was the place to be today. It took two trips around the parking lot to find a place to park. It wasn't like a normal college visit. Very few students were outside. In fact, it seemed rather eerie.
As I approached the Chapel, I could hear the sound of worship. This is where everyone was! Walking in, I realized I was entering holy ground. This was day two of revival. Worshipers stayed all night. It was apparent that these young people were not caught up in revival, but in the revival-er. God had come! Unexpectantly! I met "Don" who graduated from Asbury in 1969, the year before the 1970 outpouring. He said, "After that revival, there was no need for the police. Everyone did and acted as they were supposed to. Everyone's hearts were changed." I could tell he was longing for it to happen again; and so was I. Praise filled the air. Small groups of young musicians rotated, giving breaks to sleepy and weary bodies. The pianist played for nearly 3 hours before someone slipped in beside him to take over. Singers and other musicians traded places every 45 minutes or so.
Everything was spontaneous. There were no words on screens because the worship hadn't been previously prepared. Everyone sang! New songs, old songs. One of the first songs I heard was "What shall wash away my sin, nothing but the blood of Jesus." Some laid prostrate in the aisle. Others were standing. Still others were grouped together praying in corners of the room. Between songs, worshipers stood and confessed their sins. Young and old participated. God is no respecter of persons. He is pouring out His spirit on all who seek him. Later, as music played, we were invited to come to the altar to repent. I wept as I came to the realization that my trip down to Asbury was not to pray for these young adults after all. I needed this. My soul needed this. It was at that moment that I noticed many around me had no shoes and in some cases, no socks. We were on Holy ground and they knew it. Toward evening, older folks started arriving. Parents, kids, pastors, and neighbors. We gathered in groups to pray for families. We prayed for this fire to extend far beyond the walls of the chapel.
When testimonies were shared, 10-year old Grace stood in front of hundreds of college students, parents, and professors and gave a testimony of what God had done for her in the short one hour she had been in the service. I stepped out to get something to eat at the cafeteria. I did not know where it was and I found myself walking completely around the outside of the chapel. It was very windy. I realized as I walked on all sides of the building the wind was always blowing in, towards the building. North, South, East, West… no matter what side I was on, the wind blew in the direction of the building. It reminded me of the mighty wind that blew in Acts 2 when the Holy Spirit was poured out on believers. It moved me deeply. I had been there five hours but it felt like one.
As I prepared to leave, I found myself somewhat restrained to my seat. I didn't want to move. When I finally got up, I walked to the back wall and stood for a long time, only to sit back down a while longer. People standing, sitting, laying, and praying while others sang. It was beautiful chaos. No One person was in charge. No one dared to get in the way of what God was doing. Reconciliation, forgiveness, and healing were in this place. As I was leaving people were still arriving. An announcement was made that at least two other universities were bussing students to the revival and they were on the way. I don't know how long God will continue to do what He is doing, but if you can get there, I believe God will do a work in your heart like he did mine. Please join me in praying that this work of the Spirit will spread across our nation and beyond. HE can do it!
There are no "manifestations:"
Blast from the past:
And just like every revival in American history, there are detractors, skeptics, Old Lights, and "wait and see" types:
A Christian nationalist take:
TPUSA=Charlie Kirk's Turning Point USA ministry:
Some questions I have:
Will this revival be co-opted by the pro-Trump, MAGA revivalists?
Or will the MAGA revivalists say it can't be a true revival because it is not producing Christian nationalists?
Will the Super Bowl break-up the revival?
Are kids going to class?
What does David and Lisa Swartz have to say