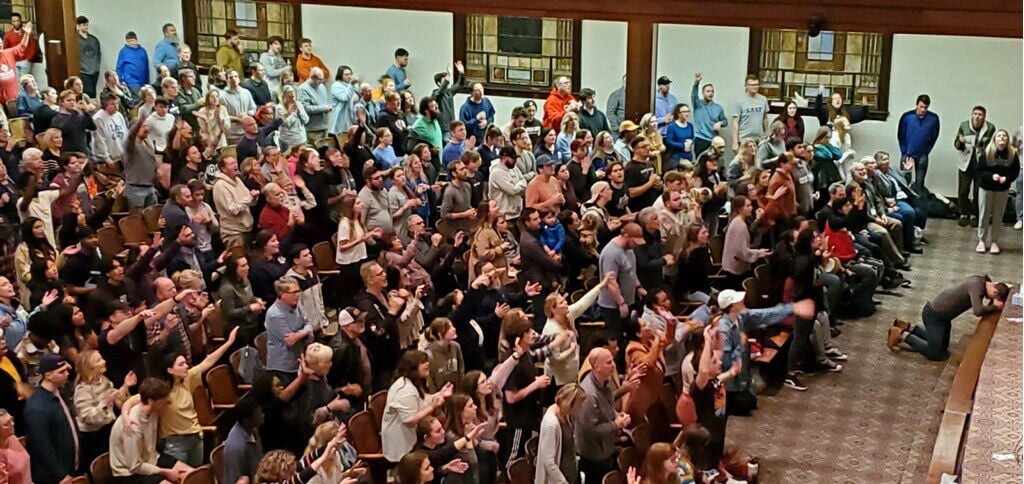 If you've been following my ongoing curation of the Asbury University revival going on right now, you will see that there are a lot of skeptics. Anyone who knows something about the history of revivalism in the United States is aware of the fact that revivals, while offering much unity within the evangelical communities experiencing them, often lead to division within the body of Christ. In the eighteenth-century, the Congregationalist churches in New England split between New Lights (the supporters of the First Great Awakening) and Old Lights (Christians who believed the revivals were not an act of God). In the Middle Colonies, a similar division took place among the Presbyterian Church. The anti-revivalists were known as "Old Sides" and the pro-revivalists were called "New Sides." In some of my past and ongoing work I have explored the history of local communities divided over the First Great Awakening. Many of these same divisions also occurred during the Second Great Awakening. For example, the Presbyterian Church divided again over revivalism–a story historian George Marsden has told with clarity in his first book The Evangelical Mind and the New School Presbyterian Experience.
So it should not surprise us to find people who do not believe what is happening in Wilmore, Kentucky is a "real" revival. Many want to take a "wait and see" approach. These folks know that true revivals often bear fruit in terms of Christian witness in the world. But what kind of fruit will such a revival bear? It is clear that the Second Great Awakening led to social activism. Those saved and revived during these revivals pushed for the end of slavery, the rights of women, the curbing of alcohol use, and the reform of prisons. Some have suggested that the First Great Awakening led to an anti-slavery movement in New England and elsewhere as disciples of Jonathan Edwards, a slaveholder himself, sought to apply their evangelical faith to the peculiar institution. Still others have tried, wrongly I believe, to connect the First Great Awakening to the coming of the American Revolution. Many Christian nationalists have co-opted this reading of the First Great Awakening.
I have been following the Asbury Revival closely online and I see several manifestations of Old Lightism:
Christian Nationalist Old Lights
Pro-LGBTQ Old Lights
Social Justice Old Lights
Biblicist Old Lights
"I've Seen This Before" Old Lights
Anti-Enthusiasm Old Lights
Calvinist/Confessionalist Old Lights
Anti-Racist Old Lights
Snarky Old Lights
Here are some examples:
Christian Nationalist Old Lights: These are folks who believe the Asbury Revival is not sufficiently addressing the need to reclaim America for Christ:
LGBTQ Old Lights: These are Christians who believe that what is happening at Asbury is not a true work of God because of Asbury's conservative position on gay marriage and LGBTQ issues:
Social Justice Old Lights: These Christians will remain skeptical until they see, like the Second Great Awakening, an outpouring of social justice in the revival's wake:
Biblicist Old Lights: These Christians want more Bible and preaching. They are not comfortable with all the singing and testimony:
Another version of this:
I've Seen This Before Old Lights: These are Christians who were raised in families and churches in the evangelical revivalist tradition. Their skepticism is based on past experiences:
Anti-Enthusiasm Old Lights: These are perhaps the closest to Charles Chauncy's critique of the First Great Awakening. Too much emotion. These Old Lights are similar to the Biblicist Old Lights.
A version of this:
Calvinist /Confessionalist Old Lights: Too much free will or "Finneyism." They may not like the revival is happening in a Wesleyan/Holiness university.
Anti-Racist Old Lights: These are people who do not believe that the Asbury revival is a movement of God because there are hardly any people of color who attend Asbury University.
A quick thought on this. Earlier today I watched the start of the chapel service that triggered this revival. The music was performed by what appears to a predominantly Black gospel choir.
Snarky Old Lights: