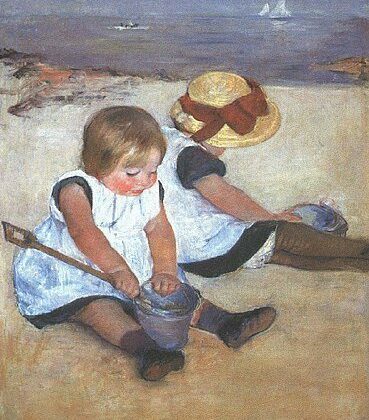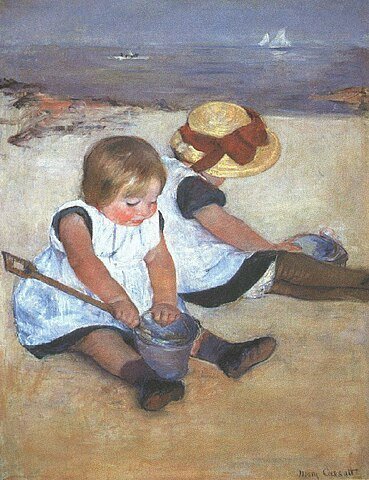 Nadya Williams: Most of your writing centers on parenting–a topic that, of course, is deeply personal to you right now, as you are raising three children. And as I've mentioned to you before, what I most appreciate about your writing is that your delight in your children really comes through. Parenting is a demanding marathon–physically, emotionally, spiritually–but it is also a source of much joy. As I think both you and I have felt through all of the writing that has come flooding from our parenting, it is a joy that inspires us to think about the world differently.
You wrote recently, "I've been thinking about seeing the world from my kids' perspective." Can you elaborate? What would you say to a parent who struggles with this?
Robert Erle Barham: My kids wake me up to marvels all around—especially since they themselves are such a source of wonder. I realize the naiveté in my declarations about the felicities of being a parent—like the speaker in W. H. Auden's poem who says, basically, "No one has ever felt like this!" But still: parenthood has meant seeing things afresh. Because we are creatures of habit who outsource our attention to routine, just going through the motions, life can narrow, become rote. My children cultivate inquiry because they tread paths of discovery every day, throwing questions in handfuls that bloom into other questions.
Along with my inclination to drift, to sleepwalk, there are plenty of prompts to want to sleepwalk. Given the failings of the contemporary world—from politics to atomized community to pernicious technology—there are invitations to disillusionment all around us, as well as the means by which to anesthetize that feeling. But with kids, I have to articulate what the world is like, as best I can, prompted by questions like, Are bad guys real? What is cancer? What is 9/11? Why is that man sleeping outside?—spoken by voices that are earnest and hungry for understanding. This has meant recognizing how their presence changes my understanding of everything, and that ignoring darkness is not possible.
As the wonderful writer Jill Christman notes about her kids, "Having Ella and Henry has made me a much better writer for one fundamental reason: My children raised the stakes for everything I care about. There is no topic I can think about that doesn't involve me thinking them forward into the world. Writing never mattered as much before Ella and Henry. They're the reason for everything." That sounds exactly right to me.
Another feature of parenthood is a sometimes overwhelming sense of time's velocity: my kids are constantly changing, and previous versions—their earlier selves—are gone. Mutability is an overwhelming truth of being a parent. As a kid, I couldn't figure out why adults always remarked about how much I had changed from the last time they saw me. Now I know why.
NW: You are on sabbatical this semester and are able to devote your working hours fully to writing. What are some ideas that you are exploring? What inspires you creatively?
REB: Just like you said recently, I feel like I have something to say because of the perspective my kids invite. Part of finding my voice as a writer was seeing the world with them in mind. Astonishment has become a disposition, one that seems the truest, most authentic response to the world, but also a composition strategy, to wonder at the good and ill. And this undertaking doesn't happen in a vacuum: Current is such an encouraging community—cultivated by John, Eric, and Jay—and writing for Current has been an occasion to try to create pieces that move and entertain an extraordinary set of readers.
But admittedly, writing with small children in the house can be a struggle. Having three kids often means having to write during the bookends of the day—before anyone has gotten up and after everyone has gone to bed. Even typing these words, I'm amidst a clutter of my kids' things. But it's animating, life giving. Recently in an interview with CRAFT, writer Austin Ross said that, "As I've gotten older, I've increasingly felt that writing should be fun." Ross' sense that "we may as well have fun" while writing, is clarifying for seeing the world from my kids' perspective because it's salutary, but it's also fun, noting all the surprising ways they understand things.
While on sabbatical, I'm writing about my usual themes—memory, community, rural life, art. We'll see where the project goes, but at the moment, I'm writing about my own childhood and our community's shared language and perspective—something that Eric Miller has brilliantly illuminated. Along those lines, I've been thinking about my kids' use of language and the acoustical environment of our home, which is full of little voices; home often seems swollen with sound. Our youngest knows one volume: she shouts to be heard.
NW: Switching gears a little bit–although this is still family related–you have mentioned in passing in your essays that you are from a very different background than a lot of academics. Can you tell a little bit more about your family and life growing up? Do you have a sense of the when, how, and why you realized that you wanted to be an academic and a writer?
REB: I grew up in a small farming community, and I read out of necessity because it was one of the ways you could bring the world closer. Family and friends also modeled the benefits of learning. My parents were dedicated readers, and they made sure our house was filled with books. When I think of my dad's pickup truck, I recall a cab full of farm tools, cassette tapes, and paperbacks. And we still trade recommended reads. Just recently, I mailed him a book, and he has one in the mail headed my way too.
At home, reading was a technology of discovery, and writing became one too. The thought of early, formative reading and writing recalls "The House Was Quiet and The World Was Calm," Wallace Stevens' poem about a reader becoming one with a book, the unity of setting and cognition. As a child, I would read while sitting at my mother's desk in the front of our house, next to a window framing our street. I associate the sound of the town, full of people I knew and admired, in the quiet of the evening with intellectual discovery, my sense of what reading and writing could do, because that's where these activities began. Stevens' lines recall that place because that was where the world came to me—and where I learned that it could.