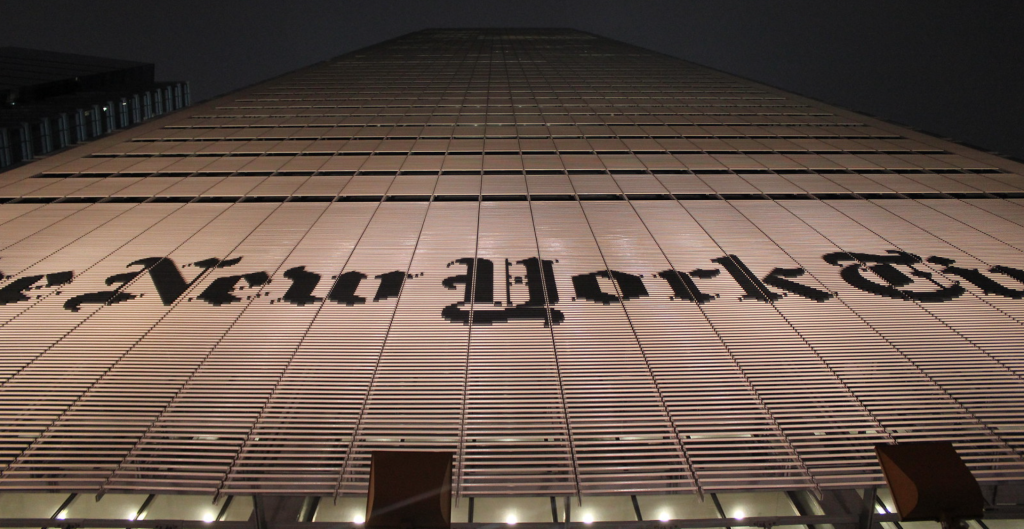 Has the "paper of record" become the new hub of Christian social criticism?
For decades I have listened to evangelical Christians disparage the opinion page of The New York Times. They say it's too liberal. It's run by secular elites. It's anti-Christian. Its writers don't understand religion. But those who continue to make these claims may want to take another look. In the last decade the Times has become a bastion of American pluralism, and that means it has welcomed the opinions of Christians—yes, even evangelical Christians—to the mix.
The most recent development on this front is the Times' decision to publish a regular column by David French. French is an Army veteran, a former religious liberty lawyer, and the National Review writer whom neoconservative Bill Kristol tried to tap as a possible third-party candidate to run against Donald Trump in 2016. He is a member of the theologically conservative Presbyterian Church in America, is pro-life on abortion, and is opposed to same-sex marriage. He is married to Nancy French, a ghostwriter for Sarah Palin, Bristol Palin, Ben Sasse. It doesn't get more evangelical than this.
French no doubt attracted the power brokers at the Times with his wildly popular newsletters at The Dispatch. The moral clarity of these pieces, especially his stinging criticisms of Trump, MAGA evangelicals, Christian nationalism, and Black Lives Matter opponents, infuriated many of his fellow evangelicals. French often ended these pieces with YouTube videos of his favorite evangelical worship songs.
French joins two other evangelicals who appear regularly at the Times opinion page: Tish Harrison Warren and Esau McCaulley. Warren is a graduate of the evangelical Gordon-Conwell Theological Seminary and was a former staff member of InterVarsity Christian Fellowship at Vanderbilt University, where she fought for the campus ministry's right to reserve student leadership roles for Christians. She is a priest in the evangelical-oriented Anglican Church of North America, a conservative fellowship of churches that left the Episcopal Church in the United States in response to the denomination's liberal theology and views on sexual ethics. Last week Warren devoted her Times newsletter to an interview with Oxford University New Testament scholar N.T. Wright. The topic was Wright's defense of Jesus Christ's bodily resurrection.
And speaking of N.T. Wright, McCaulley was one of his doctoral students. He teaches New Testament at Wheaton College, the flagship liberal arts institution of American evangelicalism. Wheaton does not hire Roman Catholics and it requires faculty to sign a statement of faith affirming that "the Scriptures of the Old and New Testaments are verbally inspired by God and inerrant in the original writing." Most of McCaulley's columns deal with the African-American experience and he often brings his conservative evangelical theology to bear on these matters. Last week he too wrote about the bodily resurrection of Jesus.
French, Warren, and McCaulley join an already existing cast of opinion writers and cultural critics who embrace Christian faith in one form or another. Ross Douthat, for example, writes as a traditional Catholic who often criticizes the more progressive faith of Pope Francis. If the rumors are true, David Brooks, another Times columnist, is now an evangelical Christian. The author of an oft-cited 2004 column on the late evangelical luminary John Stott, Brooks extols the virtues of Christian colleges and talks to evangelical leaders about saving the movement from a MAGA takeover.
Nicholas Kristof, who does not identify as a Christian, praises evangelical relief work overseas and occasionally devotes his columns to interviews with evangelical leaders such as Jim Wallis, Russell Moore, and Timothy Keller. In a recent column he called George W. Bush a "hero" for using the power of the presidency in the fight against AIDS in Africa.
It's also worth noting that two of the Times religion reporters—Elizabeth Dias and Ruth Graham—are graduates of Wheaton College.
The New York Times commitment to Christian thinkers and commentators no longer seems like tokenism. These writers are helping to shape the discourse at the so-called "paper of record." Of course evangelicals will continue to bristle at the weekly thoughts of Maureen Dowd, Paul Krugman, and Charles Blow, but exposure to people who think differently is part of living in a pluralistic society informed by free speech and democratic discourse. The Times gets three cheers for creating such a space. I can think of few places (apart from Current of course 🙂) that offer such a steady stream of nuanced and thoughtful Christian-informed opinion.
John Fea is Executive Editor of Current.
photo credit: Tomas Roggero