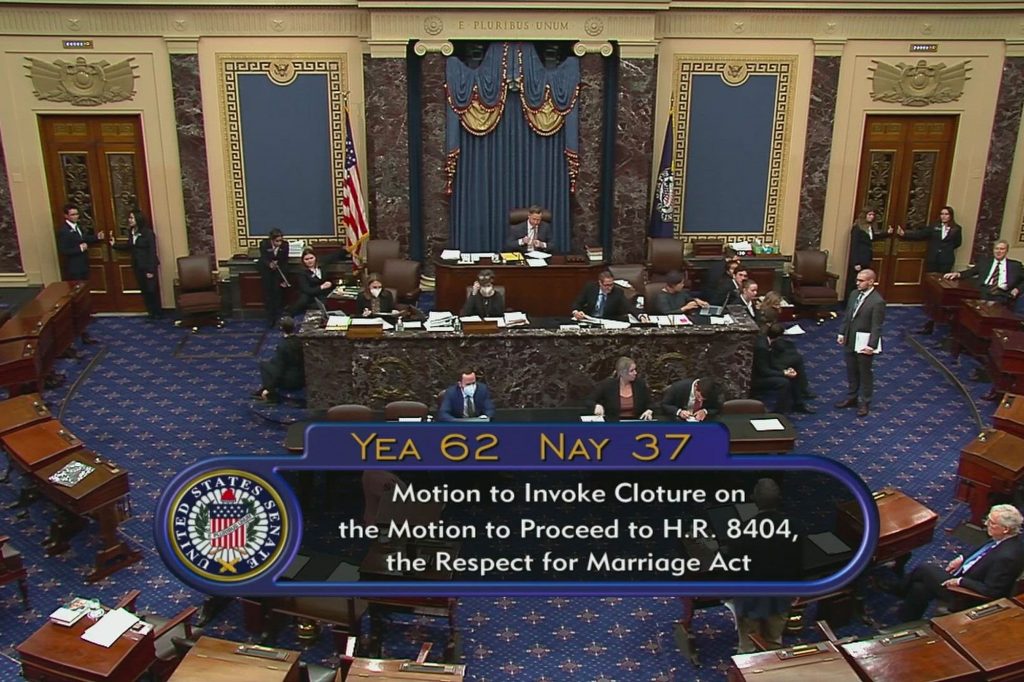 Last week, the Senate advanced the Respect for Marriage Act. The bill legalizes ("provides statutory authority" for) same-sex and interracial marriages. Here is a summary of the bill from Congress.Gov:
Specifically, the bill repeals and replaces provisions that define, for purposes of federal law, marriage as between a man and a woman and spouse as a person of the opposite sex with provisions that recognize any marriage that is valid under state law. (The Supreme Court held that the current provisions were unconstitutional in United States v. Windsor in 2013.)
The bill also repeals and replaces provisions that do not require states to recognize same-sex marriages from other states with provisions that prohibit the denial of full faith and credit or any right or claim relating to out-of-state marriages on the basis of sex, race, ethnicity, or national origin. (The Supreme Court held that state laws barring same-sex marriages were unconstitutional in Obergefell v. Hodges in 2015; the Court held that state laws barring interracial marriages were unconstitutional in Loving v. Virginia in 1967.) The bill allows the Department of Justice to bring a civil action and establishes a private right of action for violations.
Over at Christianity Today, University of Missouri law professor Carl H. Esbeck explains what this means. Here is a taste:
This week, the Senate advanced the Respect for Marriage Act (RMA). The law tries to balance the unquestionable goodness of traditional marriage with America's changing views on same-sex relationships. Some conservatives will undoubtedly treat the act as a loss. But others will take the view that, in a morally pluralistic society, a few concessions yield a win for the common good. I'm one of them.
The history of RMA goes back to late June, when the Supreme Court's Dobbs decision overruled its predecessor Roe v. Wade. Buried in a concurring opinion by justice Clarence Thomas was his suggestion that the court make a clean sweep of things by reconsidering the 2015 Obergefell decision finding a constitutional right to gay marriage. That comment unsettled the tens of thousands of Americans who had entered same-sex unions, which in conservative states are dependent on Obergefell remaining good law.
In response, the US House passed the Respect for Marriage Act, or H.R. 8404. But it failed to safeguard religious liberty for churches, universities, and other institutions that believe in traditional marriage.
Rather than just say no to RMA, a small collective of faith groups moved quickly in the Senate to see if the act could be brought into balance. A few senators from both parties who were keen on doing just that helped. After adding in a measure of religious liberty protections, the Senate substitute of the House bill passed the higher chamber earlier this week, 62–37.
This section of the act only deals with nonprofits and therefore doesn't address ongoing litigation over for-profit Christian wedding vendors—photographers, bakers, florists, dressmakers, and others. However, RMA doesn't harm wedding vendors. It's simply silent and leaves the matter for resolution in the courts. (One of these wedding vendor cases—303 Creative, LLC v. Elenis—is about to be argued before the US Supreme Court.)
Section 6(a) of RMA states that nothing in the act diminishes any existing federal right to freedom of religion or protection of conscience. For example, the Religious Freedom Restoration Act of 1993 goes untouched by RMA, and so do many religious exemptions in civil rights legislation.
Read the rest here.
In a piece at The Dispatch, evangelical writer David French supports the Respect for Marriage Act:
…my view on the religious nature of marriage has not changed. It is a lifelong covenant between a man and a woman, sealed before God, and breakable only on the limited conditions God has outlined in his Word.
But declaring that religious belief is not the same thing as declaring civil law. Outside of the most hard-core integralists or dominionists, there is broad and wise consensus that importing divine standards whole cloth into civil law can be a recipe for division, oppression, and ultimate harm the church itself. Our nation possesses an Establishment Clause for a reason.
Thus, we often have to wrestle with a series of difficult questions. When should we import our religious values into civil law, and how should we choose between competing religious and moral values when deciding that law? Even prior to same-sex marriage, the law governing civil marriage differed substantially from my religious beliefs. No-fault divorce, for example, is a standard far more permissive than my faith requires.
French believes that the Respect for Marriage Act protects religious liberty. He writes:
I agree with University of Virginia Professor Douglas Laycock. The act contains "important protections" for religious liberty, including "an explicit statement by Congress that "diverse beliefs about the role of gender in marriage"–including the belief that marriage is between a man and a woman rather than between persons of the same sex–"are held by reasonable and sincere people based on decent and honorable philosophical premises' and that such beliefs 'are due proper respect."
French made a similar argument in The Atlantic.
French and Esbeck are not the only evangelicals who support the Respect for Marriage Act. The act has support from the National Association of Evangelicals and the Council for Christian Colleges & Universities.
But not all evangelicals are on board. For example, Albert Mohler, president of The Southern Baptist Theological Seminary, is not only opposed to the Respect for Marriage Act, but he is taking the names of the GOP Senators who supported it:
Here is Mohler's take on French's argument:
But was French flatly against same-sex civil marriage? It now appears that the answer is no, and has been no for a long time. French identifies as a civil libertarian who wants to see a balancing of interests and claims within pluralism. As for his position on redefining marriage as a civil institution, he writes, apparently of his 2004 position: "I wanted gay couples to enjoy marriage-equivalent legal protections but without changing the legal definition of marriage. I wanted gay couples to enjoy the legally protected right to build a life together without creating a legal superstructure that ripped apart religious freedoms that are indispensable to the health of the republic and to the flourishing of countless millions of American lives."
That argument should astound evangelical Christians. The key issue seems to be French's basic confidence in pluralism as the great civic goal and central political principle. But pluralism requires careful definition and boundaries. In a recent book, French explains, "I recognize pluralism as a permanent fact of American life and seek to foster a political culture that protects the autonomy and dignity of competing American ideological and religious communities." But what, dare we ask, are the allowable boundaries of respectable pluralism? In answering this question, David French is particularly unclear. If he is clear, his view would undermine any stable public morality based on any objective moral truths.
To summarize:
David French, the National Association of Evangelicals, Christianity Today, and the CCCU are committed to American pluralism. Drawing heavily from the work of Washington University-St. Louis law professor John Inazu in Confident Pluralism, they believe that the United States should protect the rights of all its citizens–even their right to a same-sex marriage. At the same time, pluralism requires respect for those institutions–such as Christian colleges and churches–to uphold their own understanding of marriage without government interference. Evangelical Christians need to live together with people who do not share their views–and vice-versa.
On the other hand, Mohler and his ilk want to import their biblical understanding of marriage into American law. They believe that the United States should reflect Christian values. This is a form of Christian nationalism. Mohler has openly embraced the term to describe his views on this front. And, ironically, Al Mohler is a Baptist.