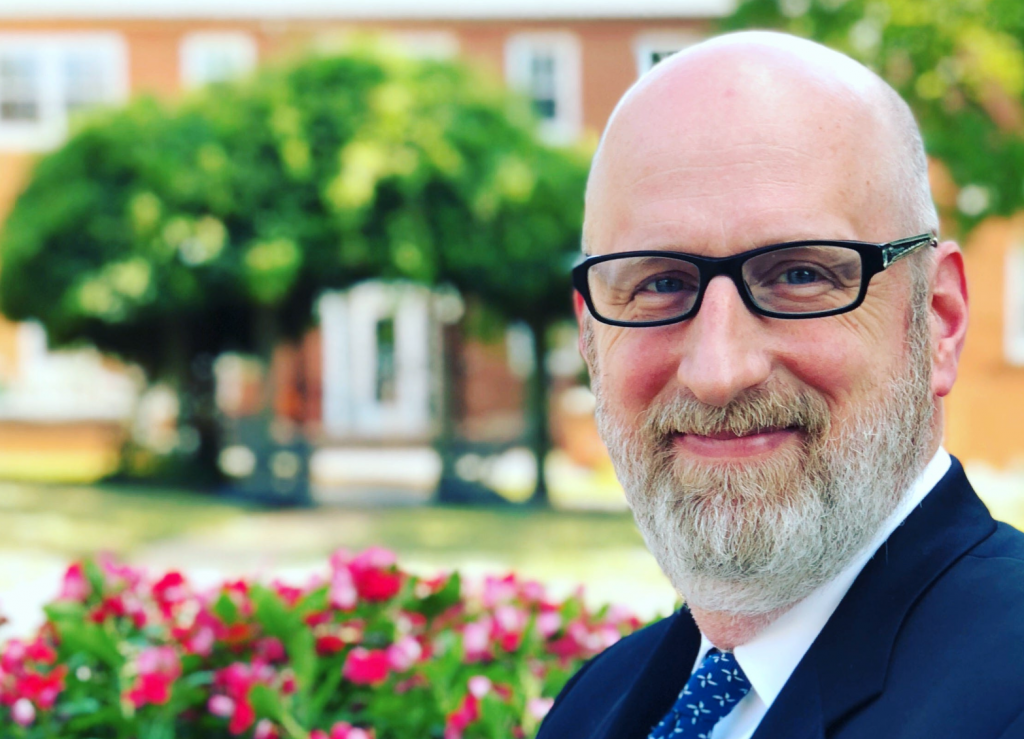 French's ascent reflects the nation's zeitgeist. Will he be able to resist it?
David French began his new gig as a regular columnist for the New York Times this week. It is noteworthy anytime the nation's "Newspaper of Record" names a new opinion writer, but it's especially so when the great bastion of liberalism elevates a conservative evangelical like French. Each voice that rises to claim one of these coveted soapboxes reveals something distinct about the nation's zeitgeist. French's ascent is no different.
French has spent most of his professional life outside of journalism. After graduating from Harvard Law in 1994, he made his name as a constitutional lawyer and activist backing conservative causes from religious freedom and speech to all things pro-life. He worked as senior counsel at right-wing legal advocacy organizations such as the American Center for Law and Justice and the Alliance Defending Freedom. A man of deep conviction and patriotism, never shy about linking his public views to his evangelical faith, he enlisted in the U.S. Army Reserve as he neared his fortieth birthday, serving one deployment in Iraq as a squadron judge-advocate and earning the Bronze Star. By the time he turned to writing in the 2010s he was already a highly regarded, widely respected—even beloved—member of the Christian Right and Republican Party.
And yet no one today would assume that any of these achievements prompted the New York Times to come knocking. No, French is now more widely known as the nation's leading conservative critic of Trumpism—and one willing to aim his criticism at members of his own tribe. French finds Trump and Trumpism contrary to every one of his core religious and philosophical beliefs. And he has never failed to say so. Despite changing none of his core beliefs, he became a hero to many progressives and a pariah among many conservatives due to his unyielding opposition to all things MAGA.
French emerged during the interminable 2016 election cycle as a voice of solace and guidance for many Trump-weary travelers worried over America's apparent descent into Crazytown. I was one such traveler. I found myself repeatedly drawn to French's thoughtful, commonsense National Review columns, steeling myself as the nightmare of Trump's presidential bid gave way to the hellscape of Trump's presidency. During the years that followed French remained a consistently sharp critic of the authoritarian and racist drift of the Republican Party, and my need for French's perspective grew accordingly. I speak for many when I describe French's columns in the years of POTUS 45 as therapeutic lifelines that helped me find sanity amid daily doses of absurdist theatre.
To be honest, my appetite for French's analysis at first took me—and many who know me—by surprise. No one then would have described me as politically conservative. Though theologically conservative in matters of faith and practice, I considered myself broadly progressive when it came to politics and culture. (I haven't voted Republican since the 1990s.) While I occasionally read French prior to 2016, I was no fan. As the Trump era unfolded, however, I found that progressive Trump critics like Michelle Goldberg and Charles Blow left me cold, and often troubled. I came to see that my problems with Trump had little to do with his lack of alignment with progressive policy ideas. Something deeper was happening in the country, and this realization sparked a meaningful shift in my own thinking.
In short, French helped me (re)discover my inner conservative and—I'm sorry if this sounds sentimental—my love for the American idea of self-government. French's assessment of Trump drew deeply from the tradition of "classical liberalism" and the ideals of the American founding. As such, he helped me refocus and refine my essential reasons for opposing Trump's reckless, lawless, amoral, self-dealing tenure as president. Again: I didn't reject Trump because I found him insufficiently progressive. I rejected him because I believed him to be a daily existential threat to the institutions that make American self-government possible. I no longer took those institutions for granted. I realized that I desperately wanted to conserve them!
As I was experiencing this shift in my own thinking, Trumpism was profoundly altering what it meant to be a conservative in America. Just as French's older brand of conservativism was becoming compelling to me, a tide of nationalist, grievance-laden, religiously zealous authoritarianism was rising to take its place. The Catholic writer Sohrab Ahmari championed this new vision by isolating and discarding the old "dead consensus" that he efficiently labeled "David Frenchism."
While Trump was failing in his 2020 reelection bid, making spurious claims of massive voter fraud and inciting the January 6 Capitol insurrection, French was in the process of leaving National Review to help launch a new journalistic venture called The Dispatch alongside likeminded, old-style, Never Trump conservatives. There he continued to produce excellent commentary in the same spirit he had the previous five years, but his focus turned more sharply on conservative Christian complicity with political extremism, conspiracy-mongering, nationalism, and racism. He devoted a weekly Sunday newsletter to exposing the many ways American evangelicals were abandoning the Gospel for the false idols of Christian nationalism. It was a weekly must-read among those who shared his alarm, both inside and outside the Christian faith.
There is something remarkable about an individual willing to call out the sins within his own family. Some see French in this respect as standing in the line of the Hebrew prophets, righteously criticizing God's people for turning their hearts toward false gods. In doing so, they say, French exhibits the enduring virtues of strength and courage. Others take a different view. They look dimly at what they see as French's tacky public display of the family's dirty laundry. People like French do this sort of thing, they claim, not to reform bad behavior but to achieve status among Christianity's cultured despisers (New York Times here I come!). Instead of courage, they see French's broadside attacks as emerging from a vulgar combination of self-righteousness and self-hatred. He isn't a Hebrew prophet, they insist. He's a turncoat tattletale desperate for attention.
This latter perspective is one I neither share nor even understand. I remain a David French enthusiast. I feel gratitude for the many ways he has challenged me to rethink my views and admiration for his courage in calling on evangelicals to live more thoughtful, faithful lives in public. But as he settles in at his new post, I do believe he will need to give careful attention to what it means to exercise his prophetic voice in that setting. It requires considerably less courage to criticize evangelical fecklessness in the pages of the New York Times than it does almost anywhere else in America. He may need to give renewed thought to what it might look like to call out the sins and idols resident within his new home, among his new friends and neighbors. I don't think they will be terribly hard to find. Something tells me he is going to figure it out. I look forward to reading.
Congratulations, David! And Godspeed.
Jay Green is Professor of History at Covenant College. His books include Christian Historiography: Five Rival Versions and Confessing History: Explorations of Christian Faith and the Historian's Vocation (edited with John Fea and Eric Miller). He is Managing Editor of Current.