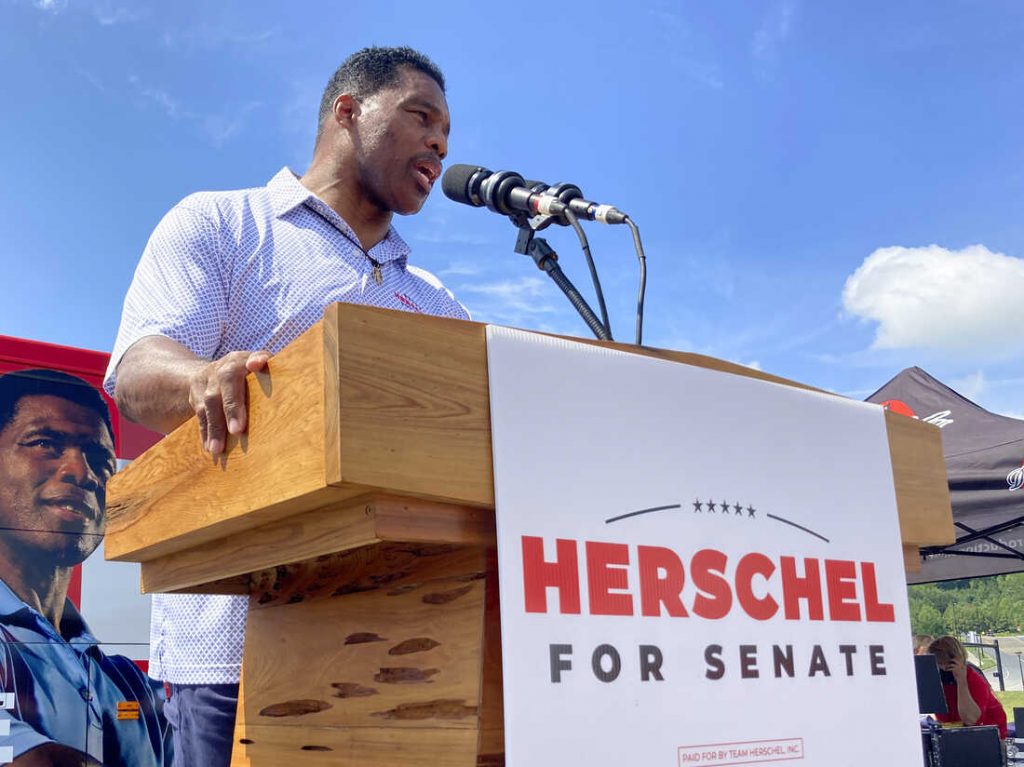 Here is Brian Kaylor at Word & Way:
On the morning after an explosive news report that U.S. Senate hopeful Herschel Walker paid for a girlfriend's abortion in 2009, the Georgia Republican attended a closed prayer event at First Baptist Church in Atlanta. Journalists who showed up at the church Tuesday (Oct. 4) were told by church staffers they had to leave. But Word&Way found photos and videos shared on social media by attendees that give insights into the campaign event.
The "worship and luncheon with Herschel Walker" had already been planned by "Prayer Warriors for Herschel" before the abortion allegation that Walker denies. As attendees walked in, a welcome sign featuring a smiling Walker announced it as the "Herschel Walker Prayer Luncheon."
Although churches can open their facilities for campaigns to use under IRS rules governing 501(c)(3) tax-exempt nonprofits like First Baptist Atlanta, the staff wearing their name badges (like Director of Business Operations Kelly Stewart) while keeping reporters away suggests the inappropriate use of church resources to aid a partisan campaign. Stewart inaccurately told Religion News Service the prayer event was not preplanned and insisted it did not cover "personal things" like the abortion story.
In February, the church even welcomed Walker to the stage during Sunday worship to talk with Senior Pastor Anthony George. A key strategy for Walker's campaign has been speaking during services of megachurches.
George continued his role of helping stump for Walker during Tuesday's prayer luncheon. In a video shared on Facebook by an attendee, George and Walker are on a stage with Walker campaign signs on either side.
Although George did not explicitly mention the report about Walker paying for an abortion, his comments appeared to reference the news of the day. George said he wasn't sure how Walker would be today but found Walker and his wife to be "in good spirits today because they know the name of the Lord is a strong tower." George then read from Psalm 35, which he attributed to King David (though the text doesn't note authorship).
"O Lord, oppose those who oppose me. Fight those who fight against me. Put on your armor, and take up your shield. Prepare for battle, O God, and come to my aid," George read. "May those who rejoice at my troubles be humiliated and disgraced. May those who triumph over me be covered with shame and dishonor. But give great joy to those who came to my defense. Let them continually say, 'Great is the Lord, who delights in my blessing, blessing his servant with peace!' Then, Lord, I will proclaim your justice, and I will praise you all day long."
George added, "I want to claim those verses for my friend Herschel Walker." The crowd, which had said "amen" during the scripture reading, erupted with applause.
Asked by George how people could pray for him, Walker requested prayers for his wife Julie and "all my family that we continue to have the armor of God on and just to fight."
George then asked those in attendance to gather around Walker and pray for him. Those closest to Walker put their hands on him while others stretched out a hand toward him. As George held the microphone and led a prayer, the crowd frequently shouted "amen" and other statements of agreement.
George started his prayer by thanking God "for allowing us to gather together in this place, in this house of prayer where we can call upon your name." He said a "storm is raging outside these walls," but peace comes from God.
"You give us the grace to face any storm that you allow to happen," George added in his prayer. "And we thank you that before Herschel was born, you knew him by name, you had ordained his life, you had already anointed him to have gifts and talents that would cause him to excel above all others. Your hand of favor has rested upon his life all the days of his life. The good days and the dark and bad days, you have been there."
Read the rest here.
Also this:
No word yet from Southern Baptist Albert Mohler about whether a vote for Walker is the mark of an unfaithful Christian.
But we do have this:
Why let the truth get in the way of a political narrative?