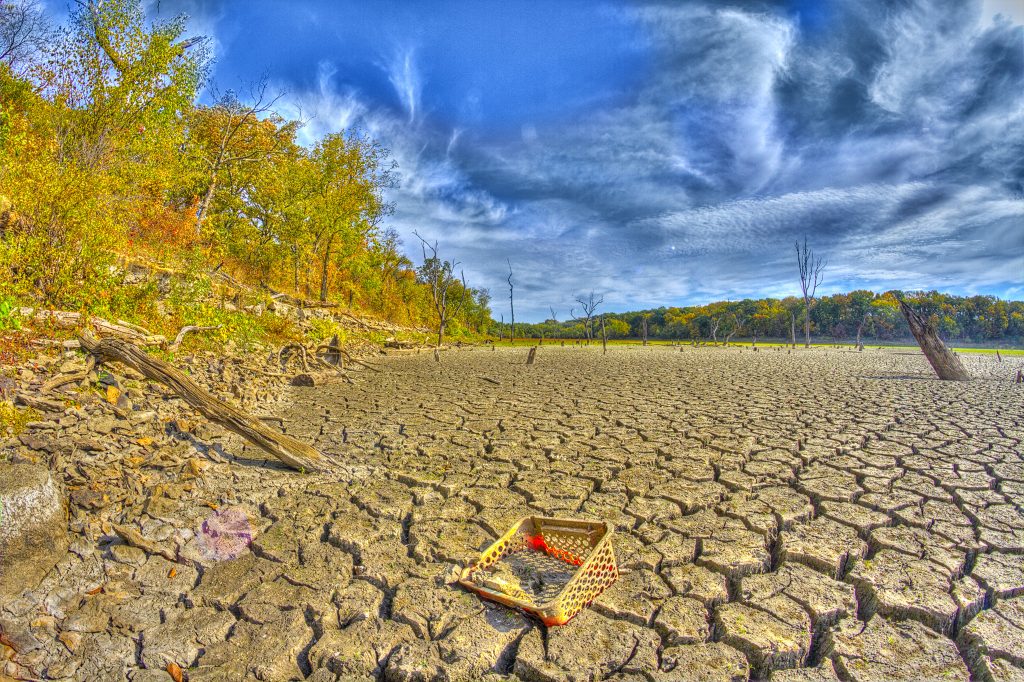 What conservation looks like when nobody's watching
They say there's a drought, but when I twist the faucet, lo and behold: water, flowing over my dishes and pans. Later, water comes out hot from the showerhead. Water dampens the toothbrush, and flushes the toilet. Water fills the glass, but I forget to drink it, and the liquid gets stale on my bedside table. In the morning, I dump that water down the drain. 
Water fills a can, and soaks the soil. These are plants for pleasure, not even for food: petunias, marigolds, a temperamental bougainvillea. Do they deserve to live in these difficult times? Elsewhere in the neighborhood, lawns are supposed to be yellowing. You can still soak them, just a little, and not in the evaporating heat of the day. Many of our neighbors have zero-scaping, made of artful rocks and native grasses and fine-art sculptures. A sacrifice? Hmm. Their properties look pretty nice. At restaurants, they're not supposed to bring you water, but if you ask, here it comes, on a tray.
They say there's a drought. Each household is supposed to cut its water consumption by 15%. Us Californians—we're all in this together! I scan the list. Install energy-efficient appliances, and you'll get a rebate (not applicable to renters). Do full loads of dishes (we don't have a dishwasher). Do full loads of laundry (already done, because our laundry costs $5.00 a load). Don't overwater your lawn (not applicable to renters). Install the grasses and commission some sculptures. Nope! New showerheads? Fixing leaks? Not my problem! This is all for homeowners. Greedy, guzzling homeowners. I give myself a break.
Of course, there are plenty of things I can do—habits that require diligence and intention, that have power in the cumulative rather than the occasional. Like piety or kindness, sustainability is easier preached than practiced. Stop the water while you brush your teeth, or place plates in the drying rack. The twisting, on-and-off, will add seconds to these chores. Sometimes, those seconds feel intolerable. They are the least I can do, and yet, the least is still too much.
Take shorter showers, just by two minutes. Don't flush the toilet in the middle of the night. Sounds fine. But I forget. This is how it is with me and other environmental dicta: good intentions, bad follow-through. I put the apple and carrot peels in the trash rather than the city-provided compost. I keep the lights on. I leave my Nalgene at home, buy a water bottle at the convenience store. It's convenience. Or laziness. The peanut butter jar is so greasy. I throw it in the trash, furtive, ashamed.
Here in the suburbs, we're disconnected, at least for now, from the drought. Farmers are not. Their thirsty fields of strawberries, asparagus, and almonds are being watered, unsustainably, by groundwater rather than rivers and snow-melt. Now, groundwater is being metered, for fear that wells will run dry and the land will sink. In the grocery store, I continue to select my melons and pistachios. A tourist town I visited last spring may need to ship in water by barge and by railway, perhaps in wine tankers. A Central Valley town found itself in a heatwave with only bottled water for drinking, cooking, and bathing. Right now, our county's largest reservoir is empty. It needs to be rebuilt and repaired in order to withstand the inevitable earthquake, to keep from cracking and flooding San Jose. Scarcity is all around us—perhaps not in my home, but not far from here, either. It exists in the dust of the fields, and in the hills along the highway, brittle and brown.
When it comes to climate policy, I crave commands from the government. I admit it—a little authoritarianism doesn't sound so bad. Treat this like wartime! Cut me off, enforce rations. Tell me I can't buy the sugar and butter and rubber—or in this case, the plastic packaging and disposable water bottles and red meat. Ban my gas-powered car. Shut off my lights at 9 p.m. Send the water cops door-to-door, checking the meters they've installed on my faucets. Fine me when you find the oily peanut butter jar. I'm a rule-follower. I'll be compliant. And my compliance is necessary. Once again, for another summer and fall, the West is burning. How will we ensure our survival without drastic, even dictatorial, measures?
But that environmental regime (and its accompanying inequities and abuses, I'm sure) isn't coming. For now, the problem of drought, the problem of climate, must be solved day-by-day, on the honor system. This requires not only renewed personal commitment—it's easy to forget what we don't prioritize—but trust that our neighbors are making changes, too.
We see communal care when worst comes to worst. Families house families fleeing from fires. They open their homes to pets. They donate food and clothing to storm shelters, and offer showers to neighbors whose wells have run dry. They paddle their boats down flooded streets, listening closely for cries of help. Disaster can bring out our best. If only that best could express itself in the everyday—the small acts of solidarity, just as essential as grand sacrifices.
Katherine Lucky is engagement editor for the Bay Area News Group and formerly was the managing editor of Commonweal. She's written for a variety of publications, including The American Scholar, The Point, and Sojourners.