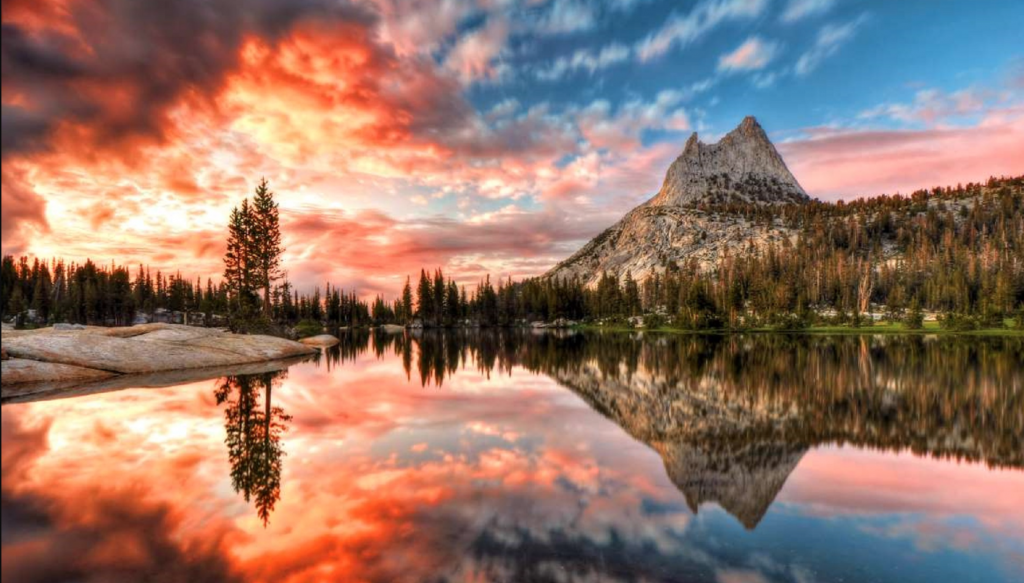 Even amid insufferable striving, community asserts itself
The Most Beautiful Place on Earth: Wallace Stegner in California by Matthew D. Stewart. The University of Utah Press, 2022. 192 pp., $29.95
Living in Silicon Valley, you get used to saying goodbye. Friends leave for other regions in hopes of actually buying a house. Grad students and postdocs finish their research and go in search of work. Most of us aren't from here; our histories happened elsewhere, and we plan, someday, to move nearer to our families. Time on the Peninsula, beneath the perpetual sun, amid boom-and-bust wealth and shaky promises of progress, can feel stolen. This isn't real, rooted life. It's temporary, disconnected from what comes before and what comes next. Renters cycle through a small stock of units; colleges graduate their classes; churches remake their congregations.
It's not just me and my friends, here and now, who experience this transience. Apparently, Wallace Stegner—Pulitzer Prize–winning novelist, essayist, environmentalist—felt this way too, living out the back half of the twentieth century just a town over from my apartment. His discontent might surprise readers who know him as an ardent advocate for the West: and as someone who stayed. Stegner made his home in Los Altos Hills, in a modern house with a woodstove-warmed study where he wrote almost every morning for more than forty years. He cofounded Green Foothills, a conservation group dedicated to protecting the expansive open spaces I hike through today. He taught at Stanford for decades and established the university's creative writing program. Nourished by natural beauty and intellectual companionship, familiar with the curves of the hills and the wind off the Bay—and, presumably, the people he lived with—surely Wallace Stegner was as established on the Peninsula as anyone.
Matthew D. Stewart's new book, The Most Beautiful Place on Earth: Wallace Stegner in California, agrees with this premise to a point. Stegner certainly came to California with the intent of making a home here, not only for himself but for generations to come. He longed for Western communities to establish traditions and cultural memory, to create a "conviction of belonging" only possible after multiple generations of "stickers." The desire was political and aesthetic—Stegner championed regionalism "as a philosophy"—but also personal. By age thirty he was "without any significant connections to his personal past." His father, an "inveterate gambler" who moved the family around for opportunities in wheat and whiskey, had died violently in a hotel. His mother and brother had succumbed to illnesses. For someone deprived of a "personal and possessed past," Stegner must have felt all the more deeply a need for continuity: a place where one was known, and that one knew.
But sadly, Stewart argues, Stegner never quite felt he'd established such continuity in California. His affluent suburban neighborhood, sitting at the nexus of wilderness and civilization, nature and art, should have been perfect. It should have been a place where people would stay for scenic beauty and intellectual culture alike, telling stories and making myths. But "Stegner more or less gave up on the idea that he could make a home in California with a durable sense of place," Stewart writes. Though he committed himself to "indefatigable institution building," he also encountered "irresolvable tensions that marked the place he was trying to make home."
The evidence of those tensions? Stegner's novels and short stories. "In Stegner's vision," Stewart writes, "fiction was a means of enlightening people to their existing or missing connections with places and other people." The novels and stories set on the Peninsula are indeed bleak. Upper-middle-class people live a "shallow, bored, hypocritical" life, displaying "exuberant wealth and effortless affluence" at poolside parties with "barbequed turkeys" and ice cream "fuming in dry ice." They bicker over dogs and horses that roam onto their property; they degrade their own land with a bulldozer. Rather than teach the next generation what they know, they face conflict with local youth, those damn hippies who disrespect the past. This is a "formless non-community," people who live near each other but not with each other.
In several different fictional works, Stegner takes as his protagonist Joe Allston, a retired literary agent who's moved to Los Altos with his wife after a career in New York. In All the Little Live Things, Joe feuds with a hippie who's camping on his land—just as he feuded with his beatnik son before his untimely death. The novel, Stewart posits, is a story of "the standoff between the generations." It's also a story of community breakdown. When a neighbor dies of cancer, she "dies in a place where she will not be remembered . . . This is a suburban tragedy." By the time we meet him in Spectator Bird, Joe lives in a "formless" and "fallen apart" neighborhood, invaded by "junior executives and computer programmers whose tastes and pace of life cannot be trusted to sustain the villa style that he has set out for himself."
I don't know if the end of the "villa style" is to be lamented—but a neighbor dying in relative obscurity is a tragedy. Is it a California one? Aside from his NIMBYism, Joe's discontents don't seem to be particularly Peninsular. He's alienated in Los Altos Hill. But he might have been alienated anywhere, just as well having his mid-life crisis in Greenwich, Connecticut, or The Woodlands of Houston. Maybe this is a suburbs problem: lots of rich people showing off and being snide. Maybe it's a modern life problem: loneliness and despair. Maybe it's an aging problem. Joe confronts "dying friends, physical ailments, emotional regrets." But wouldn't he have found those anywhere? It's plausible that Stegner uses Joe, however consciously, as a vehicle for his own discontents. Stegner, too, was growing older; he was teaching rebel young people; he was living among obscene new money. But these problems feel less geographical than generational, less local and more general. The story plays out here; it could play out anywhere in America, 1967.
Indeed, for a book subtitled "Wallace Stegner in California," Stewart's focus on the state sometimes falters. His argument wanders geographically; we leave the Golden State and spend long passages in other places. Wolf Willow, a hybrid history-memoir-novella, takes place in Saskatchewan, Canada, where Stegner lived for some of his childhood. Second Growth unfolds in a fictionalized version of Greensboro, Vermont, where Stegner spent several summers. And Angle of Repose, the Pulitzer Prize–winning novel that takes up a chapter, is set in Grass Valley: an almost three-hour drive (with no traffic!) from the Peninsula community that Stewart ostensibly takes as his subject.
That's not to say Stewart's analysis of Stegner's broader oeuvre fails. His descriptions of often complicated books are lucid, even lovely. And these works do illustrate Stegner's nuanced feelings about localism and legacy: how tradition both liberates and entraps, how closed communities can become corrupted. In Angle of Repose, a historian researches and writes the story of his grandmother's journey west. The book offers a meta-model of how a place might become established through "disciplined history" and "thoughtful memory," by the "land itself" and by "social institutions that oblige people to stick to other human beings, like marriage and family." But if this kind of placemaking can happen in Angle, a California novel, doesn't that challenge Stewart's argument that Stegner couldn't "imagine [California] as a place"?
"What kind of life might Los Altos yield for its residents?" Stewart asks. "What kind of community was possible there?" Ultimately, he doesn't answer these questions. To do so might have required venturing outside Stegner's fictional protagonists—and maybe ignoring the ones in Vermont and Canada—and taking a look at his real-life experiences. Aside from a failed housing collective (which gets just a brief mention) which disappointments did Stegner face in Los Altos Hills? Did he suffer shallow or finicky friendships? Did he search for local traditions—parades, garlic festivals, Christmas bazaars—and find none? Were there no old-timers to fill him in on the lore, or teach him the names of plants and trees? If the project of local culture could succeed, however imperfectly, elsewhere, why couldn't it work in Silicon Valley, California, even for someone who lived there a long time?
I can imagine the arguments. Silicon Valley is uniquely rich and uniquely transactional. Something about its culture—entrepreneurial and individual, stark and slick at once—precludes vulnerability. We're different from Greenwich, or the Woodlands. We're Western libertarians, disdainful of tradition. We refuse to be told what to think, even when it's for our own good.
These are all real flaws of the place where I live. But they aren't insurmountable. Community asserts itself even amid the insufferable striving. A woman at church tells me the differences between the two kinds of persimmons that grow here. She offers a cookie recipe. A man at the farmers market relays a history of Stanford women's basketball. Two kids sell coffee near the park's rose garden; after many weekends of walks, we know where to find them, and what they're raising money for (a wood-working kit). A bookstore from Stegner's era, Bell's, still operates just a few blocks away. Pay attention, and you'll come to know a place: the best spot to watch surfers, the best breakfast burrito, the time of day to hike Windy Hill, the winter light in the morning. Now, when new people come, I can offer them wisdom, too. I've lived here for just two years. But I'm known, and I know in turn.
In one of his lectures, Stegner asked his audience a version of this question: "Could westerners be counted on to recognize the value of their places and build healthy societies capable of engendering the legacy of three generations or more without destroying them?" His answer was no.
And yet . . .  there he stayed: writing by the warmth of the same wood stove, raising a son who'd go on to live in Santa Cruz, defending the West, his subject. His home. 
Kate Lucky is a writer living in the Bay Area. She is an editor at Christianity Today.