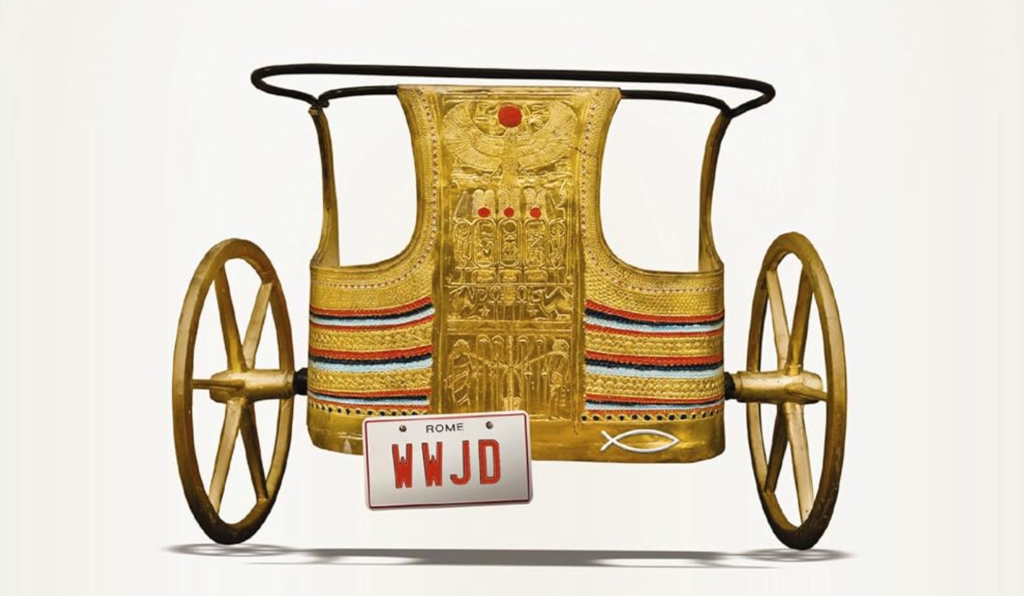 A close look at ancient Roman Christians shows us we're not alone
Cultural Christians in the Early Church: A Historical and Practical Introduction to Christians in the Greco-Roman World by Nadya Williams. Zondervan Academic, 2023. 256 pp., $26.99
On Sunday the Christian goes to church. She worships; she prays; she hears a sermon. After service she chats; she sips coffee; she drives home, refreshed and ready for the week. The religion she follows makes some radical demands. It sets standards about sex; it touts temperance and humility. Forgive your enemies, Jesus says. And if you're wealthy, be warned. Blessed are the poor.
Unfortunately, what this Christian's faith asks is at odds with pressures she faces elsewhere: from her job, from her partner, from various TikToks. She gives away very little of her money, gets drunk on the weekends, and fights about politics. Some of these behaviors, she senses, are wrong; she feels a bit like a hypocrite. But most of them she takes for granted. Of course she should structure her life like this. She saves obsessively for retirement. She studies the pores of skincare influencers. She cuts toxic friends out of her life. This is what everyone does. It's all normal. Her church, too, gives the world its due. Her semi-celebrity pastor films Instagram reels, and endorses a president from the pulpit. This is what every leader does. It's all normal.
We may bemoan this woman's faith as an outgrowth of our time and place. American Christianity has grown too comfortable, too powerful, altogether too of a piece with its secular surroundings. But a new book from historian Nadya Williams argues that "cultural Christianity" isn't a modern phenomenon. In fact, Williams proposes, "cultural Christians were the norm rather than the exception" even in the early church. From the very beginning believers were in the world . . . and unfortunately, they were of it, too.
Cultural Christians in the Early Church is meant to encourage its readers as much as to educate them. Believers in 2023, take heart: The early church wasn't all unapproachable martyrs and mystics. It was filled with ordinary people like us, struggling to live out their faith. "Seeing the early church wrestle with the same challenges of cultural Christianity," writes Williams, "should be both a source of comfort and a call to action in pursuit of sanctification in the present."
In chapters organized by various "sins"—from gluttony and misogyny to "Christian nationalism"—Williams advances her argument through historical anecdotes and close readings of primary texts. She nests stories inside of each other; she incorporates contemporaneous literature; she creates her characters with material drawn from letters and passages of Scripture.
Occasionally, this layering of names, dates, locations, and quotations overwhelms. But if this cacophony is occasionally confusing, it's also exciting. Williams offers vivid descriptions of punishments and plagues, battles and feasts, testy emperors and complex bureaucracy and cloth soaked in the blood of martyrs. Particular systems of honor and power, the customs of marriage and religious rites, comprised the "taken-for-granteds" of this time and place, the codes for how people related to each other and to higher powers. It is in this context that the people called Christians—with their bizarre ideas about women, the state, and charity—first formed churches. They existed first as an oddity, then as a persecuted minority, and finally as a favored majority. At every stage they made compromises with their surroundings.
Take, for example, Paul's rebuke to the Corinthians, directed at church members paying for prostitutes. Their bad behavior is explained, at least in part, by their context. "Lust was the quintessential Roman cultural sin"; myths and Ovid's best-selling Art of Love glorified rape and extramarital affairs. By contrast, Christians understood their bodies as temples, marriage as sacred, and private sexual acts as having communal implications—easier affirmed than practiced in an empire where "the price of hiring a cheap prostitute was about equal to the price of lunch."
Christians remained "of the world" when it came to wealth, too, with "ever-present culturally reinforced personal desires—for money, for respect, and for glory—impacting early believers' attitudes toward sharing property and financial resources." Where the church taught radical giving with no expectation of reward, the Romans championed public patronage and groveling gratitude. In this system it's no surprise that Ananias and Sapphira would lie about a donation to the church, insisting they'd given all the proceeds from their property rather than only a part. Food, too, was contentious. Paul encouraged the Corinthians not to be a stumbling block for fellow believers squeamish about idol-sacrificed meat. But giving up beef and lamb wasn't just a dietary accommodation. It was a lost networking opportunity; going vegetarian meant skipping out on banquets with influential people.
"Living counterculturally has always been much harder than following the culture": True for food, money, and sex, and true also of our more lofty ideological assumptions. Roman attitudes about childbearing challenged the church's treatment of single women and widows. A "nationalism based on belief in Roman exceptionalism was a feature of Roman religion"; it "was also part of the worldview of many (although not all) early Christians." In a society that extolled Homeric excellence and military courage (virtus) "the rise of Christianity and its creation of martyrs as the new culture heroes allowed for another type of competition." Indeed, some believers avoided caring for plague victims in order to "save themselves" for a more-impressive death, preferring stoning and burning to boils and fever. This selective sacrifice, Williams asserts, had less to do with the cross than with popular lore. Then there were the Donatists, an early Christian sect obsessed with bloody narratives of their own persecution. In a culture marked by ritual killing, "glorifying violence" was normal, argues Williams; it allowed the Donatists to create "an alternate reality for themselves—a world in which they were always the persecuted minority, even as Christianity became the de facto religion of the empire."
Cultural Christians is highly readable, consistently engaging, more like a thought experiment than a traditional academic volume. It's not that Williams's assertions don't have evidence to back them up. But her aim seems to be to provide a particular interpretive lens on texts and historical events rather than to offer a set of concrete proofs. She's always bringing us back to the present, trying to get us to think more creatively about the cultural Christianity we ourselves practice. Many of her applications are insightful. Perhaps Paul's warnings about meat relate to contemporary attitudes about alcohol. Perhaps understanding how susceptible the early church was to prostitution makes us think differently about cohabiting before marriage. Or maybe knowing that apostasy often happened out of "convenience" will make us think twice about our own lackadaisical church attendance. The connections between Roman nationalism and American Christian nationalism couldn't be clearer.
Other applications are more of a stretch. Williams occasionally criticizes evangelical culture for what seem to be its counter cultural views—on yoga pants, for example. This puritanical modesty might be misguided, but it doesn't feel worldly; no woman is facing secular pressures to get rid of her LuLuLemon. Other examples would seem to indicate most cultural sins are committed by Republicans. Do "resentment toward taxation" or skepticism toward foreign aid really count as "cultural sins" regarding money—or are these political perspectives that some believers can hold faithfully? "Women of color are more likely than white women to deliver premature babies, to die in childbirth, and to live in poverty," Williams writes. "Yet it is often conservative Christians who argue against government social programs that might provide these women with better healthcare or other modes of assistance." Statistically true, yes: But this kind of shallow policy analysis feels overly partisan in a book whose takeaways in the main transcend party politics.
Perhaps this too has to do with culture. Williams has lived in Georgia and Ohio. In these states right-wing talking points are more readily—and wrongly—assimilated as Christian creeds. But that's certainly not true where I live, in the Bay Area. The "cultural sins" I have to contend with are Democratic talking points and bourgeois progressive pieties. We might wear our N-95 masks; that particular expression of American individualism isn't a problem here. But other iterations are: the lauding of the "dual income no kids" lifestyle, an obsession with physical fitness, the imperative (dressed up in therapeutic language) to rid ourselves of "problematic" people, all running rampant in our churches. We say our skincare makes us "healthy," our veganism makes us "clean," our retirement accounts make us "responsible"—and assume that we're in line with what Jesus teaches.
In what is predominately a work of history, Williams only had so much space to fill with contemporary cultural applications. And there are so many she could have chosen: Netflix (sloth); two-day delivery (avarice); Instagram influencing (pride). Start mapping out the ways in which culture leads us astray and you'll find yourself asking: Isn't all our wrongdoing due in part to our surroundings? Where "the world" ends and souls begin; to what degree we owe our transgressions to nature or nurture: These distinctions aren't easy to parse. Most everything I covet, most everything that makes me angry, comes from culture—the stuff advertisements tell me to buy, the headlines I'm pushed on my phone. My sin may be "original." But it's always also contextual.
That the internal becomes external shouldn't surprise us. Sinful humans, after all, establish our values and customs, set our "taken-for-granteds." It's no surprise that the converted still struggle to separate their own inward longings from the outward world that promises to fulfill them.
I don't think Williams would disagree. In fact, this complicated interplay between self and society, church and world, is exactly what she wants us to consider in every aspect of our Christian life—and Cultural Christians more than achieves this genuine pastoral aim. In the Roman Empire and now, she proclaims, the church never existed apart from those it sought to serve, and withdrawal has never been the answer. "The siren call of the desert and its peace sings beautifully to me some days," Williams writes near the end of the book. "People are difficult. The ascetics were right. People, with all their incessant noise and sinfulness, distract us from God." We seek to impress them, or dominate them, or fit in with them; they lead us astray.
"Yet it is by serving other people, these noisy and distracting image bearers, that we are daily forced to confront our own sinful nature and can daily pursue sanctification," she continues. Sanctification: that gradual mystery, in the world but not of it. It's almost impossible to imagine. And yet: "This is what counter cultural Christianity looks like."
Kate Lucky is a writer living in the Bay Area. She is an editor at Christianity Today.