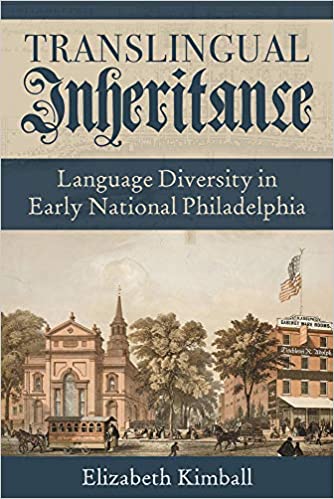 Elizabeth Kimball is Assistant Professor of English at Drexel University. This interview is based on her new book, Translingual Inheritance: Language Diversity in Early National Philadelphia (University of Pittsburgh Press, 2021).
JF: What led you to write Translingual Inheritance?
EK: I was trying to square my work inside English departments, which I loved, with all that I'd done in communities outside of this realm of English–whether in other named languages like Spanish, or just in communities in general. Could I take what I was learning about pedagogy in the early republican period, which was all about the Anglo-American rhetorical tradition, and see the same period through a lens of multilingual experience? As I was doing all this primary research, my field of rhetoric and composition was taking on the question of English more seriously. The idea of a translingual framework was emerging. So the theory came along to frame what I was finding in the archives, and what I was finding in the archives helps to historicize the theory.
JF: In two sentences, what is the argument of Translingual Inheritance?
EK: If we really want to understand how difference is essential to democracy–and not a threat to it–we can look at the impressive dimensions of languaging about language that shaped community building in the early U.S. Doing language difference lies at the geographic heart of the nation's founding as much as it does at its borders and its margins.
JF: Why do we need to read Translingual Inheritance?
EK: As we move into a new era of working for justice and equality, it's time to take on the question of language in how we understand difference. Translingual research shows us that language is made only in community, and our minds don't separate the named categories like English and Spanish–culture does. So if we are going to make a more equitable culture, we need to explore what humans do with language. In the end that's even more important than understanding how we use languages as a set of identity markers.
JF: When and why did you become an American historian? (Or if you are not an American historian, how did you get interested in the study of the past?)
EK: Of course, all literary and rhetorical study demands an understanding of context, and context means studying history. But if I go back to the beginning, I would credit the humanities program at my alma mater, Earlham College. These first-year seminars combined texts from across the humanities around a theme; for instance, we read Zora Neale Hurston's novel Their Eyes Were Watching God along with historian Jacqueline Jones' Labor of Love, Labor of Sorrow: Black Women, Work, and the Family, from Slavery to the Present. The point was that no one genre is ever enough; if we want to be engaged humans, we need to understand the world through a range of lenses. And history was always necessary.
As for the American part, I wanted to write about the linguistic diversity issues that were present in the development of schooling in Scotland in the 18th and 19th centuries. My literary studies had all tended towards the British side. But I was in Philadelphia. And I realized that there were all these amazing archival resources locally, and that Philadelphia was really just the other locale in the same transatlantic culture. Everything that interested me about the Scottish Enlightenment was getting tested over here. Once I started looking, and connecting it all with my own love for the city and its diverse history, I was off and running.
JF: What is your next project?
EK: I'd like to do with religion in the second book what I did with language in the first book. Coming from the field of rhetoric and composition, it was natural that my research for Translingual Inheritance focused on schooling and pedagogy. But writing it made me see that schooling actually has a lot to do with religious feeling and religious culture. Religious culture is incredibly translingual too –people work pretty hard to communicate with the divine. We have a lot of work to do as a culture to learn how to talk to each other about religion, and I think rhetoric scholars can help with that.
JF: Thanks, Elizabeth?