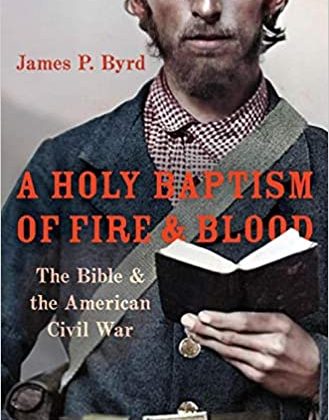 James Byrd is Professor of American Religious History, Chair of the Graduate Department of Religion and Associate Dean for Graduate Education and Research at Vanderbilt University Divinity School. This interview is based on his new book, A Holy Baptism of Fire and Blood: The Bible and the American Civil War (Oxford University Press, 2021).
JF: What led you to write A Holy Baptism of Fire and Blood?
JB: I'm fascinated by the Bible's presence and influence in American history. My previous book with Oxford UP was on the Bible and the American Revolution, and my research for that book motivated me to learn more about the Bible's use during the Civil War.
JF: In two sentences, what is the argument of A Holy Baptism of Fire and Blood?
JB: No book was more important to the Civil War than the Bible. Abraham Lincoln stated that both sides in the war "read the same Bible," and this book examines how both sides read the Bible and enlisted it in fighting the war and coping with its devastation.
JF: Why do we need to read A Holy Baptism of Fire and Blood?
JB: A Holy Baptism of Fire and Blood opens a new perspective on the Civil War, one that takes seriously the Bible as the nation's most read and most quoted book. Based on thousands of sources–including sermons, newspapers, and letters–his book reveals the various conflicting ways in which Americans relied on the Bible to comprehend the Civil War. With Bibles in hand, many Americans on both sides found inspiration for battle in a war that they believed was sacred.
JF: When and why did you decide to become an American historian?
JB: I've always been interested in American history, and particularly on issues that have divided the nation. By studying history, we gain a perspective we could not have in any other way, a perspective that helps us to understand our lives today. I'm constantly amazed at how the past continues to shape the present.
JF: What is your next project?
JB: I've signed a contract for another book with Oxford University Press, currently titled "Our Beloved Martyred President": The Assassination and Sacred Legacy of Abraham Lincoln.
JF: Thanks, James!