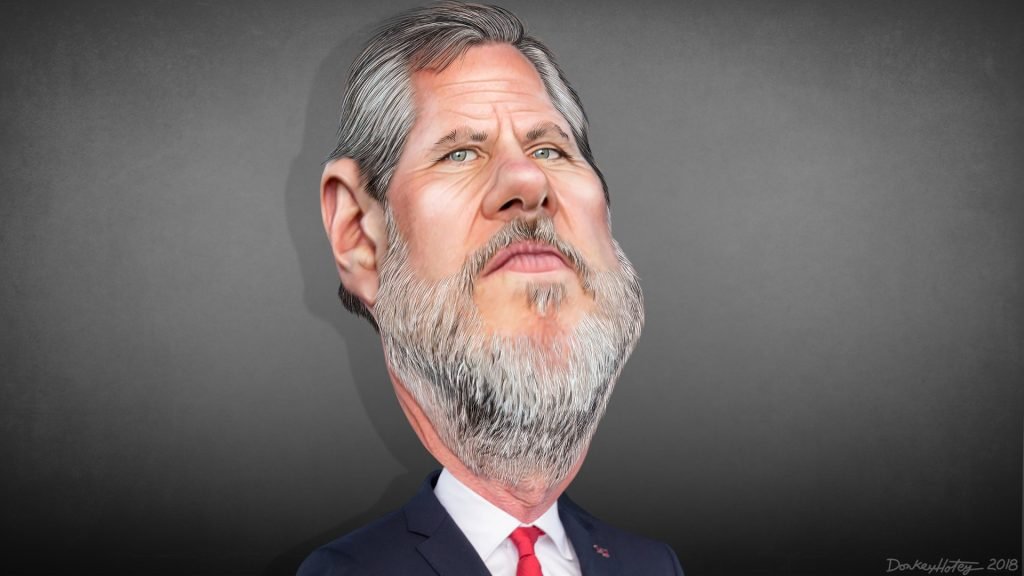 How evangelicals learned to stop worrying and love postmodernism
The Gospel of Matthew tells the story of a malicious being, an "unclean spirit" that returns to its house to find it swept and in order. It then invites seven other spirits "more evil than itself" to move in with it, leaving the house worse off than before.
The mob that infiltrated the people's house on January 6th gave concrete expression to the malicious forces wreaking havoc on the American body politic. Members of the Proud Boys, Oath Keepers, and other white supremacist groups broke windows, assaulted police officers, and hunted down members of Congress. One rioter unfurled a Confederate flag in the capitol building. Another sported a "Camp Auschwitz" sweatshirt. Still others erected gallows across from the capitol—presumably to facilitate the public executions predicted by the QAnon conspiracy. Perhaps most jarring, however, were the many signifiers of evangelical Christian piety: crosses, "Jesus Saves" and "Jesus 2020" signs; groups locking hands and bowing heads to pray. This evangelical element seemed to revel in the chaos. As one participant put it, "we are fighting good versus evil, dark versus light." 
How did evangelicals come to play a starring role in the insurrection? Why did the voting bloc that touts a "biblical worldview" twice turn out in record numbers to support a philandering, biblically illiterate casino mogul? How did a purveyor of conspiracy theories, fake news, and alternative facts get Jerry Falwell Jr. to enthuse that "evangelicals have found their dream president?" Why did so many evangelicals come to believe without any factual basis that the election was stolen and that rioting side by side with white supremacists was the way forward? 
The simple answer is that evangelicals ultimately care about just two issues: religious freedom and abortion. Since Trump delivered on these issues in his first term some were determined to ensure a second term by any means necessary.
Whatever its merits, this explanation is too narrow. It overlooks evangelical support for crueler aspects of Trump's agenda, from the Muslim ban to family separation. A more nuanced answer is that evangelicalism—or at least, white evangelicalism—has morphed into Christian nationalism. This explains the ease with which evangelical leaders use religious language to sanction violence against racial, religious, and political outsiders. But this begs the question of why, with the exception of a small but vocal dissenting faction, evangelicals embraced the Christian nationalist vision—or chose Trump as their standard bearer. 
A deeper answer must grapple with a paradox: after decades of attacking postmodernism for undermining Americans' sense of morality and absolute truth, a movement-defining coalition of evangelicals has embraced post-truth politics.
The term "postmodernism" describes a loosely affiliated set of cultural movements that took hold in the 1970s. The intellectual wing of postmodernism grappled with how the midcentury shift toward a consumerist, media-driven society undermined, manipulated, and transformed the way humans make sense of the world. Early theorists sought to explain how these shifts altered our relationship to truth itself. Can a media infrastructure shaped by consumer capitalist incentives convey accurate information about human affairs? How do profit motives and power-seeking taint public truth claims? Can individuals sift out the truth, or has rampant consumerism made such sifting impossible?
These questions prompted vigorous debate. Certain conclusions—such as that truth is relative or unknowable—drew sharp (and in many cases warranted) criticism. In the age of social media and coordinated disinformation campaigns, however, the questions about the nature and fragility of truth-telling haunt us more than ever. As communities from across America grapple with how to respond to these questions, evangelicals stand out for embracing rather than resisting postmodern tendencies.
Evangelical preoccupation with postmodernism took hold in the 1980s, as prominent figures like Jerry Falwell, Josh McDowell, and Chuck Colson inveighed against the social ills they perceived to be tearing through America. Behind the "if it feels good, do it" cultural ethos of the day, they argued, was the philosophical movement of postmodernism and its toxic blend of situational ethics, revisionist history, and moral relativism. These trends threatened to corrode the very foundations of American society and had to be resisted by—among other things—asserting creationism over evolution, upholding conservative family values, and voting Republican.
Interestingly, early postmodernists likewise thought American culture had gone off-kilter. In their view, the malaise did not flow from the ivory tower but rather from the ways that consumerism and mass media had shattered our sense of a shared reality. This left individuals vulnerable to manipulation, particularly by those who offered an illusory sense of truth in exchange for power and profit. Resisting this manipulation required exposing how power-seeking masqueraded behind truth claims.
At first glance, this critique seems compatible with evangelicalism. Since its inception, Christianity has argued that sin distorts human action, and it has catalogued how this happens. Why not place this tradition in fruitful dialogue with postmodern insights into how easily power corrupts and coopts truth? But by and large the evangelical community combatted a postmodern strawman without taking the postmodern social critique seriously. Complex sociological issues such as declining church attendance, rising divorce rates, and the spread of drug culture got blamed on the pervasive influence of postmodernism rather than addressed with the nuance they required. Meanwhile, evangelicalism expanded its political influence by embracing consumerism and mass media—the very cultural forces that postmodern thinkers warned had unmoored us from shared values. Evangelicals exorcised a caricature of postmodernism only to invite in more insidious agents of moral relativism. The Trump era has exposed just how damaging this has been.
Donald J. Trump has always played fast and loose with facts, and his presidency was no exception. He insisted his inauguration crowd was the largest ever despite clear evidence to the contrary, prompting White House adviser Kellyanne Conway to coin the phrase "alternative facts." He labeled negative press, no matter how factually grounded, "fake news." His legal counsel blurted out "truth isn't truth" on national television. Trump embodied the moral relativism evangelicals spent decades decrying.
And yet, white evangelicals in particular backed him no matter how crassly he manipulated Christian values and symbols. During the George Floyd protests, military personnel dispersed crowds with tear gas so Trump could stage a photo op with a Bible in front of St. John's Episcopal Church in Lafayette Square. Instead of rebuking these actions, marquee evangelical leaders such as Franklin Graham and Robert Jeffress were staunchly supportive. It didn't matter that presiding Episcopal bishop Michael Curry objected vehemently to St. John's Church being used as a political prop. Or that the government used violent tactics on a group of peaceful protestors that included Christian clergy. Or that Trump wielded the Bible as if it were a sale item in an infomercial. All that mattered was that the most powerful person on earth displayed their totem to the world.
The January 6th insurrection showed that rank and file evangelicals got the message: power trumps principle. It doesn't matter who you ally with—what conspiracies they push, which groups they hate, what tactics they use—as long as they help you gain and retain power. And Christianity conveniently offers a set of symbols and pull quotes to be weaponized in power's pursuit. The irony is palpable: those who railed most loudly against postmodernism have manifested the ugliest impulses of a postmodern age.
Jeremy Sabella lectures at Dartmouth College and is the author of An American Conscience: The Reinhold Niebuhr Story.