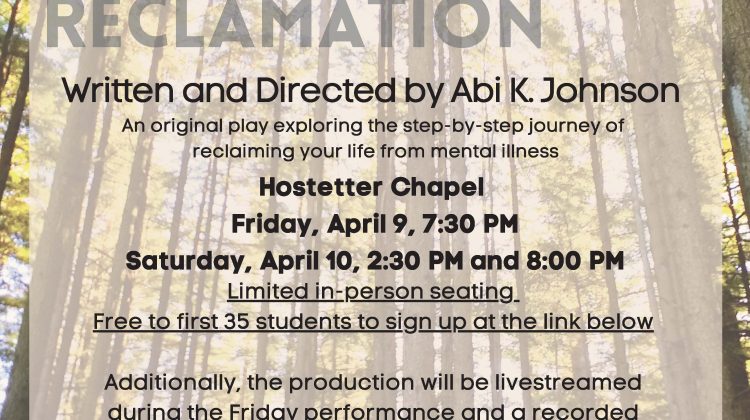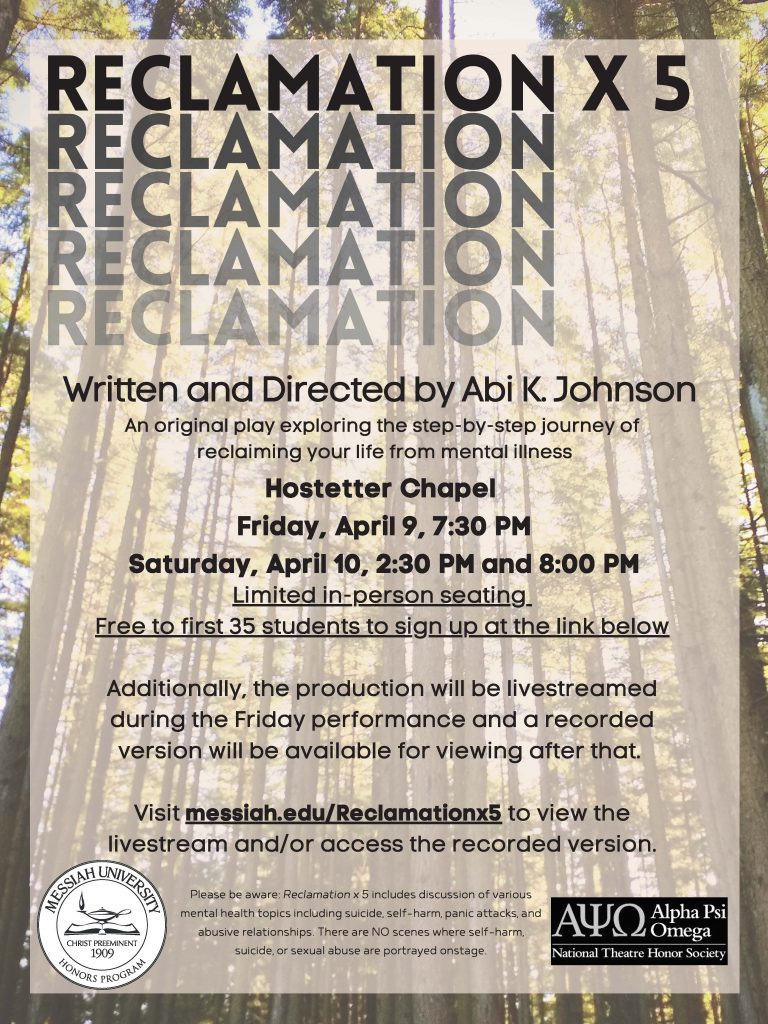 Annie Thorn is senior history major from Kalamazoo, Michigan and our intern here at The Way of Improvement Leads Home.  As part of her internship she is writing a weekly column titled "Out of the Zoo." It focuses on life as a history major at a small liberal arts college. This week, Annie writes about what she has been learning about mental illness—JF
My roommate Rachel was in a play this past weekend. The play was called "Reclamation X5" and was written and directed by a Messiah University student for her senior honors project. It was about a summer camp for individuals with mental health struggles. My roommate played Miriam, the camp counselor. She was the real star of the show in my opinion, but maybe I'm just a little biased. "Reclamation X5 facilitated an honest conversation about mental illness and what it means to recover from it. The play emphasized the role that setbacks and steps forward play in the reclamation process,
On a personal level, my own mental health hasn't been too bad lately. I've become more aware of what factors contribute to my struggles in this area. Abundant free time, certain social situations, and periods of transition tend to cause my anxiety to flare. I've learned some strategies that help me with my anxiety, and I'm getting better at implementing them. I'm doing much better than I was last spring, but it varies day by day. Like "Reclamation X5" pointed out, setbacks and steps forward are both part of the process.
I've been thinking a lot about mental health in the past couple weeks. Over Easter break, as part of my junior student teaching's professional development component, I began training to become a "mental health first-aider." In my Adolescent Development class we've talked about how the COVID-19 pandemic and virtual schooling have affected teenagers' mental health and well being. While the full extent of the effects are unknown, children and adolescents have had significantly higher rates of anxiety, depression and stress since the start of the pandemic. Coincidentally,  I'm sure that many of the young people I interact with on a regular basis–through Young Life and my field experience–are fighting battles under the surface that I'm not even aware of. 
My most recent thoughts about mental health have also been shaped by Edward Larson and Darrel Amundsen's A Different Death, a book I am reviewing for my class with Dr. Ted Davis. Larsen and Amundsen offer a Christian interpretation of the debates surrounding euthanasia and physician-assisted suicide. Before discussing the right to die movement and contemporary issues in medical ethics, they trace the history of Christian perspectives on suicide. They challenge the misconception that suicide was commonplace due to people's desire to escape sin, end suffering, or reach heaven more quickly. Instead, they argue that suicide does not fit within a Judeo-Christian moral framework. Perseverance in the face of suffering is a theme that has defined the Christian experience for centuries, they claim. Early Christians' emphasis on human dignity set them apart from their pagan Greek and Roman neighbors who more frequently considered suicide an acceptable practice. Larson and Amundsen go on to explain how Christians developed and popularized their opposition to suicide. They talk about martyrs and saints and women who committed suicide to maintain their chastity. The authors' even mention that John Bunyan, the author of Pilgrim's Progress, England's most popular condemnation of suicide, suffered from mental illness and "resisted the temptation to kill himself." (152)
The last few weeks have reminded me of just how important it is to talk about mental illness. It also reminded me how vital it is to study its history. I'll admit that I have been skeptical of psychohistory in the past. More often than not, historians are not trained psychologists. Many of us don't have the knowledge, skills, education or resources to do justice to both fields. We shy away from making diagnoses because we can't prove for certain that historical figures suffered from particular mental illnesses. We don't want to make presentist assumptions about the minds of those who lived hundreds of years ago, so we avoid the topic. These concerns are completely valid. Yet at the same time, it seems that the history of mental illness is too important a topic for historians to ignore. Like the adolescents I interact with on a daily basis, historical actors may have fought internal battles that we know little about. Mental illnesses are complex, complicated and nuanced, and any study of them–historical or otherwise–should not be taken lightly. Historical figures may not be able to engage in conversations about their mental illness, but with practice, a careful historian may learn to speak for them.