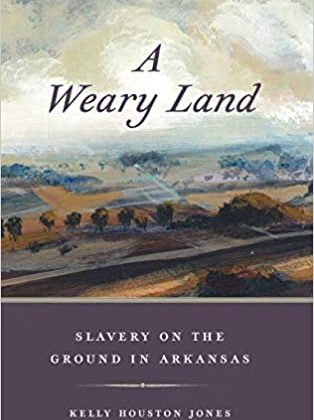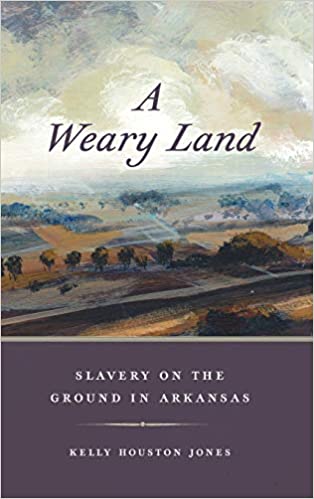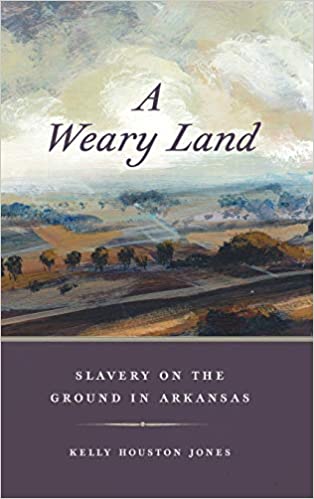 Kelly Jones is Assistant Professor of History at Arkansas Tech University. This interview is based on her new book, A Weary Land: Slavery on the Ground in Arkansas (University of Georgia Press, 2021).
JF: What led you to write A Weary Land?
KJ: I noticed that although the scholarship on American slavery has become so enriched by investigations of the lived experiences of enslaved people, the written history of slavery in Arkansas had yet to reflect that emphasis. Museums and bookstores were still selling a 1958 book called Negro Slavery in Arkansas, which did not offer much about the point of view of people held in slavery.
JF: In two sentences, what is the argument of A Weary Land?
KJ: Enslaved Arkansans were able to repurpose their experiences with agricultural labor, rural life, and the natural world to craft a sense of place as well as a definition of freedom based on the power to control their own movement and the right to use the landscape as they saw fit.
JF: Why do we need to read A Weary Land?
KJ: It helps flesh out the story of the often-neglected trans-Mississippi cotton frontier by focusing on the ground-level experiences of the people who lived it. This is a state notorious for the Elaine Massacre of 1919 and the Central High School Crisis of 1957 but the earlier history of slavery–the long backdrop for those outrages–is little known.
JF: When and why did you decide to become an American historian?
KJ: In college I began as a business major, but soon realized that I wanted to study people and their stories. The more I study American history the more questions I have. In graduate school I was drawn to the study of slavery because, I think, there's still such a reckoning that needs to happen in our society as we live the legacy of it. This was especially motivating for me to write this book about my home state.
JF: What is your next project?
KJ: I have two things going that are sort of competing with one another right now–the practice of absentee slaveholding and the lynching of enslaved people. The first, I think, helps to illuminate slavery as a business, a portfolio investment, for so many enslavers. I also have questions about how absenteeism changed the power struggle on plantations. However, my research on the lynching of enslaved people feels a bit more urgent because many people assume that lynching began after the Civil War.
JF: Thanks, Kelly!