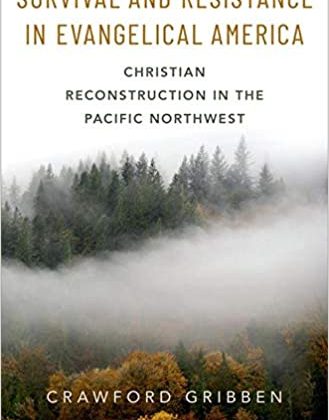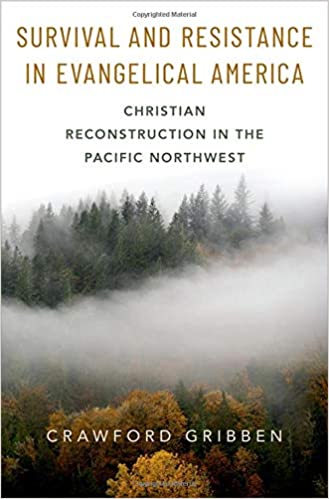 Crawford Gribben is Professor of History at Queen's University Belfast. This interview is based on his new book, Survival and Resistance in Evangelical America: Christian Reconstruction in the Pacific Northwest (Oxford University Press, 2021).
JF: What led you to write Survival and Resistance in Evangelical America?
CW: When I began my doctoral studies, back in the mid-1990s, my supervisor, Professor Michael Bath, the historian of early modern emblem books, advised me that "serendipity is the art of research." And that's exactly what I discovered. One Saturday afternoon in the autumn of 1995, while browsing in a theological bookshop in Edinburgh, looking for seventeenth-century titles, I almost literally stumbled across a pile of magazines that had somehow made the journey to Scotland from Moscow, Idaho. These magazines were some of the earliest issues of Credenda Agenda, a journal of cultural and religious commentary that was being published by a small group of Reformed Christians, partly to encourage their readers to think more critically about the state of American evangelicalism, and partly to encourage others to join their ranks. I followed the growth of this community as the number of Credenda Agenda subscribers grew to around 22,000 by the end of the 1990s; as members of the community founded New Saint Andrews College and Canon Press, through which they produced the books that would define their positions on issues related to family, church, government, and eschatology; and as its soft-power began to expand among Reformed Christians and increasingly elsewhere. About ten years later, sometime around the financial crash of 2007, I began to take an interest in online survivalist cultures, becoming especially interested in survivalblog.com, and in the novels and preparedness manuals that began to be published by the blog's owner, James Wesley Rawles. Rawles' early work was self-published, but his later works appeared under major imprints, even as the number of monthly visitors to his website soared into the hundreds of thousands. What I found so striking was that Rawles' novels included in their plots the community in Moscow that was publishing Credenda Agenda–a fact that demonstrated how important they had become to the imagining of the means by which the tribulations of the cultural crisis that Rawles and the Moscow community expected could be survived. The third serendipity was a sequence of conversations with Scott Spurlock, a friend and colleague with whom at that point I was working in Trinity College Dublin. Scott knew the area that Rawles was writing about, and had contacts in the Moscow community. We decided to investigate. So we planned a road-trip, drove across the Pacific Northwest … and this book was the result.
JF: In two sentences, what is the argument of Survival and Resistance in Evangelical America?
CW: Over the last thirty years, conservative evangelicals have been moving to the Northwest of the United States, where they hope to resist the impact of secular modernity and to survive the breakdown of society that they anticipate. These migration movements have independent origins, but they overlap in their influences and aspirations, working in tandem to offer a vision of the present in which Christian values must be defended as American society is rebuilt according to biblical law.
JF: Why do we need to read Survival and Resistance in Evangelical America?
CW: Survival and Resistance is an intellectual history of one of the most significant and least discussed political movements within American evangelicalism–a movement known as Christian Reconstruction–and an account of its most successful community. It combines the history of ideas with ethnography, building on interviews with many of the leaders of these projects, as well as with those who have come to share their vision, and literary criticism, paying close attention to the ways in which the media artefacts that are produced within these communities speak to shared concerns about such subjects as politics, gender, race, and the possibility of violence.
JF: When and why did you decide to become an American historian?
CW: I've always loved history. I grew listening to my parents and grandparents telling stories about the past, and was blessed to have some outstanding and inspiring history teachers in secondary school. I really enjoyed studying history at university, even if I found that I got on better with literature and ended up making that my principal interest. My first few jobs were in university literature departments, where my research interests moved from the new historicism towards something more historiographically antique… until I fell off the wagon altogether. At the moment, I'm not sure that I see myself as an American historian, although I have written a few books about aspects of American evangelicalism. I'd see myself more as an historian of the literatures and cultures of popular Protestantism, with a range from the seventeenth century to the present day.
JF: What is your next project?
CW: Despite everything I just said about my interest in popular Protestantism from the seventeenth century to the present day, my next book will be The Rise and Fall of Christian Ireland–coming out with Oxford University Press in August.
JF: Thanks, Crawford!