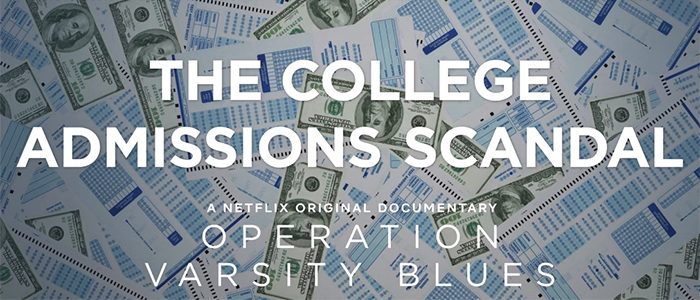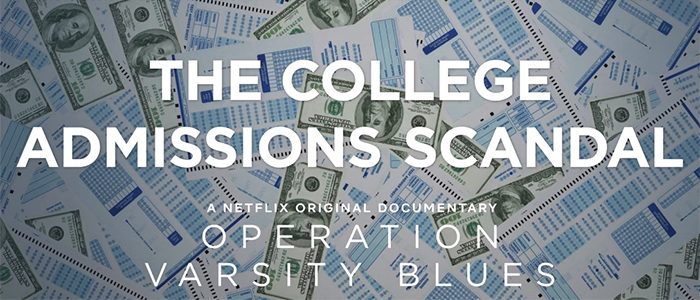 Annie Thorn is senior history major from Kalamazoo, Michigan and our intern here at The Way of Improvement Leads Home.  As part of her internship she is writing a weekly column titled "Out of the Zoo." It focuses on life as a history major at a small liberal arts college. This week, Annie uses the 2019 college admissions scandal, and a recent Netflix documentary on the subject, to reflect on her own college search.—JF
The College Admissions Scandal broke in March of 2019. I was a first-year student at Messiah University about to enjoy my first college spring break. My roommate Rebecca came home with me that year and we visited my sister in Chicago, a journalism major at Northwestern University, one of the several schools involved in the affair. Needless to say, comments on the scandal–voiced by those who got into Northwestern legally–echoed throughout my sister's residence hall.
Two years later, Netflix released a lengthy documentary on the scandal called "Operation Varsity Blues." It traces the steps of Rick Singer, a Newport Beach college counselor who guaranteed students' admission to prestigious universities, as long as their parents were willing to pay the price. The documentary features snippets from YouTube videos, news segments, and wiretapped phone calls. Singer and the major players in the scheme are portrayed by actors. After watching it with a couple housemates, "Operation Varsity Blues" sparked an intense conversation about corruption, wealth, prestige, and our own experiences applying for college.
I am grateful that my parents never pressured me to attend a "prestigious" university. We toured all types of colleges on our family vacations–from small Christian schools like Calvin University and Messiah to famous institutions like West Point and Yale. My mom didn't care too much about where my siblings and I ended up, but she did want us to be aware of all the options we had. I applied to four schools–Messiah, Calvin, Grand Valley State University, and the University of Virginia. 
I got accepted to every school except the University of Virginia. I remember crying when I got the rejection letter. I didn't cry because my heart was set on going there, but mostly because it injured my pride. I really thought I would be accepted. Surely I'm good enough to get into UVA, I thought. I wanted to be able to tell people I got in, even if I didn't end up going there. As a result, when UVA turned me down I was crushed. The fact that my sister had already been accepted at Northwestern through early admission didn't help my self-esteem either. I sulked in my room for an hour after learning my acceptance status. My mom came upstairs eventually to comfort me. She reminded me that my worth was not defined by a rejection letter–or an acceptance letter for that matter. She reassured me that I still had a bright future, just as bright as my sister's, even though she got into a "prestigious" school and I did not. She said that God would provide no matter where I ended up going to college. Even though I was disappointed I didn't get into UVA, I never doubted that my mom believed in me. Success or failure, my parents were always proud of me.
The saddest thing about the college admissions scandal is the fact that the parents involved didn't believe in their kids. In many cases, they didn't even tell their children what was going on behind the scenes. Unaware of their parents' dishonesty, some students believed they got into schools like Yale, Stanford and Northwestern on their own merits. So afraid of their kids' failure, parents paid hundreds of thousands of dollars to guarantee their success. 
As I reach the end of my third year at Messiah University, I thank God I never got into UVA. If I went to school in Charlottesville, I wouldn't have met the mentors and friends who have changed my life in the last three years. I wouldn't have this job and I wouldn't be writing this column. Messiah may not be as "prestigious" as some other schools, but what does that matter? I've received a valuable education here that I wouldn't trade for the world. I've grown and learned and changed for the better–as an individual, a historian, and a future educator. I've found people who love and support me through every success and failure. I couldn't imagine myself anywhere else.