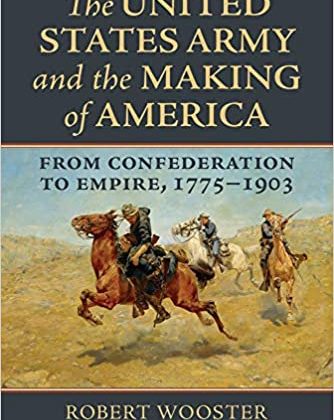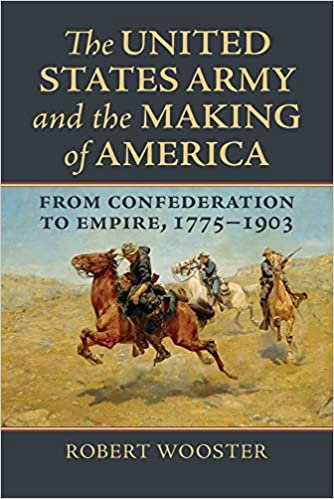 Robert Wooster is recently retired as Regents Professor of History at Texas A&M University-Corpus Christi, where he taught for thirty-five years. This interview is based on his new book, The United States Army and the Making of America: From Confederation to Empire, 1775-1903 (University Press of Kansas, 2021).
JF: What led you to write The United States Army and the Making of America?
RW: During the 2000 presidential election, then Texas governor George W. Bush repeatedly chided his opponent, Vice President Al Gore, for having been part of an administration that had sent U. S. military forces in Haiti, Somalia, and the Balkans to protect various American interests. Rather than using the army in building nations, Bush claimed that the military should be used to fight and win wars, not build nations. Attempts to divorce the American military from nation-building activities may or not be wise, but what struck me was the ahistorical quality of Bush's premise, for my earlier research suggested that the regular army had played a major role in American development that extended beyond the battlefield.
JF: In two sentences, what is the argument of The United States Army and the Making of America?
RW: From the war for independence through the insurgencies in the Philippines, Americans used the army not only to fight their enemies but also to shape their nation and their vision of who they were, often in ways not directly associated with shooting wars or combat. Overcoming long-standing fears that a regular force threatened democratic liberties and resentment of a hierarchical institution that seemed inconsistent with ideals of republicanism and equality, Americans grudgingly came to accept a standing peace establishment even as they debated its appropriate size and practical function.
JF: Why do we need to read The United States Army and the Making of America?
RW: To understand the present, we must take a clear-eyed view of our past, which includes a regular army that had a vital role in nineteenth century American life. In addition to preserving national security and expanding our territorial reach, soldiers built roads and railroads, improved rivers and harbors, and established ad hoc governments. Institutionally, the army participated in the modernization of America by encouraging the factory system, presaging modern social policy in federal benefits to veterans, preserving wilderness areas, sparking new systems of accounting and management, and transforming the District of Columbia. Yet the regular army also revealed the fissures of race, class, and gender that divided American society, and was involved in many of our national tragedies, most notably the forced expropriation of huge swaths of land from American Indians and the use of force to maintain order and preserve the status quo, whether that be the defense of slavery or the suppression of labor strikes.
JF: When and why did you decide to become an American historian?
RW: My father taught United States history at Lamar University (Beaumont, Texas), for over fifty years, so as a child I always benefitted from his great stories about our past. But he never pressured me (or, for that matter, discouraged me) to take up history as a career, and so after surviving the drudgery of high school in the mid-1970s I was open to just about anything. Luckily, I found my calling in the excitement and passions of university life, so I needed to find a way to stay. I was lousy at science, middling in math, lacked the courage to go into private business, and had a tin ear for foreign languages. Fortunately, I had a knack for research and telling stories of my own, so history allowed me to remain around colleges and college students, and to have a small part in helping others to understand how and why we got to be where we are.
JF: What is your next project?
RW: A biography of John M. Schofield, a Union general during the Civil War, unofficial emissary to France during the Maximilian crisis in Mexico, Secretary of War during the last year of Andrew Johnson's presidency, leader of a mission to assess the defensibility of a potential new American base at Pearl Harbor, superintendent of the United States Military Academy, and commanding general of the United States Army from 1888-1895.
Thanks, Robert!