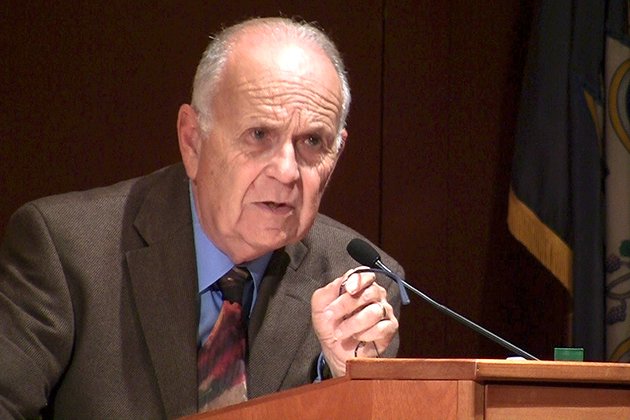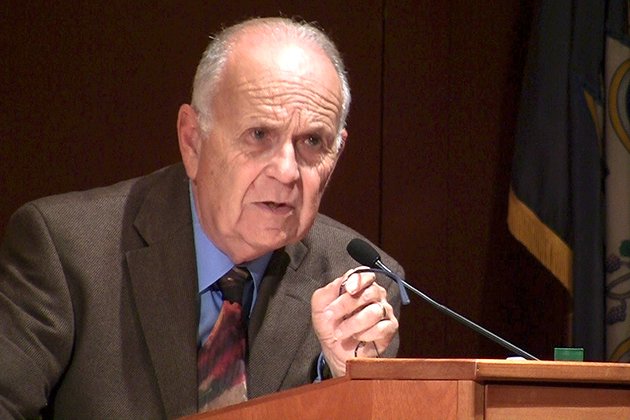 As best I can tell, the last time the name "Stanley Fish" appeared in the title of a post at this blog was August 2013. I did a post on Russell Jacoby's New Republic piece, "Stanley Fish Turned Careerism into a Philosophy." Before that, I did a couple of pieces on Fish in 2010 related to his defense of the humanities and the liberal arts. Fish is a Milton scholar who is probably better known, at least by my generation, as a critic of the American university and defender of free inquiry in the academy.
Today I learned that Fish, at the age of 85, is teaching at the controversial New College-Florida. This is the school that Ron DeSantis has targeted as part of his efforts to drive "woke" out of Florida public universities. New College is actually a perfect fit for Fish. He has built much of his latter career on bashing the activist university. See, for example, his 2008 book, Save the World on Your Time.
Here is a taste of Len Gutkin's interview with Fish at The Chronicle of Higher Education:
Given how controversial New College is, why do you want to teach there now?
Well, the simple nitty gritty reason is that I'm 85 years old, and someone who asks me to teach courses is a godsend. So I responded affirmatively.
Do you worry at all that, given that something like a third of faculty members have left New College following the new administration, you'll be taken to be making a statement about New College or about DeSantis?
Taken by whom?
Observers in academe who might feel that your prominence as a scholar and an administrator is being used to ratify the political project that New College has become.
Yeah, I can see that as a possible way of viewing this appointment. But such matters go under the general category of consequences that I can neither predict nor control. What I can control is the kind of teaching I do, and of course I wouldn't want to get engaged in a classroom experience if I felt that that classroom was being monitored for political or ideological reasons. But I've had no hint of any such monitoring in my discussions.
The kinds of courses that I offered seemed congenial to the administrators — it was the kind of course that they hoped to see taught, especially the Milton course. And I felt equipped to teach that course after a lifetime of reading and commenting on Milton.
Gutkin and Fish got into DeSantis's Stop WOKE Act:
The concern, as I understand it, is that laws like the Stop WOKE Act are written so broadly that they indeed risk chilling the ability to "teach about."
If that were the case, I would be critical of it. Anything can be brought into the classroom for discussion, so long as it's made the object of academic, analytical attention rather than the object of political persuasion.
At New College, Trustee Chris Rufo early on announced his intention to eliminate the institution's gender-studies program.
The question you want to ask is, Is the study of gender an important or significant part of the intellectual scene in the past number of years? The answer to that seems incontrovertibly to be yes.
Now that doesn't mean that you have to have a gender-studies program. New College is a very small college. The number of programs or courses that it can offer is limited. And therefore it's possible that one could say, We're not going to put our resources in gender studies, we're going to put our resources somewhere else, for pedagogical reasons. Not for reasons of the ideological dismissal of an entire branch of inquiry.
One of the trustees, Matthew Spalding, called gender studies "ideologically driven and tendentious."
That could be, that could be. I've never been. But I'll tell you a story. When I was a dean at the College of Liberal Arts and Sciences at the University of Illinois at Chicago, I helped implement and inaugurate the first Native American-studies program at the University of Illinois. And I spoke at the inaugural luncheon. What I told them was, "It is without doubt the case that activism of a variety of kinds is what brought you to this point." There wouldn't now be a Native American-studies program at UIC if activists of a polemical kind weren't working toward that end. "Now I want you," I said, "to forget the history that brought you here, because now that you're part of a university setting, you're no longer activists, you're academics. If you become or continue to be activists, the academics in the university will have a derisory view of you."
So I told them at the moment of their triumph — it was probably impolite of me to do so — "Don't continue doing what you did in order to get here, because where you've gotten is a particular kind of place, and you now have to play the rules of the game of this particular kind of place."
The entire piece is here, behind the Chronicle paywall.
While reading this interview I also learned about Fish's involvement with Ralston College, a school recently opened in Savannah, Georgia. Ralston's mission is:
to revive the conditions of a free and flourishing culture by providing transformative, rigorous education in the humanities. Our fundamental commitments are to truth, freedom, beauty, and fellowship. The College exists to share the riches of humanistic inquiry with students enrolled in its degree programs and more broadly with all those who seek truth with courage. Ralston College is an independent institution devoted to freedom of thought and speech. It has no political or religious affiliations, and does not accept government funds.
Canadian public intellectual Jordan Peterson is the chancellor of Ralston College.
It looks like The University of Austin is not alone on the landscape of American higher education.