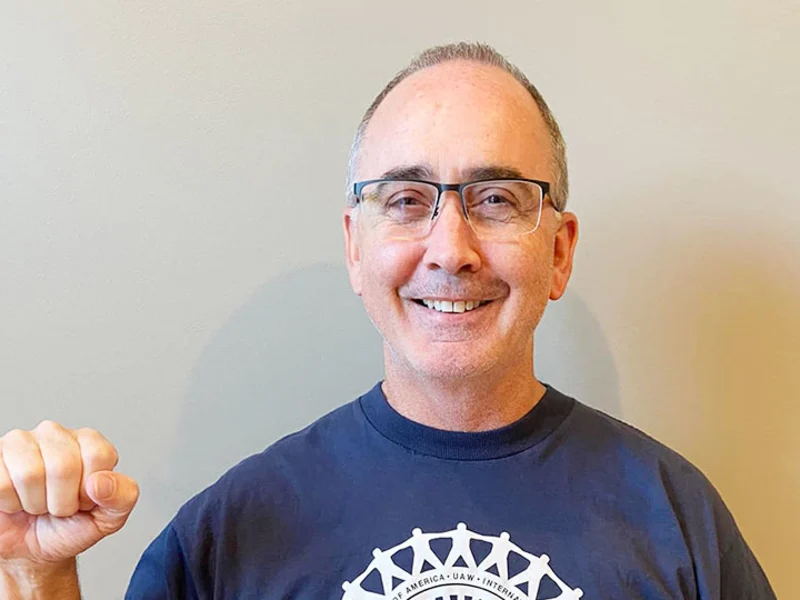 We have covered Fain's Christian faith before at this blog. Check out our posts here and here.
Today CNN is running a long-form piece by John Blake on the religious beliefs of the leader of the United Auto Workers.
Here is a taste:
"Great acts of faith are seldom born out of calm calculation," added Fain, who often carries his grandmother's Bible. "It wasn't logic that caused Moses to raise his staff on the bank of the Red Sea. It wasn't common sense that caused Paul to abandon the law and embrace grace. And it wasn't a confident committee that prayed in a small room in Jerusalem for Peter's release from prison. It was a fearful, desperate, band of believers that were backed into a corner."
Fain's faith did move a corporate mountain — three, to be exact. After a six-week campaign of strikes, the UAW reached a historic agreement with General Motors, Ford Motor Company and Chrysler-owner Stellantis that would give workers their biggest pay raise in decades. The victory (it still has to be ratified by UAW members) not only reinvigorated an emboldened labor movement in the US, it also marked the revival of another movement in America: the Social Gospel.
Fain's sermonette was remarkable because labor leaders don't typically cite the Bible in such detail to justify a strike. But they once did. Fain's decision to blend scripture with a strike is straight out of the Social Gospel playbook…
Fain's sermonette underscores a trend that has largely gone unnoticed: The Social Gospel movement is making a comeback. Some may argue it never left.
When it comes to religion, stories about White Christian nationalism command most of the media's attention today. But a collection of American intellectual and religious leaders are showing that there's another type of Christianity that's also shaping our politics, and it has nothing to do with Whiteness or nationalism.
These leaders include the UAW's Fain, Democratic Sen. Raphael Warnock, independent presidential candidate Cornel West, the Rev. William Barber II, the Rev. Liz Theoharis and the Pulitzer Prize-winning author Matthew Desmond. The most famous follower of the Social Gospel is the Rev. Martin Luther King, who was assassinated while helping lead a labor strike of sanitation workers.
All the above leaders are carrying on the torch of the Social Gospel in one way or another. They are using the Bible, as Social Gospel leaders once did, to argue in various ways that Christian deeds are more important than creeds and that unfettered capitalism "thrives on selfish impulses that Christian teaching condemns."
Read the entire piece here.