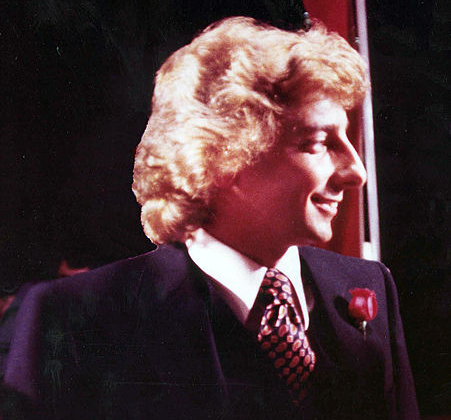 When I was young, Barry Manilow was, too. And he was writing the songs the whole world was singing, one after the other in the 70s.
It was cool then, as it is now, to despise him. Not to disregard him, but to openly, vehemently, contemn his music as a kind of tonal décor or mood softener: "elevator music" indeed.
Esteemed colleague John Haas shows that he is cool also as he goes out of his way to disparage Barry Manilow. How far out of his way? To find him wanting as measured against . . . Bob Dylan.
Well, now. First, a lot of songwriters are going to be found lyrically wanting compared to the only songwriter to win a Nobel Prize. "This guy is a terrible boxer, not nearly as good as Muhammad Ali" or "This musician is a terrible cellist, not nearly as good as Yo-Yo Ma" is just not an interesting charge to make.
Second, Barry Manilow was writing in a totally different vein—what is popularly known as pop music. Pop music is a terribly difficult genre in which to compete successfully. So many competitors, yes, and the genre itself is dauntingly confining: mostly AABABbridgeABB. And that's an ambitious pop song. (Some of the most famous, reaching back to Tin Pan Alley classics, are just . . . A.)
In pop music, you have to grab your audience's attention, hold it, and keep it after the song is done. That imagery is behind the expression "hooks," as in particularly turns of lyrical and musical phrase that embed themselves in the hearer's mind. "I immediately like that and I want to hear it again."
Try doing that yourself, and if your name isn't Elton John, James Taylor, Carole King, Paul Simon, Billy Joel, or, yes, Barry Manilow, you'll find it ain't as easy as it looks.
(Bob Dylan, not incidentally, wrote a few pretty good ones himself, without which we simply wouldn't bother with his run-on lyrics in "The Times They Are A-Changin'" or "Mr. Tambourine Man"—and I really like those songs.)
(And, yes, there was that one time Mr. Manilow paid "tribute" to Frédéric Chopin, as performers do, by lifting his theme from the Prelude in C minor. The piano solo opening and closing of that number shows, though, that he isn't trying to hide it. But I digress . . .)
Third, yes, Barry Manilow went to the well too often. Whether in the IVma7-iii7-ii7 downshifting that shows up in too many songs, or in the clichés Professor Haas rightly scores, Manilow sometimes sounds like the jingle writer he also was.
Still, some of his lyrics show his Broadway heritage in their clever double entendres: "Even Now" and "Looks Like We Made It" come readily to mind. His songs of lost love, or love in peril, remain poignant to anyone without a heart of stone. And how's this for a lyric even a serious Christian scholar could affirm, whether for himself or for certain isolated students in his care?
All the time… I thought there's only me—
Crazy in a way that no one else could be.
I would have given everything I own
if someone would have said, "You're not alone."
All the time . . . I thought that I was wrong,
Wanting to be me but needing to belong.
If I had just believed in all I had!
If someone would have said, "You're not so bad!"
All the time. All the wasted time!
All the years… waiting for a sign…
To think I had it all…
All the time!
Okay, well, not exactly the stuff that will make anyone forget Sufjan Stevens, let alone Leonard Cohen.
But still—it does what pop music is supposed to do: say one thing well, with a bit of wit and perhaps irony, and do so with music so well performed that you just let it roll over you. Manilow's honeyed voice, fine piano, and lush orchestras accomplish that.
No one ever let a Dylan song just roll over them. But that's what you want sometimes, and that's what Barry Manilow delivered, time after time, hit after hit.
Now I have some more housework to do. And I'll ask Spotify to play them both. Manilow for the light dusting, and Dylan for the hard scrubbing.
John G. Stackhouse Jr. teaches at Crandall University and was the pianist for the Queen's University Jazz Ensemble. He has also played bass for Juno Award-winner Steve Bell and Dove Award-winner Carolyn Arends.