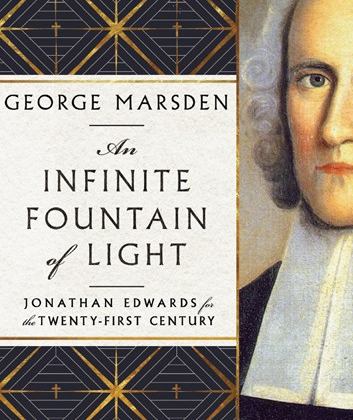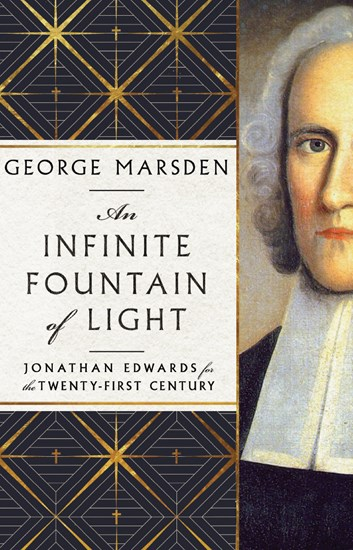 American Christians today may be in danger of venerating Jonathan Edwards either too much or too little
On the one hand, the "young, restless, and reformed" have made Edwards such a hero that there is a whole line of Jonathan Edwards T-shirts that pair the eighteenth-century New England theologian's dour face with one of his quotations about human depravity and God's sovereign grace – a combination that is apparently designed to appeal to the bearded young Calvinists who are shown modeling the shirts in online advertisements. On the other hand, there is a movement among some progressive Christians to dismiss Edwards as a patriarchal enslaver who has nothing useful to say to contemporary American Christians.
George Marsden's An Infinite Fountain of Light steers a middle course and speaks to American Christians who might be somewhere between these two extremes. Even though Edwards lived three centuries ago and held views on slavery and gender roles that even many conservative Americans today would find too extreme, we can still learn a great deal from this colonial New England Calvinist. We should not embrace his social views, Marsden thinks. Indeed, it is precisely because of our critical distance from Edwards – especially our critical distance from his views on slavery and social hierarchy – that we can discern which of Edwards's views are insightful timeless truths and which of them are based on fallacious assumptions of the eighteenth century that are best abandoned.
"My outlook in these reflections is not all that just because Edwards says something, we must pay attention to it or learn from it," Marsden states. "Rather, recognizing that Edwards, like the rest of us, had his share of shortcomings, I hope to offer readers the best of Edwards's insights that are most helpful today."
Edwards was at his best, Marsden thinks, when he was a critic of the cultural assumptions of his own time. He lived at a time when deistic views of God and the universe were rapidly gaining ground among educated men in Britain and the American colonies. But Edwards, a Yale graduate who was an extremely wide reader and one of the most gifted minds of his time, resisted those trends. His writings were largely a response to the deism of his time.
We may not think of ourselves as intellectual heirs to the eighteenth-century deists, but our assumptions about a mechanistic universe, a God whose sovereignty doesn't impinge on our own freedom, and a progressive view of morality determined more by reason than by revelation may be closer to deism than we might want to admit. Edwards's writings are a useful antidote to those assumptions. If the deists minimized God's role in the universe, Edwards sought to magnify it.
Unlike the deists, Edwards viewed the universe as alive with the glory of God. The universe was not a machine; it was instead the expression of God's love.
The mark of a true Christian, Edwards believed, was a heart-felt perception of the beauty of God's love. Such perception could not be produced by rational argument. It could not be produced by good preaching or even by scripture alone – though scripture was the means by which one could learn about God. But genuine delight in God and longing for God above all other things could be produced only by a direct operation of God's Spirit upon the heart of a sinner. Once a person's eyes were opened to the beauty of God, that person would take delight in the goodness of God from that moment on.
Edwards experienced this joy himself as a young man after years of struggle with the doctrine of predestination. At a time when many rationally minded British Christians, such as John Locke, were jettisoning the doctrine of predestination as unfair and unworthy of a divine magistrate, Edwards initially wondered how he could believe in it himself – and how, if it were true, the God who predestined some people to damnation could be a good God. But then he experienced a perception of God's beauty and a delight in God's goodness that never left him. He found that he could accept the doctrine of God's sovereign decrees – including God's decree of reprobation for those who were not elect – because of a delight in everything that God did and a joy in knowing God.
Edwards's sermons and writings, therefore, were an attempt to convey to his listeners a reverence for God's holiness and a delight in God's attributes. Some of his greatest writings were on the intra-Trinitarian love that he believed the Father, the Son, and the Holy Spirit had enjoyed in their fellowship with each other from all eternity.
For Christians who are unfamiliar with this side of Edwards's writings and know him only from short excerpts they might have read of "Sinners in the Hands of an Angry God," Marsden recommends two of Edwards's more accessible works: his sermon "A Divine and Supernatural Light" and his book A Treatise on Religious Affections.
In A Treatise on Religious Affections, as well as in numerous other writings, Edwards displayed an unusually prescient psychological insight that was more than a century ahead of its time. Our desires are not simply a matter of knowledge, he argued, nor are our actions produced by either our rationality or emotions alone. Instead, our desires (or what he called our "affections") control us by driving both our reasoning and our emotions – which is why a true conversion has at its core a reshaping of our desires by the Spirit of God.
Without a change in our desires, there can be no true conversion and no true worship of God. The problem with unregenerate sinners is not a disposition toward sinful things per se nor a lack of interest in religion and morality; it is instead a lack of desire for God and a failure to perceive God's beauty. But when a person's heart is changed by the Holy Spirit, that person falls in love with God, perceives God's beauty in a way they never did before, and delights in the worship of God.
This insight is at the heart of a lot of contemporary popular Reformed evangelical writers who have rediscovered Edwards and popularized some of his ideas for the twenty-first century. John Piper and Timothy Keller, in particular, made Edwards's insights about desire and the perception of God's beauty central to their theology, and James K. A. Smith's writings about desire build on Edwards's insights to at least an extent. Piper, especially, has prompted a new generation of "young, restless, and Reformed" Christians – especially young Christian men – to revere Edwards and devote the effort it takes to master his notoriously difficult eighteenth-century theological prose. Indeed, one cannot really understand modern American Reformed evangelical theology without coming to terms with Edwards's ideas, whether or not one reads them in his original writings or merely gets them in translation through Piper, Keller, or a host of other Reformed evangelical pastors.
People who reject Edwards out of hand are thus cutting themselves off from some of the most important insights about the psychology of conversion and the nature of God that was produced in the Protestant Western world since the Reformation – and Marsden rightly believes Christians can benefit from those insights.
Nevertheless, some have raised the question of whether someone who held enslaved people, as Edwards did, deserves the respect he has recently received in some conservative Reformed circles. Marsden responds by saying that "while we can acknowledge that Edwards was wrong regarding slave owning, that fault surely does not nullify the value of his insights on many other matters. One good working principle in life is to recognize that we can learn things from people who have serious blind spots and moral failings even while we may criticize those shortcomings. . . . If we did not accept the principle that we can learn profound things from people who have serious flaws and inconsistencies, then we could not learn from anyone – excepting Jesus. And no one could learn from us."
As Marsden notes, Edwards was unusually racially egalitarian for his day; he strongly insisted on the spiritual equality of all people, he devoted several years of his life to mission outreach to Native Americans, he defended from the pulpit the right of African Americans to hear the gospel and be saved, he accepted one of his own enslaved household servants as a fellow church member, and he condemned the slave trade at a time when it was a leading source of New England's wealth.
However, he also believed in the naturalness of social hierarchy, which is why he saw nothing wrong with the principle that some people are slaves and others are masters; some people are women who will never be allowed to go to college and other people are privileged men who can be admitted to Yale; some people are subjects and others are kings; and some people are middling parishioners while others are wealthy ministers who, like Edwards, were paid a tax-subsidized salary equal to about 35 times the annual wages of a skilled artisan. Edwards lived in a world of steep hierarchies, and he was comfortable with that hierarchy in a way that few Americans today are. Even by the time of the Revolution, which occurred less than twenty years after Edwards's death, his ideas of social hierarchy would have been considered very old-fashioned, because by the late 1770s and 1780s Americans were beginning to question some of the social hierarchical assumptions that Edwards took for granted.
Edwards's view of hierarchy accorded well with his view of God's sovereignty – and now that some conservative Reformed Christians have rediscovered both Edwards and his views of an absolutely sovereign God, a few are also embracing other aspects of an anti-egalitarian hierarchical view of social relations, especially when it comes to gender and maybe when it comes to economics or other social relationships. To those people Marsden's book offers a useful reminder: the point of reading Edwards is not to recreate Edwards's social world.
Edwards, as Marsden pointed out, sincerely believed that our love for God, which was the central starting point of the Christian life, would inevitably change how we treat others. A true Christian, he stated, was known by their love for others. He preached on the parable of the good Samaritan and on biblical passages about charity, because he believed that Christianity included a social ethic. Those who were rich had a duty to help those who were poor – which is why Edwards recommended that the wealthy give away 25 percent of their income, knowing that all they have really belongs to God anyway.
So, Edwards would not have looked kindly on those who fail to love their neighbor while loving God. Nevertheless, Edwards processed his thinking about love through his assumptions about social hierarchy, which is why he may not always be the best guide for understanding how to apply our faith in our relationships with others.
But Edwards may be unequalled in his deeply insightful understanding of how we relate to God. Edwards spent a lifetime thinking about God, and he arrived at both an intellectual understanding and aesthetic appreciation of God's beauty to a degree that few other theologians have. He was also far ahead of his time in his psychological insights on our own resistance to God and the many ways that we can fool ourselves and imagine ourselves to be true converts when we really are not. Edwards's writings prompt each one of us to ask ourselves: Do I really desire God, and do I really delight in God's beauty and holiness?
Edwards's recent critics have rightly pointed out some of the ways in which he failed to love his neighbors, but in the midst of those criticisms, it's important to remember that love for neighbor – as vital as it is – is only the second half of Jesus's summary of the greatest commandments. The foremost commandment, Jesus said, is to love God with all of our heart, soul, mind, and strength. Nearly all of Edwards's writings were focused on that one command – and few people in his age (or in any age) have arrived at deeper insights on what that one command entails. For those who really want to know and desire God, Edwards is still an important guide – which is why, as Marsden rightly argues, we need to continue reading Edwards, regardless of his shortcomings. We may find ourselves loving God more deeply as a result.