Yesterday on his blog, John Fea highlighted the chart that sociologist Ryan Burge had generated from the study done by FIRE (Foundation for Individual Rights and Expression) about colleges with the highest percentage of students who had been homeschooled. First, the study noted that of students currently attending college, 1.4% were homeschooled. And second, based on a survey of a sample of students from 254 different colleges that FIRE selected as (in their view) representative of the diversity of institutions of higher learning in the US, the study compiled a list of the top twenty universities with the highest percentage of the student body who were homeschooled. Leading the pack: Liberty University (19.6%) and Hillsdale College (18.8%). Here is the original chart again: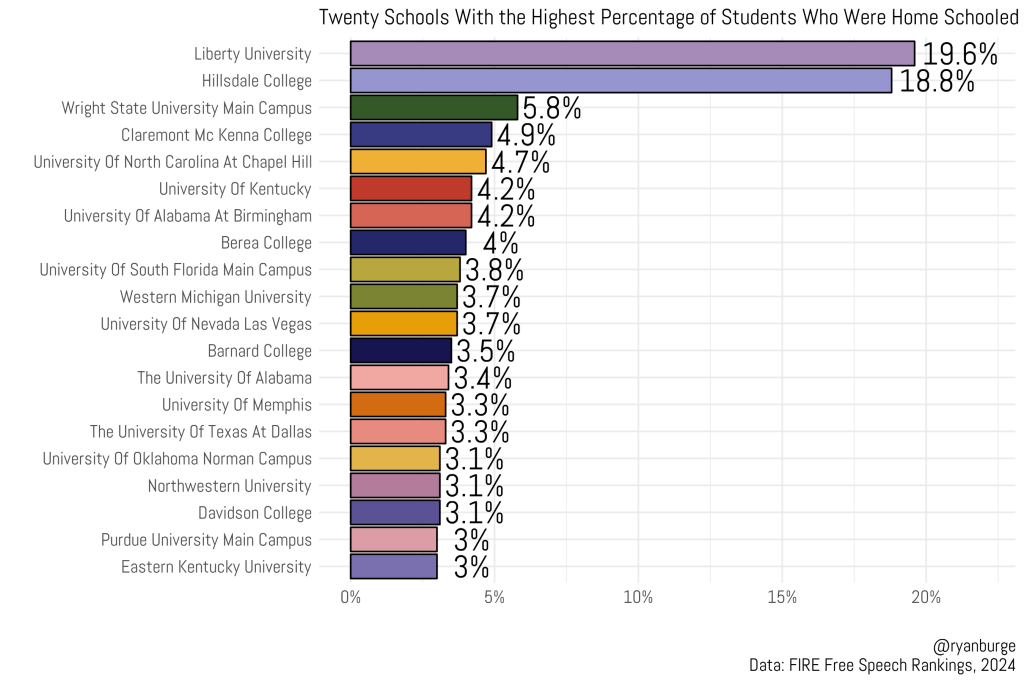 The problem is, the methodology renders this study pretty much meaningless.
Quite a few small Christian colleges, both conservative evangelical and Catholic, have a considerably higher percentage of homeschoolers in their student body than Liberty's 20%. The highest I know of? Patrick Henry College, where 76% of the student body was homeschooled all the way through before college. And then there's Wyoming Catholic College, which takes students on bear tracking trips during orientation and (more relevant to us here) boasts 65% former homeschoolers in their student body. Christendom College is not far behind with nearly 60%. (They don't take students on bear tracking trips, and it's clearly hurting recruitment). Covenant College, a small liberal arts college affiliated with the PCA, has nearly 30% homeschoolers. LeTourneau University has nearly 20%. These universities are just the ones I can name off the top of my head (although I did check the numbers about their homeschoolers rates). But my point is: there are plenty more such universities, if I dug around and did more research. So, where are these students?
Not in FIRE's study.
And yet, I would contend, from the high number of institutions that I can name just off the top of my head that have a percentage of homeschoolers above 20%, that the study completely missed the point: homeschoolers prefer small Christian colleges of the sort that got left out by using much larger Christian institutions in the study sample–or the most selective ones (so, Liberty and Hillsdale respectively).
Overall, this study is a reminder of the subjective nature of social sciences. The results you reach will depend on the data you use. No study is neutral because people are not neutral. The selection criteria for this study show inadequate understanding of evangelicals and conservative Catholics and how their institutions, especially smaller ones, might be different from secular ones or from larger religious colleges. In other words, if you throw out all of the institutions that have a lot of homeschoolers, it suddenly looks like there just aren't that many of them at all going to college, except at Liberty or Hillsdale—which are great institutions but are far from the only colleges to welcome homeschooling students in droves.
And so, a question to consider: What story did this study miss by selecting the institutions that it did–or, more precisely, by leaving out the institutions that it did? Ryan Burge's conclusions about homeschoolers in the FIRE study give a hint: the homeschoolers in this study look, he noted, surprisingly a lot like all the other students! But this is not the case at places like Wyoming Catholic College. None of the students there—Great Books loving, Latin learning, bear tracking wildlife afficionados that they are—look like students in "normal" colleges." And that is the point.
Most of the colleges that have a high percentage of homeschoolers do not look like the rest of the colleges in the FIRE study—with just a few exceptions. And no, I'm not referring to politics. I am referring, rather, to the focus on spiritual formation and character formation that most small Christian colleges place at the core of their educational mission. This is the kind of growth that is only possible at small institutions that emphasize this growth as part of their mission.
And so, I contend that FIRE's study missed entirely the how and the why of the college selection process for conservative evangelical and Catholic homeschoolers. It is not random that such a high percentage of the student population at certain small colleges was homeschooled. Rather, students who grew up focusing on growing the whole person—including spiritual growth—are looking for colleges where they can continue to grow as thinkers and persons, and where they can learn to love God more deeply as part of their academic study.
But that's boring and doesn't really make for catchy headlines.