Is it still a unicorn if seen twice? No matter. Here is an utterly subjective list of some quirky and interesting reads this week.
***
We begin in the land of all things pink, as Current ran its two-day forum on Barbie this week, with fabulous (and fabulously thought-provoking essays) from Christina Bieber Lake and Beatrice Scudeler.
Naturally, a Twitter poll was called for to see if readers could guess which Current editor wanted to run a multi-day Barbie series.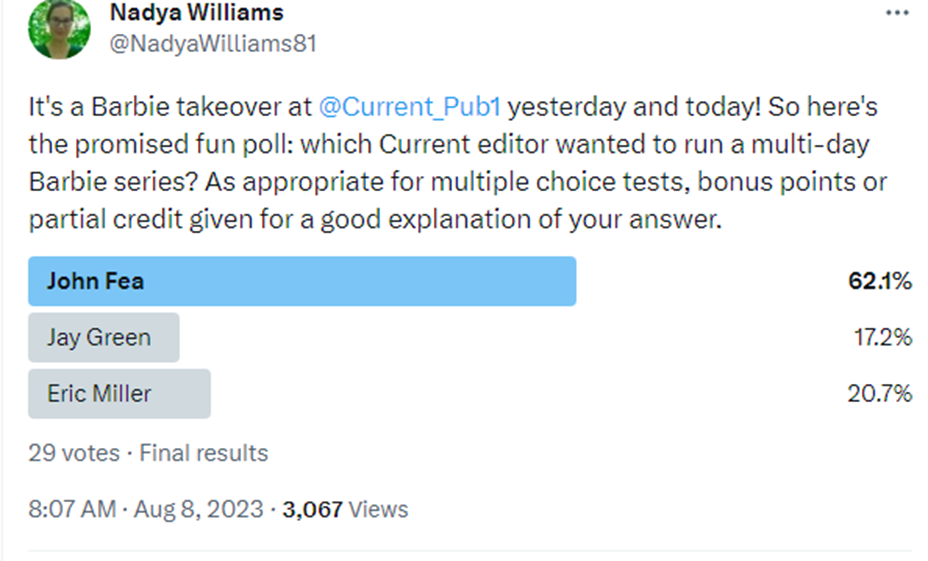 The majority of those who voted guessed John Fea. But the correct answer is Eric Miller! If you got the correct answer, please stop by my house for coffee and fresh-baked cookies or pie whenever you are passing through Ohio! Really, the offer stands for anyone, even if you did not get the correct answer.
On a related note, I enjoyed this Barbie essay from LuElla D'Amico (who has a review essay on a different topic coming up at Current later this month). If you are a woman who is currently in academia or has ever been in academia, chances are that LuElla's reflections here will resonate in some (many) ways:
That's what the film's spirit captures: It doesn't matter if other people like us, but it does matter if we try to like others. As a feminist, I believe this vision is worth aspiring to, even if the real world doesn't value it. Expecting that all women can and should be liked and that we should try to like them shifts the patriarchal gaze. We shouldn't "tie ourselves in knots" because people don't like us. Rather, we ought to try and make the world a better place by liking other women who think and act differently from us.
***
"Everyone's life is a Venn diagram of overlapping identities and roles." So wrote Paul Thompson in his inaugural Anxious Bench post this Monday. More from his piece, which you really should read in full:
I am the only child of a preacher and a grandson of immigrants, an American from New York living in South Carolina, a Calvinist-educated Pentecostal Christian teaching at a Southern Baptist university, a history educator and an administrator, an ordained minister, part of generation X, and an African American (or a mixed race, depending on the context) man in an interracial marriage with a white woman. I am all of these at the same time. Although all of those identities don't equally influence my every decision and action, several of them come into play with each of my decisions and actions. Collectively, they all play a role in determining the kind of person I am.
***
My own Anxious Bench column for this month continued along a somewhat familiar theme, as I explored how Dorothy Sayers solved her own scandal of the evangelical mind:
…all of Sayers' writing, beginning with her Peter Wimsey novels, can be seen as a single body, conveying the following key truth. The joy of the intellectual life resides not just in absorbing ideas, being a lonely consumer. The true joy is, rather, communal: we want to share our ideas and findings with others. Recognizing that God created us all to love Him with all our mind (as well as heart, soul, and strength), we aim in the process to advance the intellectual life, both ours and that of our conversationalists and readers.
***
Also this week at Current, Julie Durbin reviewed Amanda McCrina's new novel, I'll Tell You No Lies, a novel that considers, among other themes, the impact of war trauma in Eastern Europe. Russian war in Ukraine, after all, is in many ways but a continuation of Russian abuses of power in the region for over a century.
On this note, I appreciated Margaret Ellsberg's review this week in Plough of Ukrainian journalist and novelist Andrey Kurkov's Grey Bees, masterfully translated into English by Boris Dralyuk. This novel is an Odyssey of sorts for a beekeeper who lives in a village in the Donbas, in the "grey zone" between Russia and Ukraine. To whom does this thin strip of land belong? No one knows, so both sides keep shelling it. But all Sergey Sergeyich worries about in the process is his beloved bees, who really don't understand war.
Kurkov is very well worth reading. Ellsberg's description of an earlier novel of his has now piqued my interest:
In his wildly successful earlier novel Death and the Penguin (1996), Kurkov's otherwise bland hero, Viktor, responds to a call from the zoo in Kyiv. The zoo can no longer finance its only mission, and offers a free animal to anyone who can afford to feed it. Viktor, a journalist who writes obituaries, goes to the zoo and comes back home to his empty apartment with a king penguin named Misha, who "plip-plops" around the apartment. Misha enjoys soaking in a bathtub filled with cold water, and eats frozen fish from the supermarket. Misha also endows Viktor with a reader-pleasing charm that he could have elicited in no other way. And so with Sergey and his bees. He loves the animals entrusted to his care.
Stay tuned for Amanda McCrina's review of Kurkov's recent A Diary of the Invasion, coming up in Current.
***
Sasha Vasylyuk had a poignant interview in LARB with Ruth Madievsky about Madievsky's new best-selling novel, All-Night Pharmacy and (central theme of the novel) the ways generational trauma of Soviet roots continues to pursue so many immigrants. Sasha describes the book as follows:
All-Night Pharmacy is… a quippy, rollicking novel of women behaving badly in a gritty Los Angeles, where a young unnamed narrator struggles to untangle herself from her toxic older sister, Debbie, until Debbie goes missing. I could almost say that All-Night Pharmacy is sex, drugs, and rock'n'roll, except that I'd need to replace rock'n'roll with a Soviet babushka who embodies the generational trauma underpinning the arc of the story.
A taste from Madievsky's reflections:
I went to Russia and Moldova in 2018. That was my first time going back to Moldova since we emigrated, and that trip really inspired the second half of the book. It helped me tease out the thread about how historical traumas affect people who are several generations removed, which is something I didn't even realize I was writing toward until after I took that trip. It helped the book become more than a story about sisterhood and addiction in Los Angeles but also a story about the immigrant experience, about generational trauma, and about the legacy of the Holocaust and Soviet terror.
I am very much looking forward to reading Sasha's own novel debut, Your Presence is Mandatory, forthcoming in Spring 2024.
***
Speaking of novels, John Wilson gave a wonderfully Scrappy Defense of the Novel in his review of Joseph Epstein's The Novel: Who Needs It?
This is a very scrappy book, including, for instance, a digression on "the graphic novel" (Epstein loathes it), bland pronouncements ("What novels are 'here to stay' becomes a more and more complex question as contemporary publishing itself becomes more complex"), delicious appreciations of his favorites (he's wonderful on Tolstoy, for instance, even if a bit over the top), sharp critiques (of the "sanctimony novel," for instance), and much more. Most readers besotted with "the novel," as I am, will get their money's worth. Not even the reference to "Edgar Allen Poe," no doubt an editorial blunder, which must have rankled Epstein when he saw the finished book, can spoil it.
May your weekend include a good novel or two, friends.