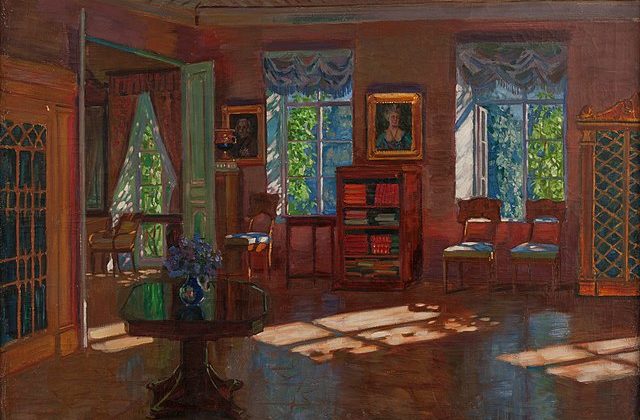 A year ago, a welcome second edition appeared of that most articulate of jeremiads (as it has been frequently dubbed) about the state of the evangelical mind and (related) evangelical scholarship: Mark Noll's The Scandal of the Evangelical Mind. The book's original appearance on the scene in 1994 was a "bombshell on the playground," – mind you, I was in middle school in Israel at the time, a secular Jew, and had no idea about any of this. But by the time last year's second edition appeared, I had been an evangelical for over a decade and was paying attention.
Yet this second edition made a soft landing. No longer seen as controversial, it seemed merely to join the chorus of academics and historians bemoaning the state of the profession at large and of evangelical scholarship in particular. I want to consider here in brief an important question that so many evangelical historians I know are asking: what is the future of evangelical scholars—and, by implication, of the scholarship they produce?
The very fact that we keep coming back to this question acknowledges a problem that is ongoing, perhaps worsening. After all, without a continued pipeline of robust evangelical scholarship and without evangelical scholars who actively engage in such scholarship for the benefit of the ca. 25% of Americans who consider themselves evangelicals, the crisis of the evangelical mind will continue.
In his book, Noll found troubling the lack of institutional support for evangelical scholarship and expressed a desire to see an evangelical research university—a creature that arguably did not exist in 1994. Since then, Baylor has come the closest to claiming such a role, although we have to keep in mind that Baylor's faculty include Catholics, non-evangelical Protestants, and Jews. But Baylor is the sole unicorn in vying for the possible title of an evangelical research university—a university that hires evangelical scholars, encourages them to engage in scholarship as evangelicals, and gives them the resources (especially lower teaching loads and research leave time) to do so. Most Christian colleges and universities, evangelical or not, require tenure-track and tenured faculty to teach a 4-4 load. Some are flirting with a 5-4. Noll's own professional home for much of his career, Wheaton College, requires faculty to teach a 3-3 load.
From my experience teaching at lower-tier public universities, I can note, by the way, that the same issue applies. The vast majority of colleges and universities in America are not research-intensive; rather, they expect faculty to devote all or most of their time to teaching and institutional service. The latter, by the way, can be extraordinarily time-consuming, and is the quintessential invisible labor. No one on the outside knows just how many hours per week a typical faculty member at a teaching-intensive institution spends attending committee meetings and working on various service-related projects. This level of overwork for faculty at most institutions, Christian or secular, is undoubtedly a factor for the scandal of the mind—evangelical or otherwise. I can tell you from my own experience that early in my career, after sometimes putting in a 17-hour day between meetings, teaching, and grading, I had zero bandwidth left for anything else.
But the level of overwork that most evangelical scholars experience, and which generally ensures that they have very little time to engage in scholarship, is no longer the chief concern we should have, if we ask the question: what is the future of evangelical scholars and their scholarship?
Our main concern right now should be, rather, the implosion of the academic job market. There are exceedingly few new academic jobs for evangelical scholars who have just completed a PhD. Making the problem even worse, if any evangelical scholars currently employed leave their positions, no one else will be hired to replace them. And when I talk about leaving positions, I do not mean retirement. Rather, I am speaking of resignations—much like my own.
After I wrote my "Great Resignation" essay in May, I was inundated with responses from friends and colleagues, many of them teaching at Christian (and some at specifically evangelical) institutions, who said that they were quietly dreaming of walking away too. One of the more shocking of these responses for me, at least, was John Fea's here at Current. What does it say when a prominent evangelical scholar at the height of his career and nowhere close to retirement age is thinking about walking away?
But John's thoughts were still mere hypotheticals, one might retort. I certainly hope Messiah University's students will continue to benefit from his experience and wisdom for a while longer. But we need not think of hypotheticals if we look for a prominent evangelical scholar who has resigned from her position and is now an independent scholar (in her own words). I am speaking here of none other than Karen Swallow Prior, who announced in late March her own resignation from South Eastern Baptist Theological Seminary. Now there's a new bombshell on the old playground.
We could talk here about the reasons for the resignations or the dreams of resignations, but that is a subject for another day. Rather, I want to come back to the original question I posed: given this new development that did not exist when Mark Noll's first edition of Scandal came out, what is the future of evangelical scholars and their scholarship, if increasingly more evangelical scholars (whether they be early in their writing career or are seasoned veterans) are independent scholars rather than academics?
I am making an assumption here, of course, that evangelical scholarship—thoughtful research and publications by evangelicals writing as evangelicals, and especially on topics of direct relevance for the church—matters. Not everyone will agree with my assertion, but if you do agree that this type of scholarship is important for the church and her people, we need to consider the question: how do we support this work by evangelical scholars who do not have any institutional support? My interest in this matter is both general and personal: yes, I care about evangelical scholarship and have benefited from it immensely. But also, my own first book is coming out in November; my second book manuscript is due to my editor at the end of this month (gulp); I'm starting to sketch out ideas for a third book, because after decades of reading and reflection, I finally am ready to say things that (I hope) will be useful for others. Especially, I hope, these things will be useful for the church. My career as an evangelical scholar seems to have begun right as I left my academic position.
The royal "we" in my question in the previous paragraph obscures agency, so let's be frank: if evangelical readers value the scholarship of the sort that thoughtful evangelical independent scholars like Karen Swallow Prior carry out, somebody needs to support this scholarship. Or, really, a lot of somebodies. Finding publishers interested in publishing good books is not a problem—quality eventually finds a home. But there is so much else that goes into the book-writing process before that book manuscript lands in the editor's mailbox.
Scholars are not disembodied brains; they are people. As a result, they need a lot of support, and the level may vary by individual. I presume, by the way, that scholars in this boat either acquire a non-academic job or have a working spouse. Some, I know, do what I am doing now–they are primarily stay-at-home parents. So, the support I am talking about is not of the pay-the-bills variety. Still, to provide an overall picture here, supporting evangelical independent scholars means providing an encouraging intellectual community for the independent scholars who are writing without in-person colleagues and without (perhaps) access to any conferences. This also means providing resources, such as library access both to check out books essential for research and to access electronic databases and journals that are likewise essential.
At least, as my husband has thoughtfully noted upon reading a draft of this essay, independent evangelical scholars do not need expensive lab access— no astrophysicists are we. We are talking here mostly about humanities scholars, so our plight is closely connected to the broader dismantling of the humanities, including history and literature, in American universities of all stripes. Who will provide this support that we need to serve the church with our writing?
I don't claim to have all (or any) good answers here, but I can offer a few starter recommendations, some from my own experience. First, for evangelical scholars in the early stages of their writing and publishing career, no one can rival small magazines for providing a thoughtful intellectual community of like-minded writers and incredibly helpful editors. Support your favorite magazines! By supporting them, you are supporting the thoughtful voices who are writing for them, including independent scholars. The same goes for small presses who also are publishing wonderful work, often by voices new to the publishing world.
Second, it would probably not cost a lot for some evangelical colleges and universities to offer library access to independent scholars who desperately need such access to continue their work. I have been wondering myself what I will do starting this month, but at least I can always get my husband to check out library materials for me. True, this is a kind of annoying extra step, but I should be able to get what I need (scandalously, unlike some husbands, he won't even pre-read books or articles before passing them on to me; I'm more likely to pre-read materials for him). I was shocked to see KSP herself ask on Twitter recently how she might be able to get library access now that she is without an institutional affiliation. If a top scholar in her field is wondering about this, it is a sign of a very serious problem. Someone, please give KSP library access and support evangelical scholarship in this way!
Third, conference grants for independent scholars would go a long way in supporting independent scholars who, again, have no access to institutional resources. You might say: this is optional. True, but conferences have traditionally been where writers got to meet press editors and (in some fields) agents. Making it possible for new evangelical scholarship from new voices to emerge means allowing new scholars a way to connect with editors.
This is not a complete list, of course. Furthermore, all of these are Band-Aid solutions that only show how deep the wounds are when evangelical universities are unable to employ scholars and support their work of writing for the church. But this is where we are, and admitting the state of the problem is a necessary first step for seeking solutions.