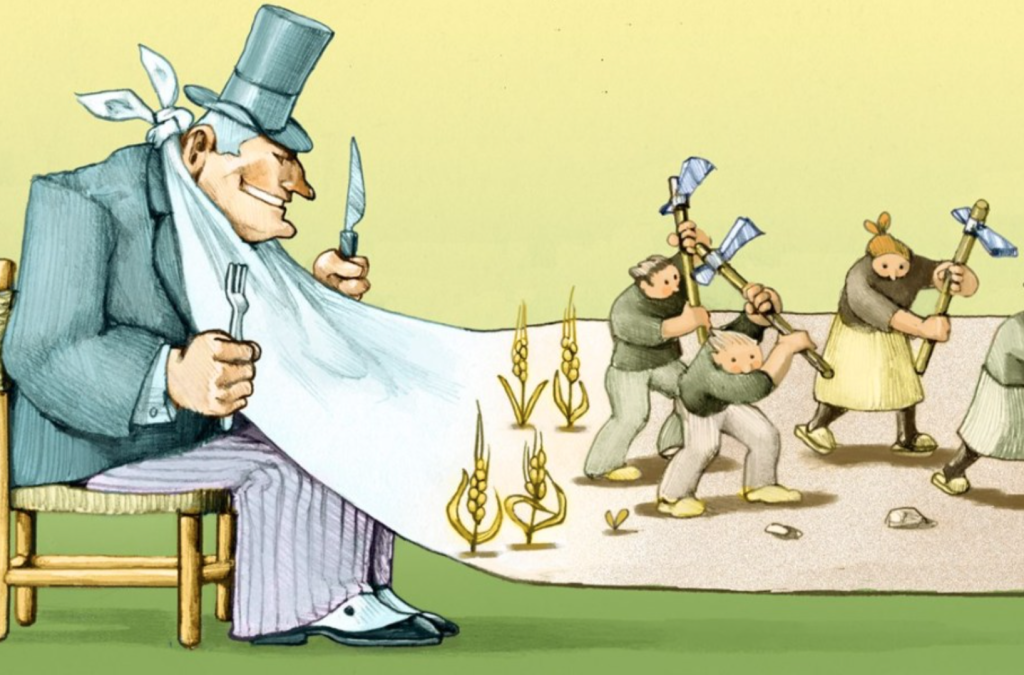 Or are they?
Regime Change: Toward a Postliberal Future by Patrick Deneen. Sentinel, 2023. 288 pp., $30.00
During the early days of the Iraq War, I had a colleague who liked to rail against the "neo-cons." It became apparent while conversing with this educated, intelligent fellow that he had no idea what a neo-conservative was. He was blissfully unaware that first-generation neocons—people like Irving Kristol, Norman Podhoretz, and Nathan Glazer—had started as leftists, even Marxists, but gradually became skeptical of the progressive enterprise. My colleague was a sociologist with no background in international relations. He also wasn't aware of the second-generation neocon foreign policy theory, which I describe as liberal ends by realist means. Whatever one thinks of that theory, neocon writers such as Bill Kristol and Robert Kagen had a coherent foreign policy vision. Yet for my colleague "neo-con" simply was an epithet to designate "people whose politics I don't like."
The same has come to pass with more recent terms such as "national conservative" (or "nat-con") and "postliberal." I have heard and read people using those terms indistinguishably, not realizing that these are two different groups—albeit with some theoretical crosspollination. Many of these groups' critics barely attempt to grapple with what these two schools of thought have to say. Nor do the critics consider whether their critiques of liberalism have any sound basis. When used by more mainstream conservatives, the terms "nat-con" and "postliberal" have simply become epithets meaning "conservatives we don't like."
One of the leading postliberals, Patrick Deneen—who explicitly critiqued national conservatism at a national conservative conference—rose to prominence with his book Why Liberalism Failed. Touted by Barack Obama as worthy of a close read when the book came out in 2018, Why Liberalism Failed has a basic thesis: Liberalism has a bad anthropology. Liberalism's false view of humanity posits the individual as an isolated, unencumbered bearer of rights who seeks the maximum fulfillment of desires. A sound liberal government, then, promotes radical autonomy and material comfort. Taken to its logical conclusions, liberalism produces a crude consumerism and a destruction of tradition-bearing institutions such as church and family. It leaves in its wake deracinated individuals, struggling to find meaning or a coherent narrative of life, reduced to pawns of big business and big government alike. Liberalism, argued Deneen, is at its worst when it is most itself.
This really shouldn't be a controversial contention. In many ways it tracks the arguments of Alexis de Tocqueville writing in the 1830s. Democracy uproots people. It erodes familial, geographical, and religious ties. It promotes an excessive interest in material comfort and unending progress, producing in the end a particular kind of democratic despotism. This, warns Tocqueville, is what happens if a nation embraces an unalloyed form of democracy. That is why he stresses that democracy must preserve at least some of aristocracy's virtues—such as an appreciation of beauty and greatness, and a sense of historical continuity linking us to both the past and future. Tocqueville warns against excessive centralization while extolling the virtues of American religion, associations, local government, and—it should be noted—American women. As with Deneen and liberalism, Tocqueville says democracy is at its worst when it is most itself. One can see echoes of this argument in the thought of one of Deneen's friendly critics, the late Peter Lawler, in his "building better than they knew" thesis.
One criticism of Why Liberalism Failed was that it was almost all critique, no solution. There was the obligatory "Where do we go from here?" at the end of the book, but it, frankly, felt tacked on. Regime Change: Toward a Postliberal Future is a response to this criticism. Those interested in smart, engaging, thoughtful critiques of the liberal project should read both books. Then, at least, one can make an intelligent critique of postliberalism.
Deneen begins Regime Change with an overview of the previous work's appraisal of liberalism. He focuses specifically on the thought of John Stuart Mill and the famous "harm principle" Mill articulates in On Liberty. Deneen argues that this thin definition of liberty, the right to do what you want as long as no one is harmed, sets the stage for "the end of liberalism." Mill ignores the cultivation of virtue in the name of accentuating individual liberation. He also expresses a contempt for any authority outside the self and values transgression for its own sake.
Yet, opines Deneen, it is custom and authoritative cultural institutions that protect the average person against the rapaciousness of the elite. In Deneen's view, the emphasis on the autonomous self to the detriment of custom and communal authority has left people adrift. Without these authoritative cultural transmitters of meaning and custom, the common person becomes a pawn to a "power elite" that promises to manage people's lives for them. One detects a strong scent of Tocqueville's democratic despotism here. Deneen argues that both the American left and the market-oriented right have bought into this theory.
Deneen next offers a taxonomy of contemporary politics. He creates a rubric based on whether one sees the common people (or proletariat) as essentially revolutionary or conservative, and whether one believes in government by some kind of elite or largely by the people. This allows Deneen to create a kind of Punnett square of political opinions. Deneen favors the lower right quadrant of his chart, which sees the people as conservative (i.e., defenders of custom) who uphold rule by the people. He posits Edmund Burke and Benjamin Disraeli as the foremost defenders of what he names "common good conservatism."
Such a conservatism puts elites on the side of the customs and habits of the common people, unlike the Millian progressive liberals, who view the people as reactionaries whose traditions must be eroded in the name of "progress" and "liberation." But this conservatism also has a faith in the peoples' ability to govern—something classical liberals (like Locke) distrusted because they assumed the people would attack property. The Marxists likewise distrusted this ability of the people, as they believed the people were trapped by false consciousness. Both camps thought that elites should rule. In the view of classical liberals, rule should occur through complex governing systems that render impotent any move against accumulation of vast amounts of property. In the case of the Marxists, rule should happen via a revolutionary vanguard. Common good conservatism, by contrast, seeks "stability, order, and continuity" as a defense of the people against attempts by elites to subvert norms that protect the people against rapacious elites. So what changes are needed to achieve these aims?
For one, Deneen proposes reviving a mixed constitution. One source for this notion is Thomas Aquinas. In Deneen's words, Aquinas saw the people "as forming the base of a moral order, and elites responsible for protecting and deepening the core virtues of 'the many' embedded in a culture of common sense. A 'mixing' came about as the result of a leadership class that saw its primary role as the defender of bottom-up custom as the ground condition of human flourishing."
The many largely govern themselves "through the development of 'custom'" while elites, "acceptable and even chosen by the many," govern with "considerable deference to the settled customs of the people." In practice, drawing from Disraeli, Deneen seems to mean that in general the people have power, but under the mixed regime they would not use their power to attack the elite in some kind of revolutionary fervor. Likewise, the elites, whose rule is in some sense inevitable, would not wield power with their own interests in mind (especially their own enrichment) but with a strong respect for the ways and habits of the common people. This virtuous elite is labeled by Deneen "Aristopopulism"—a truly virtuous ruling class that respects and protects the interests and manners of the average people. Such an elite would not be the crude, vulgar elite that we have today. 
Deneen concludes with a call for different kinds of integration to combat various disintegrations promoted in modern, liberal thought. For example, Deneen advances a notion of solidarity—the sense that we all have our parts to play and we should play them well. This idea draws on John Winthrop's famous "Modell of Christian Charity" (itself influenced by 1 Corinthians 12): while some people will have more "elite" positions and other more seemingly mundane, all social positions deserve respect and encouragement to see themselves as contributing to the common good. Again, Deneen sees such mutual respect among classes as a check upon the voraciousness of the elites.
Deneen also discusses racism, rightly noting that often the defense of tradition and custom in the United States was "bound up" with defenses of racism. Deneen, similar to Wendell Berry's most recent work, argues that black and white working classes have more in common than they are often led to believe. Deneen believes that emphasis on "systemic racism" robs blacks of moral agency while stoking (purposefully?) further racial distrust. Echoing his defense of solidarity, Deneen believes an emphasis on what we all have in common, rather than stressing our differences, would go far in promoting racial healing. He goes on to defend a robust localism (rather than nationalism), a public respect for religion, and a great attention to continuity rather than a worship of amorphous "progress."
Deneen is a fine writer. I confess some sympathy with his cause. He presents a thoughtful, insightful, and well-articulated counternarrative to the dominant American discourse. Deneen is right to perceive that the liberal foundations of our order are weakening. The time is ripe for serious reconsideration of fundamental ideas. Still, Deneen has some philosophical and rhetorical tendencies that weaken his argument. I will mention just two.
First, Deneen at times makes grand statements with little to no evidence. As with Why Liberalism Failed, I found myself peppering my copy of Regime Change with marginal notations such as "e.g.?", "example?", and "evidence?" Just a few illustrations will do. Deneen states early in the book: "As the second decade of the twenty-first century began, a new political alignment and division came to define the Western (and even global) landscape: the elites against the people, populists against the new aristocracy." This is true, but Deneen's readers would be well-served by a couple of examples that help flesh out the point. Later Deneen writes, "The managerial elite is arguably the first ruling class that actively rejects appeal to a shared well of common experience and practice" and that Mill's "deep hostility to traditional society remains a powerful and even dominant viewpoint among progressives." Is there no data or anecdote that Deneen could include here to support these bold, controversial claims? Finally, can Deneen offer evidence that the common people actually support and live in the kind of traditional, customary manner he associates with them? One cannot make these kinds of sweeping claims without offering supporting evidence.
Second, and relatedly, Deneen tends to turn liberalism into a caricature in order to bolster his appraisal. Deneen's liberalism is often a straw man. He curiously argues that classical liberalism "is especially suspicious of majoritarian democracy," doubting "the governing abilities" of "ordinary people." Thus, the calls to "restrain participation in politics, whether institutionally or informally." There are few political thinkers in human history that do not, to some degree or another, share this view. It is not unique to liberalism.
From Plato to Alexis de Tocqueville (see his anxiety over tyranny of the majority) to Abraham Lincoln (see his Lyceum Address) many consequential political observers understood that the people can abuse power. It is that dastardly liberal James Madison who says, accurately, "A dependence on the people is, no doubt, the primary control on the government; but experience has taught mankind the necessity of auxiliary precautions." The idea that respect for the people is necessary but insufficient for good government, is ubiquitous in the history of political thought. Similarly, Deneen exaggerates the agreement between "first wave" liberals (i.e., classical liberals) and "second wave" liberals (i.e., progressive liberals). At least in the American context, Progressives of the early twentieth century quite consciously jettisoned the political science of the liberal founding, rejecting natural rights, limited government, and separation of powers (see the political science of Woodrow Wilson and Herbert Croly for examples). Deneen strains to posit more harmony than actually exists, to the denigration of the American founding. He exaggerates classical liberalism's defense of economic inequality, ignoring its dedication to a more fundamental natural equality. Finally both Carlo Lancellotti, in his work on Augusto Del Noce, and Deneen's postliberal running mate Adrian Vermeule have a better, more thorough takes on the symbiosis between liberalism, capitalism, and Marxist revolutionary thought.
As a political thinker Patrick Deenen is both inspiring and frustrating. He has a keen intellect and a true gift for communication. Still, his tendency to favor polemics over thoughtful, careful presentation sometimes causes him to appear more extreme and intemperate than he really is. Regime Change is a delightful, informative read. Like Deneen's opponents, especially on the Right, Deneen should realize there is plenty in the world to criticize. One need not invent strawmen when men in the flesh abound. There are liberal virtues along with liberal vices. Granted, there are premodern antecedents to many of liberalism's virtues, but these premodern goods tended to enter the American bloodstream via a liberalism mixed with Christianity. A more thoughtful presentation would recognize this fact.
Still, if one wants a stimulating, thought-provoking alternative to the American political conventional wisdom, Regime Change is the book for you. Deneen is surely correct that there is something in the air that suggests a rethinking of our basic political order is overdue. Warts and all, Regime Change is a valuable contribution to that rethinking.
Jon D. Schaff of Professor of Political Science at Northern State University in Aberdeen, South Dakota. He's the author of Abraham Lincoln's Statesmanship and the Limits of Liberal Democracy and co-author of Age of Anxiety: Meaning, Identity, and Politics in 21st Century Film and Literature.