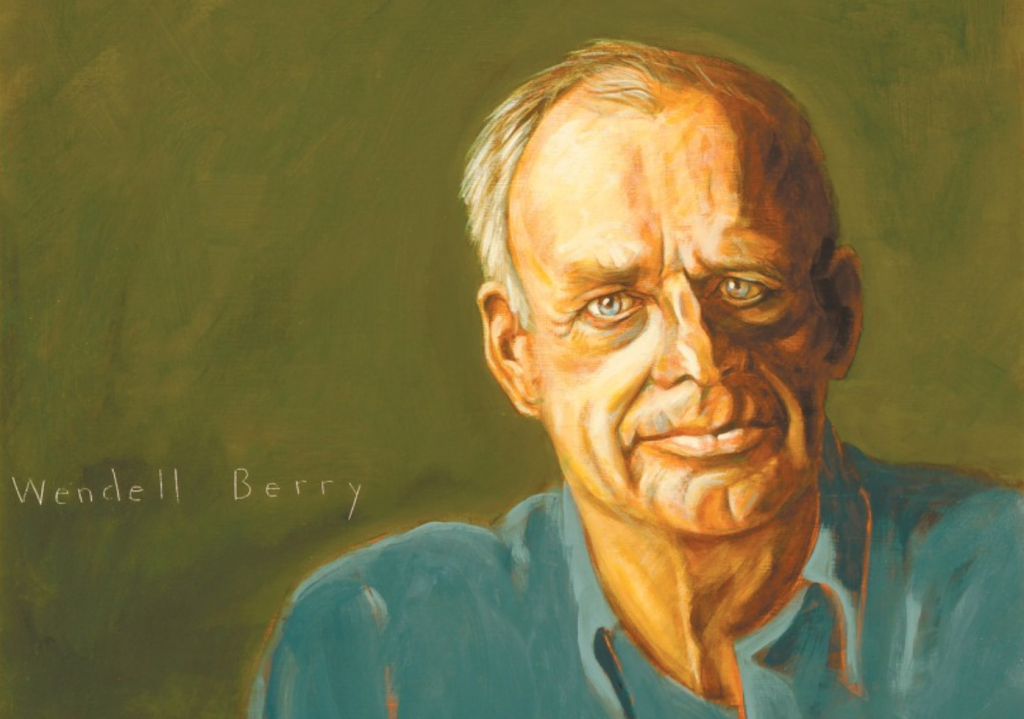 Wendell Berry's long ramble of a book is cause for celebration
The Need to Be Whole: Patriotism and the History of Prejudice by Wendell Berry. Shoemaker & Company, 2022. 513 pp., $24
Up here near Canada in central New York, it's canning season. We have about ten jars of jelly of an exquisite pink-red, the distinctive color that can only mean crabapple, ready to impart the tart-sweet autumn flavors through the coming winter. Next come the quince, golden orbs now tumbled on a table as in a still life painting. All this is thanks to my husband, who transformed our suburban yard, through scores of daily tasks large and small performed over decades, into what is basically a small-scale organic household garden-farm. I think it's safe to say that Wendell Berry would approve. When I had the joy of meeting him a few years ago, he asked about us. I described our tiny yet abundant half-acre and he smiled broadly.
Berry has dedicated his life to the vocations of farming and writing, yielding the unique blend that is Wendell Berry: equal parts rhapsode of the natural world and all of its glories, including humanity's, and critic of all variety of assaults on it, including humanity's. Berry has written on everything from the rise of agribusiness and other corporate predations to the joys of home, marriage, and rural living. Besides nonfiction books, he has written novels, poems, and essays. His work, a blend of social criticism, historical analysis, policy proposals, and moral reflection, is at once the product of his distinctive voice and part of a longer tradition of thinking not only deeply but broadly about the human condition.
In a time of specialized experts, this breadth is rare. Berry's largeness of perspective becomes clear over the course of The Need to Be Whole: Patriotism and the History of Prejudice after—or if—the reader is ready, willing, and able to stand back from the particulars. Because Berry writes with an eagle eye and heart of courage on present conditions and controversies, the particulars will surely stop some readers in their tracks.
He lays out a slew of particular interpretations that will give liberals pause: The Civil War was not caused by slavery alone, did not end all forms of enslavement in this country as professed, caused new problems yet to be addressed not only for blacks but for southern whites and the nation as a whole; the antiracist movement of our time reinscribes old Civil War divisions, perpetuates prejudices, and stalls progress on these fronts; confederate soldiers deserve sympathy, Robert E. Lee is a complex character, and confederate monuments should remain; and much more.
He lays out a slew of particular interpretations that will give conservatives pause: The waging of total war on the South belongs to a larger tradition of domination of this continent's indigenous peoples, black Americans, women, workers, farmers, and others; today's antiracism is continuous with the movement by capital to divide and conquer workers, serves as a smokescreen hiding capitalist excess and exploitation, and misses the mark by not going far enough to address structural causes of widespread suffering and unfreedom; the mistreatment of people is one and the same with mistreatment of animals, plants, and the land, climate change is a euphemism for a crisis that should top our list of immediate priorities, and our treatment of the land weaves another immoral strand into the story of this nation as harmful as slavery.
Self-professed conservatives will likely get queasy at the thought of adding to this nation's original sins corporate exploitation of wage workers, the seizure of most of the wealth by a miniscule elite, and destruction of the land. Many liberals, or at least those who call themselves progressive, will likely get queasy, at least in thinking about race, at his calls for forgiveness.
Yet readers willing to go further will find that, no matter how much they might disagree with particulars, Berry brings to them an extraordinary depth of reflection. He does this by unfolding in each chapter a new layer of interpretation, with each large concept adding a new way to think about the subjects at hand, whether racial strife, sectional stereotypes, local virtues, political polarization, displacement of farmers from the land, the vanishing line between public and private, the degradation of work, environmental depletion, the cost and threat of war, or some other tough issue. In issue after issue he shows that many of today's supposed liberals have lost sight of liberal-mindedness, and many of today's supposed conservatives have largely ceased conserving anything. He faults religious extremists and fundamentalists for distorting scripture to serve themselves, even as he evokes concepts of sin and forgiveness as central to the Western tradition and our only hope. He paints a dim picture of the damage done yet does not dismiss pathways to redemption. In the face of the human capacity for evil, loving both neighbor and enemy still strike him as the most viable way to live.
Berry's Need to Be Whole is a long ramble of a book. In most cases we would assume such an observation amounts to criticism. In this case, it is cause for celebration.
In his past nonfiction writing, Berry—ever the farmer and poet—has both invoked and practiced what he sees as the vital value of economy (in the good sense) as a virtue. Based on such a rule of thumb, his oeuvre—and, indeed, the way he decided to lead his life itself—have emerged as one of the most serious and sustained critiques of modern ways of living and their costs. In an interview in 2012 for the Institute for Advanced Studies in Culture at the University of Virginia, he summed up the ethic he has spent a lifetime proposing as an alternative: "We need a new respect for propriety of scale and the law of return, both of which are essential, and they are closely related. Sir Albert Howard understood what he called 'The Law of Return' as one of nature's fundamental laws. It requires that whatever nutrients and organic materials are taken from the land must be returned. This probably is the fundamental law of sustainability, and it depends on getting the scale right, which usually means fairly small scale." In earlier works, like his exposé history of agribusiness The Unsettling of America: Culture and Agriculture and his various essay collections on issues then current, he practiced what he preached in keeping a tight rein. In classic Wendell Berry fashion, he constantly brought the larger and more nebulous questions facing us down to a literal level. In one of his poems, for instance, he suggests as an answer to all of the biggest questions about how to find meaning and live our lives that we allow the fallen leaves to become compost for the trees.
Perhaps the main contribution of this new book is the very different way it weds form and content less familiar for a work by Berry. In The Need to Be Whole we still have that same tight fit between content and form. But we have new content and a new form. And we have a looser rein.
What emerges in this book is Berry's case for breadth. Having devoted his life to directing our attention to the particular issues arising at the smallest scale, whether individual person, the family unit, the household, or community, he steps back this time and embraces everything imaginable in his vision, but without abandoning that same attention to one person, idea, or locale at a time. The familiar Berry themes still resonate here as much as ever: not just localism and personalism but also the ravages of pursuing the opposite: the ethic of unlimited growth, expansion and mobility as unquestioned assumptions of progress, and economic (in the bad sense) extraction. Yet in this book, which combines history, memoir, literary analysis, and conversation, everything comes as one.
The Need to Be Whole is more than a call for healing and unity in these troubled times. Instead, it is a demonstration of how such things might actually happen. In its form, it circles back again and again to particular issues dogging our best efforts to live as one nation, visiting and revisiting them as one would subjects in a conversation or vistas along a hike or a stroll. A kind of epic of the everyday life and struggles of a nation, it refuses, as Berry has always done, to let things, people, and places—whether painfully flawed or poignantly perfect, since for humanity these qualities always arrive in tandem—fall by the wayside. By book's end, this breadth even gives it the form of a travelogue of sorts, as it gives an overview of all within its sites. This seems ironic, given Berry's reminders of the perils of an un-placed cosmopolitan way of life at the cost of rooted communities. But even when remaining in one place, people can manage to see the particulars around them anew. Berry certainly does his part as guide through the thickets on the best paths he can find for us—and when he cannot find any, those he has made himself. The best travelogues are imbued with the love for the ins and outs of the particular places they map out, so perhaps this form for this content is not so ironic after all.
Elisabeth Lasch-Quinn is Professor of History at Syracuse University and Senior Fellow at the Institute for Advanced Studies in Culture at the University of Virginia. She is the author of numerous essays and books including, most recently, Ars Vitae: The Fate of Inwardness and the Return of the Ancient Arts of Living (Giles Family Fund Recipient, Notre Dame, 2020), a study of ancient philosophy and modern culture. She is a Contributing Editor for Current.