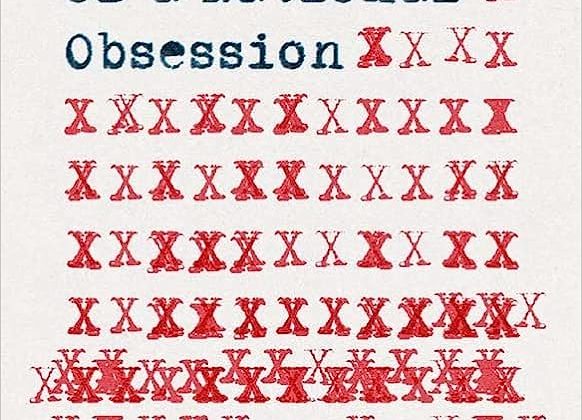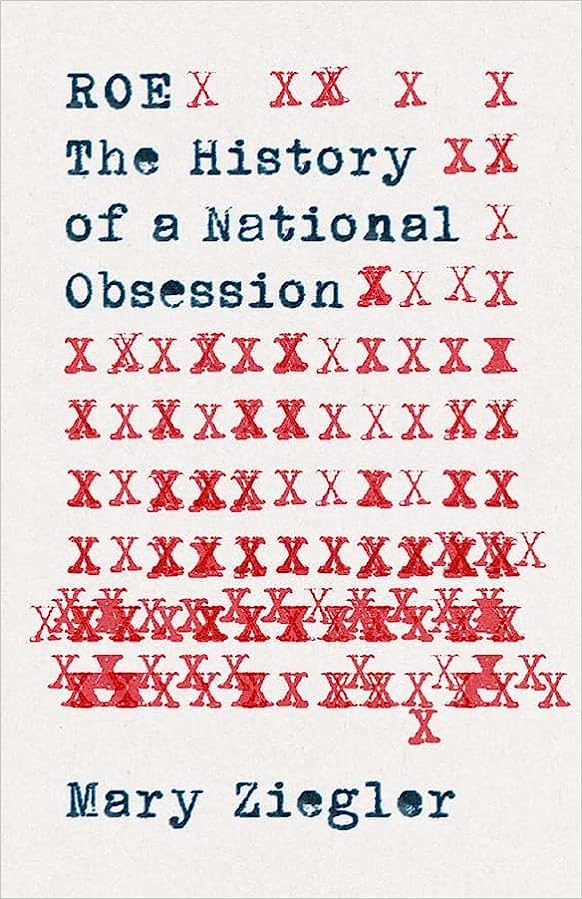 Review: Roe: The History of a National Obsession by Mary Ziegler. Yale University Press, 2023. 248 pp., $27.00
The first time I heard Mary Ziegler present her scholarship on abortion was more than a decade ago, before she had published any of her books on abortion and long before she became the nation's leading authority on the legal history of Roe v. Wade and the abortion debate. Both of us were presenting papers at a conference panel on abortion, and both of us referenced similar themes and events in our papers, since we were both in the process of writing books that engaged with the meaning of Roe v. Wade. In fact, Ziegler's conference paper was largely about that question. And in summarizing her understanding of the meaning of Roe and the abortion debate, Ziegler had one short phrase: "It's complicated."
Since that conference panel, I have collaborated with Ziegler in several other scholarly ventures, I have read each of her published books, and I have talked with her frequently. The Supreme Court's understanding of abortion has also changed dramatically during the period in which Mary has been writing on this topic, and Ziegler, who is now a law school professor at the University of California – Davis, has become the media's leading go-to person in order to understand these legal changes. But amidst all of the changes in the Court's understanding of abortion, Ziegler's succinct description about the nation's polarizing debate over abortion remain more relevant than ever. If there's one phrase that describes all of her scholarship on abortion, it's the one that Ziegler first used more than a decade ago: "It's complicated."
Ziegler's greatest contribution to the legal history of abortion (besides her prodigious research and her ability to uncover information that no one else has discovered) is her even-handed analysis and attention to nuance and complexity. In Ziegler's view, there are not merely two polarizing camps in the debate over abortion. Instead, there is a complex range of opinion on abortion in the United States. And even among the "true believers" in the pro-life and reproductive rights movements, where opinion on abortion is much more likely to be firm and uncompromising, discussions of what it means for a woman to have the "right to choose" or what is really necessary to defend the value of unborn life are actually a lot less clear-cut than media debates might suggest.
We use phrases such as "support for Roe" or "overturning Roe" as shorthand for these debates, but in doing so, we forget that the meaning of Roe is continually evolving. Indeed, it has come to signify ideas that go far beyond anything in the text of the original decision – which is why, according to Ziegler, the Supreme Court's decision to rescind Roe v. Wade last year in Dobbs v. Jackson Women's Health Organization will likely have repercussions that go far beyond abortion per se and yet will not settle the abortion debate.
Ziegler's first book, After Roe, is a study of how activists on both sides of the debate gave new meanings to Roe during the ten-year period after the decision was issued and how that debate made Roe far more controversial than it initially was. Ziegler's subsequent books continue the story of that debate up to the present and show how the pro-life movement's alliance with the Republican Party in an effort to overturn Roe led pro-life organizations into conservative causes that perhaps no pro-life leader of the pre-Roe era would have envisioned – such as the conservative lobbying effort against campaign finance reform, for instance.
Ziegler's most recent book, Roe: The History of a National Obsession, continues this analysis not by telling a chronological story (as she did in her earlier books) but by examining case studies of activists on each side of the abortion debate who were forced to come to terms with the apparent contradictions or complexities in the political slogans they were using. While most of Ziegler's earlier work focuses heavily on legal history and court cases, her latest book focuses mainly on people's stories – and for that reason, it will probably be accessible to a much wider audience than her first book, After Roe, is. Even people who have no interest in the nuances of abortion policy debates may find this book fascinating.
Ziegler begins by analyzing the surprising complexity of the phrases "right to choose" and "a woman's choice." These phrases, which were not part of the Supreme Court's original reasoning in Roe v. Wade, quickly became inseparable from the decision because of the feminist movement's insistence that it was Roe that gave women the right to choose and that personal choice was at the heart of abortion rights.
But as many abortion rights activists have recently realized, it is not clear that the mere legal availability of abortion will give women genuine choice in the most intimate areas of their lives. Ziegler notes the disturbing paradox of several leading male pro-choice activists who were found guilty of sexually harassing numerous women and pressuring them for sexual favors. She also tells the story of a female NARAL president who was raped by a stranger at gunpoint even while she was in the midst of abortion rights advocacy. The pro-choice movement might give women the right to choose an abortion, but it was powerless to stop rape and sexual harassment.
But if the pro-choice movement has been plagued with inconsistencies, so has the pro-life movement. Many pro-life advocates of the late 1960s and 1970s were political liberals who viewed their opposition to abortion as part of a larger defense of the rights of the poor and marginalized. Ziegler devotes a chapter of her book to the career of one of these liberal pro-life legal advocates, the Northwestern University law school professor Victor Rosenblum.
As president of Americans United for Life, Rosenblum played a direct role in mobilizing the pro-life movement on behalf of Supreme Court nominees who he believed would overturn Roe v. Wade. Until the day of his death, Rosenblum was a political liberal whose hero was Supreme Court chief justice Earl Warren, best known for Brown v. Board and a string of other decisions that expanded the rights of minorities. As a young lawyer, Rosenblum argued for welfare rights and other liberal priorities. He joined the pro-life movement because he saw legalized abortion as an attack on the lives of the marginalized. As a father of a child with Down Syndrome, he was dismayed at the legalization of a procedure that would likely be used to end the lives of unborn children with disabilities.
Yet Rosenblum's pro-life advocacy led him into a political alliance with causes that limited the opportunities of the poor. He lobbied for the confirmation of President Ronald Reagan's judicial nominees and defended the Hyde Amendment, which denied federal Medicaid abortion funding for the poor. In order to restrict the legal availability of abortion, Rosenblum helped to create a Supreme Court and a legal structure that would exacerbate income inequality and reduce welfare benefits for the poor without offering them anything in return.
Ziegler then examines the competing arguments that partisans on each side of the abortion debate have made by appealing to science or the principle of racial equality. Both sides claim the mantle of science in support of their position, and both sides claim to advance the cause of racial equality. Many pro-life activists argue that legalized abortion is a form of eugenics, while many supporters of abortion rights argue that restricting abortion rights will disproportionately hurt poor women and people of color. The truth may be more complicated than partisans on either side are willing to admit.
In her final chapter, Ziegler asks the question why we care about Roe so much. The decision itself was poorly worded, as even many supporters of abortion rights acknowledge. And rescinding it will not resolve the abortion debate or end legalized abortion. So, why has the nation become so polarized over a decision that no one really likes, but whose reversal will solve nothing?
Ziegler's characteristic answer to this is: "It's complicated." By investing so much power in Roe, she argues, both sides in the abortion debate are looking to the Supreme Court to provide something that the Court can never do. Attacks on Roe are really about more than abortion; they reflect conservative concerns about marriage and sexuality. And liberal defenses of Roe are likewise about more than abortion; they stem from a progressive view of gender equality and sexuality. Both sides want more than the right to set abortion policy; they care about a much broader array of cultural concerns.
Yet as Ziegler notes, they will not reach their goals either by defending or opposing Roe. Even under Roe, pro-choice feminists were not able to fully realize their vision of giving women the right to make meaningful choices for their own lives. And in opposing Roe, pro-life activists did not move any closer to defending the rights of the poor and the marginalized, as many of them wanted. Arguably, by allying themselves with a conservative judicial strategy, they made life more difficult for lower-income women and people of color, despite their intention in many cases to do otherwise.
What is the answer to this dilemma? Ziegler pointedly avoids suggesting one. "The history I have described here does not suggest a clear path forward in our civil war over abortion," she concludes. But she does offer a prediction: The reversal of Roe will not end the nation's debate over abortion nor will it resolve any of the issues that partisans on the issue had hoped.
If there's a way forward, it will have to come from something other than a court decision, because the Supreme Court is not equipped to resolve such deep and longstanding cultural and moral debates.
This is probably not what advocates on either side of the abortion debate want to hear. But even those who believe that the moral or constitutional principles involved are clear-cut and complicated need to acknowledge that the politics that they use to achieve those moral or constitutional objectives are far messier, with real-world outcomes that do not live up to the expectations of their proponents.
"It's complicated" may not be the most welcome summation of the abortion controversy on the one-year anniversary of Dobbs, a decision that is now probably as polarizing as Roe v. Wade. But maybe Ziegler's cautious, nuanced analysis is exactly what we need to warn us against expecting the Supreme Court to resolve a debate that is about much more than the meaning of a legal text.