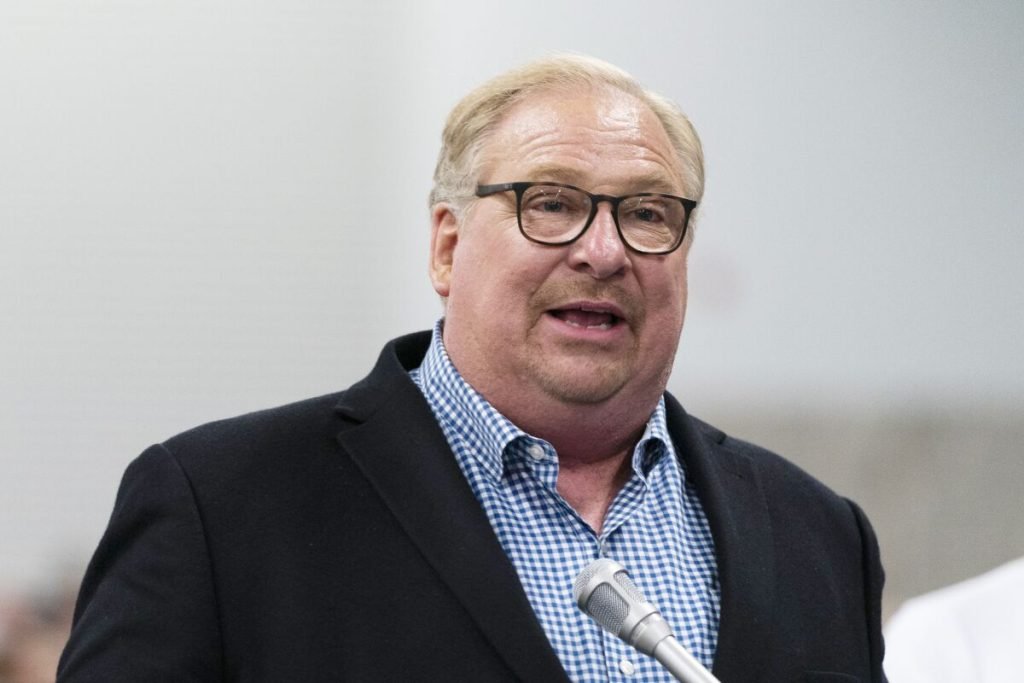 On Tuesday, the country will be focused on the historic federal indictment of a United States president. But 12,000 Southern Baptists in New Orleans will be listening to a three-minute speech by one of the most popular megachurch pastors in the world.
When Southern Baptists gather this week retired Saddleback Church pastor Rick Warren will be the center of attention. Here is Michelle Boorstein at The Washington Post:
The Southern Baptist Convention this year tossed out Saddleback — one of its largestchurches — after Warren ordained several women as pastors. SBC officials ruled that Saddleback had gone against the SBC's most recent statement of faith.
This month, Warren launched a website well-stocked with videos making scriptural arguments for women pastors and lambasting the SBC — his family's denominational home for four generations. And Tuesday, he is scheduled to appear before thousands of Southern Baptists at their annual meeting and argue for an appeal, sayingtheir size and influence in America has greatly diminished in recent years by focusing on, among other things, divisive secular and religious politics, purity tests and not on "the Great Commission" — Jesus's instruction to spread the faith.
"We'll never fulfill the Great Commission with half the church on the bench," Warren said on a podcast in March with Russell Moore, a longtime SBC leader who left in 2021. "I believe millions of Southern Baptist women's talents and spiritual gifts are being wasted."
In one of his videos, posted June 5, he says Southern Baptists "have stopped making the main thing the main thing. … You won't change the culture through laws. You're not going to change the culture through politics. We bet on the wrong thing."
With his booming voice and celebrity status, Warren's ejection and subsequent reinstatement campaign have become the most talked-about issue ahead of the annual meeting, which begins Saturday in New Orleans. Some experts on American evangelicalism say his level of influence hovers near that of church giants Billy Graham and Francis Schaefer. Having retired as Saddleback's leader a year ago, Warren has the air of an elder statesman, if a feisty one.
But the stakes of the discussions about women are complex and the impact of the SBC's decision on his appeal is hard to predict.
Debates include questions of whether "pastor" is a Jesus-created office or just a job description? Are "elders" really the bosses rather than the pastors, and should elders only be men? And how strictly do Southern Baptists need to hew to the SBC's statement of faith (called the Baptist Faith and Message)? Put another way, is the 13.2-million-member SBC a big-tent family focusing on evangelism, or is it more of a top-down, exclusive group where even longtime members can get canceled?
And has the issue of women pastors taken on outsize, symbolic significance and is standing in for the goal of beating back secular, liberal culture?
Read Boorstein's entire piece here.
Find Warren's videos here.
Warren is also on Twitter:
Here is McKissic's entire tweet:
My biggest regret in 53 years of ministry is that I didn't do my own personal exegesis sooner on the 4 passages used to restrict women. Shame on me.
I wasted those 4 yrs of Greek in college & seminary. When I finally did my proper "due diligence", laying aside 50 years of bias, I was shocked, chagrined, and embarrassed.
So many hermeneutical rules were being violated including: Never build a doctrine on a sinle word that is used only once in scripture! There's nothing to compare it to (correlation) Do your own study of authentein in anciety Greek and you'll be shocked too.
I think maybe it was because I didn't WANT to know anything that might challenge the view I WANTED to believe for 50 yrs. But eventually, integrity required that I read over 70 commentaries by INERRANTIST scholars that blew apart my comfortable, traditional, and culture-based interpretation. No seminary told me that those commentaries even existed and Baptist Bookstores refused to carry them. (My mother managed a Baptist Bookstore.) So I accepted the interpretation that was most comfortable for me as a man with my background.
Then reading over 100 books on the early church and the history of the Great Commission (for FTT) demanded my repentance. That journey was both painful and humbling.
I don't expect to win in New Orleans and I certainly don't expect to change the mind of any angry fundamentalist. They are responsible to God, not to me. I'm doing this as a act of obedience to the Holy Spirit.
But I DO want to do this: I PUBLICLY APOLOGIZE to every good women in my life, church, and ministry that I failed to speak up for in my years of ignorance. What grieves me is that I hindered them in obeying the Great Commission command (And Acts 2:17-18) that EVERYONE is to TEACH in the church.
I held them back from using the spiritual gifts and leadership skills that the Holy Spirit had sovereignly placed in them. That breaks my heart now, and I am truly repentant and sorry for my sin. I wish I could do it all over. Christian women, will you please forgive me?
Regardless of attacks and the vote result, I want a clear conscience before my Master … that I repented, and that this sinner did what he asked me to do. With that I am completely content to let Him be the judge and evaluator of my life and ministry. We must live for an Audience of One.
Here are some of the responses to Warren's apologetic tweet:
Pastor Dwight McKissic (on Twitter):
J. M. Pendleton was a Baptist ahead of his time, who opposed slavery, when Baptist in the south considered opponents of slavery in violation of biblical teachings regarding their twisted interpretation of Genesis 9: 25-27. It was not until 1995, that Southern Baptist repented of their slavery position, and not until 2018 that they repented of their putrid exegesis that resulted in well over 100yrs of African enslavement. Rick Warren is a Baptist ahead of his time. Like Pendleton, Warren is receiving criticism & rejection in "high places" among Southern Baptist because he models & represents affirming women to operate according to their giftedness, within the governmental structures of local Southern Baptist Churches. History has determined Pendleton was right, he was not around to see Southern Baptist come to her senses & Scripture on the question of slavery. History will also determine that Warren was/is right. I pray he's alive to see his vindication. Nevertheless, time will prove Warren right. I stand by him 100%, and encourage the messengers in New Orleans to do so too. Nevertheless, the arc of the universe is built toward justice, and the universe is so constructed in such a way that a lie eventually won't stand. That's why slavery came tumbling down, & eventually the unbiblical restrictions placed on women in the SBC will eventually come tumbling down, so that the Priscilla's, Huldah's, Junia's, Miriam's, & Phillip's four daughters will be freed up to fulfill their biblical mandate & models in Scripture. Grateful to see this modern day reformation leader gallantly fighting for the empowerment, equipping, & partnership in Kingdom ministry in local church life. God bless you Pastor Warren, & be assured history will vindicate you, as it did Pendleton.
The right-wing Southern Baptist Capstone Report quotes Francis Fukuyama:
Trump election fraud lawyer Jenna Ellis gets into the mix:
Veteran religion journalist Terry Mattingly:
The former General Secretary of the Wesleyan Church:
Warren also published press releases through the A. Larry Cross Communications. Read them here (May 30, 2023) and here (June 8, 2023).
On June 2, 2203, Warren wrote an "open letter to all Southern Baptists" in which he said "in the last eight years…the Baptist Faith and Message has been weaponized and turned into a creed for exclusion."
Twitter and other outlets are abuzz in anticipation of Warren's appearance in New Orleans. In addition to Boorstein, here is some news coverage from the last couple of weeks:
Kate Shellnut, "After Online Debates, Southern Baptists Get Down to Business," Christianity Today
Mark Wingfield, "Rick Warren outlines five reasons Saddleback will challenge its expulsion from SBC," Baptist News Global.
Mark Wingfield, "Rick Warren is leading a one-man campaign against the very SBC leaders who once admired him," Baptist News Global.
Adelle M. Banks, "Rick Warren campaigns for Southern Baptist reinstatement of Saddleback Church," Religion News Network
Adolfo Flores, "Southern Baptist Convention Meeting to Review Expulsion of Churches," Wall Street Journal.
Steve Warren, "Rick Warren Slams Southern Baptist 'HYPOCRISY' on Women, Seeks to Restore Saddleback Church," CBN News.
Some stuff on Twitter:
This whole affair got the attention of E.J. Dionne:
Several tweets from the president of Midwestern Baptist Theological Seminary:
Jack Graham agrees with Allen:
Here is Tom Ascol fresh off of defending the Uganda anti-homosexual bill:
Southern Baptist fundamentalist Tom Buck:
This tweet from a right-wing pundit at The Daily Wire was retweeted by Danny Akin, president of Southeastern Baptist Theological Seminary:
Denny Burk is a professor at Albert Mohler's Boyce College and is the president of the Council of Biblical Manhood and Womanhood, an organization that advances a complementarian view of gender roles in the church. He has blogged extensively about the Warren case. See:
"Evaluating a New Proposal for Restructuring SBS Cooperation" (June 9, 2023).
"Warren at War with the BF&M (Baptist Faith & Message)" (June 2, 2023)
"A Word about Spurgeon and Female Pastors" (May 20, 2023)
"An Interview about Saddleback and the SBC" (May 20, 2023)
"Rick Warren Knows Exactly What He is Doing" (May 17, 2023)
"The New Pastor of Saddleback Makes the Case for Female Pastors" (March 20, 2023)
"Rick Warren Has Done the SBC a Great Service" (March 14, 2023)
"Answering Objections to Saddleback's Removal from the SBC" (February 23, 2023)
Other random pieces on the Warren controversy:
Apparently people are bullying Rick Warren's successor at Saddleback Church.
Historian Thomas Kidd has a beef with Warren's claim that Baptists aren't confessional.
Former Southern Baptist Convention president J.D. Greear weighs-in.
A long Twitter thread from the Executive Vice President of Southeastern Baptist Theological Seminary.
Addendum (6:28pm): Warren continues to Tweet: