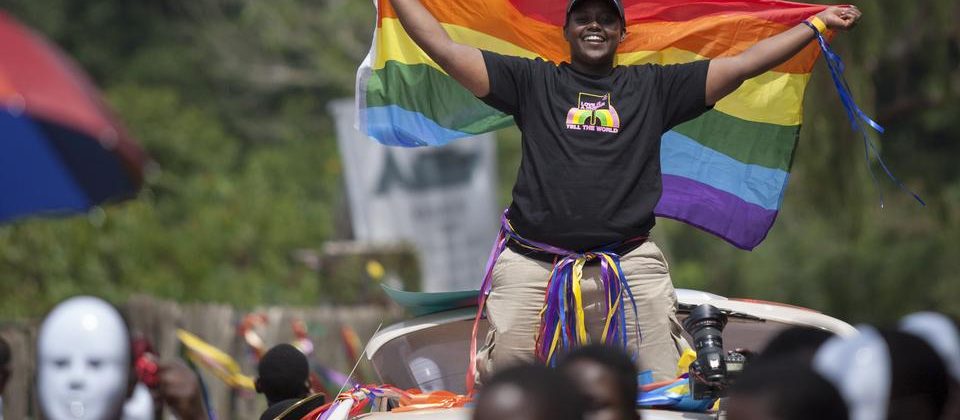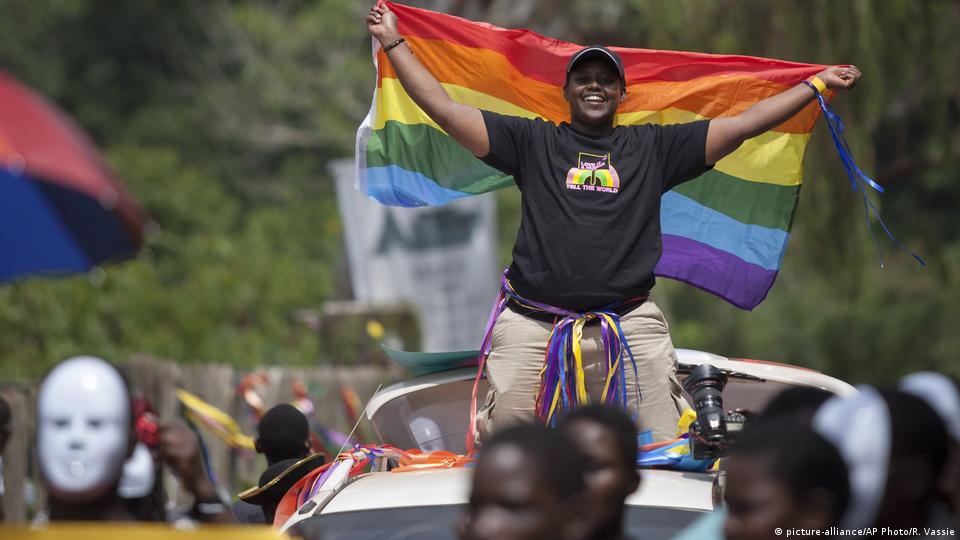 As you may have heard, Uganda just passed an anti-homosexuality law. Here is a summary:
If a person "performs a sexual act or allows a person of the same sex to perform a sexual on him or her" that person will receive "imprisonment for life."
A person who attempts to perform a sexual act (as defined above) but does not complete it will receive a minimum ten year prison sentence.
A person who "is alleged or suspected of being a homosexual, who has not committed a sexual act with another person of the same sex" will not be charged under this law.
A person who commits "aggravated homosexuality" is "liable, on conviction, to suffer death." (italics mine.)
"Aggravated homosexuality," the law says, takes place: (1) when the person whom the offence is committed is a child (under age 18); (2) the offender is "a parent, guardian, or relative of the person against whom the offence is committed;" (3) the person "against whom the offence is committed contracts a terminal illness as a result of the sexual act"; the offender is a "serial offender" (a person who has "previous convictions for the offence of homosexuality or related offences"); (4) the offender "is a person in authority over the person against whom the offence is committed"; (5) the person against "whom the offence is committed is a person with a disability or suffers a disability as a result of the sexual act;" (6) the person "against whom the offence is committed is a person with mental illness or suffers a mental illness as a result of the sexual act;" (7) the person against "whom the offence is committed was, at the time the offence is committed, unconscious or in an altered state of consciousness due to the influence of medicine, drugs, alcohol or any other substance that impaired his or her judgement."
A person who "attempts" to perform a homosexual act in any of the categories in the seven categories listed in the point above, but does not follow through with the act, will get a minimum of fourteen years in prison.
Children (under 18) who commit any of the above offenses will get up to three years in prison.
A person who presides, conducts, or witnesses a marriage ceremony between persons of the same sex or attends or participates in such a marriage, will get up to ten years in prison.
A person who encourages homosexuality through advertisements, publications, prints, broadcasts, or via the internet will get up to twenty years in prison.
A person who financially supports the practice of homosexuality will get up to twenty years in prison.
A person who leases or subleases a "house, building, or establishment for the purposes of undertaking activities that encourage homosexuality" will get up to twenty years in prison.
A person who "knows or has a reasonable suspicion that a person has committed or intends to commit the offence of homosexuality" must "report the matter to police for appropriate action." Failure to report could result in five years in prison or a fine.
Read the entire bill here.
Here is Caleb Ecarma at Vanity Fair:
Antigay sentiment in Uganda has climbed in recent years due in no small part to American evangelicals, who spent more than $20 million fighting LGBTQ rights in the country between 2007–2020, according to The Washington Post. Scott Lively, an American pastor, spearheaded this effort in the early 2000s, participating in a series of popular antigay lectures in Uganda and describing homosexuality as a "disease" propagated by the West. Several years later, Uganda's parliament proposed initial legislation, known as the "Kill the Gays" bill, that was supported by a number of American Christian groups and eventually signed into law. While that measure ultimately buckled under court scrutiny, its draconian vision has now been revived and etched into law by Museveni's pen.
In a strange twist, one of the leading evangelical politicians in the US has joined the White House, the UN Human Rights Office, and a corporate coalition in condemning the law. "This Uganda law is horrific & wrong," tweeted Senator Ted Cruz, a Texas Republican. "Any law criminalizing homosexuality or imposing the death penalty for 'aggravated homosexuality' is grotesque & an abomination. ALL civilized nations should join together in condemning this human rights abuse. #LGBTQ." In his own country, Cruz has consistently advocated against the civil rights of gay Americans. As recently as last year, he called Obergefell v. Hodges, the Supreme Court ruling that legalized same-sex marriage nationwide, "clearly wrong" and an act of judicial overreach. (Those remarks were mild compared to his initial reaction to the 2015 decision, which he described at the time as "the very definition of tyranny" and "among the darkest hours of our nation.")
Read about Scott Lively here and here.
I included this MSNBC video in today's evangelical roundup:
As the Vanity Fair article points out, Ted Cruz, the evangelical U.S. Senator from Texas, opposes the Uganda law:
Tom Ascol, a Southern Baptist minister in Florida who ran unsuccessfully for president of the Southern Baptist Convention, responded to Cruz on Twitter:
Cruz wrote back:
And Ascol responded:
Ascol then defended his position on former Trump election fraud lawyer Jenna Ellis's internet show:
Ascol also defended himself in an interview with a Florida NBC affiliate.
And then there is Albert Mohler, president of Southern Baptist Theological Seminary. Read Mohler's response to the Uganda homosexual law. Rather than using his large platform to condemn Uganda's new law, Mohler chooses to criticize the so-called "LGBTQ Revolution" in the United States.
Meanwhile, Russell Moore, who used to work for Mohler, said the law is not Christian. Here is taste of his piece at Christianity Today:
I am an evangelical Christian committed to the verbal inspiration of the Bible, meaning I believe that every word of it is exactly what God intended it to be, by the power of the Spirit. I am also committed to the inerrancy of the Scriptures: that the Word of God speaks truthfully. Jesus' view of the Bible—"Scripture cannot be broken" (John 10:35, ESV)—settles those issues for me.
I am also a Christian who agrees with the teaching of both the Scriptures and the church—Orthodox, Catholic, and Protestant, for 2,000 years—which is that marriage is a one-flesh covenant between a man and a woman and that sexual expression outside of that covenant is wrong.
And yet my repulsion at the Ugandan state violence in this law is not despite those commitments but precisely because of them.
One does not honor the authority of Scripture if one obscures its meaning. Leviticus 20 explicitly condemns almost every form of sexual immorality—premarital sex, extramarital sex, and nearly every other kind of nonmarital sexual expression. Sexual sins are included alongside occultic practices, necromancy, and the cursing of one's mother and father.
Read the entire Moore's piece here.
This guy, with over 80K Twitter followers, responds to Moore:
David French opposes the Ugandan law. Here he references Jim Geraghty's piece at The National Review:
As for me, I am against the death penalty. I am also opposed to the criminalization of homosexuals. The Uganda law is immoral.