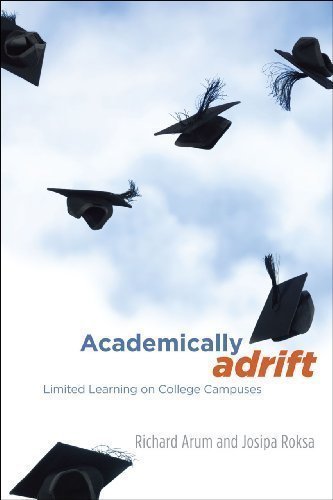 As we just finished another academic year (congrats!), what did we learn? For some college students around the country, the answer may be… nothing. But, as it happens, this problem is nothing new.
Thirteen years ago, a provocative book was making big waves in teaching-oriented university circles. Everyone I knew was talking about it. Intrigued, I read it as well. That book was Richard Arum and Josipa Roksa's Academically Adrift: Limited Learning on College Campuses. Their sobering argument, backed up with oodles of data? By the end of their first two years of college, 45% of students show little to no improvement at all in such areas as critical thinking and writing. Worse, many students still show no significant improvement in these areas by their final semester of college. In other words, the bombshell argument went, along with the receipts to prove it, many students who went through college learned absolutely nothing in the process.
The reasons for this limited learning are ones that many of us who teach in non-elite institutions could readily have written ourselves:
Students… report that they spend increasing numbers of hours on nonacademic activities, including working, rather than on studying. They enroll in courses that do not require substantial reading or writing assignments; they interact with their professors outside of classrooms rarely, if ever; and they define and understand their college experiences as being focused more on social than on academic development. Moreover, we find that learning in higher education is characterized by persistent and / or growing inequality.
Little did I know, when I first read the book, that I would get my own opportunity to test the authors' findings on my campus. For 5.5 years, I served as the director for my institution's Quality Enhancement Plan. The QEP, a required component of accreditation for SACSCOC, the accrediting body for most universities in the US South, asks an institution to implement an improvement plan for five years, with the hopes of producing dramatic results. Five Year Plans, as any historian can tell you, have a noble history behind them. Think tractors and factories. What could possibly go wrong if the same brilliant idea is applied to the factory of knowledge, expertly propelled to glorious heights by its own cadre of shock workers?
Our QEP focused on improving undergraduate writing in the core—something that faculty all across campus could agree needed improvement. After five years of full-scale implementation in the core, our assessment results showed just how hard this improvement is to achieve. Faculty very much wanted to improve student writing. And yet, students have been coming in with increasingly lower SAT scores, suggesting an ever-lower level of preparedness for college, year by year. Students also have been working more and more hours off campus, and our enrollment has been shifting more and more online for years before the pandemic. So, everything we threw into the project of improving student writing turned out to be an exhausting experiment in running faster and faster just to stay in one place.
On a side note, I could also tell you about the difficulties of assessing improvement on a large scale, especially when you are comparing scores across a different set of students each semester. I will concede, nevertheless, that stratified random sampling applied to academic assessment is a topic of limited interest to most members of the human race. At any rate, our accrediting agency applauded our successful completion of the QEP in 2020, and everyone moved on with their lives.
But this brings us back to Arum and Roksa's argument that students are "academically adrift," and that writing is one area where this comes through. They had intended their book to serve as a call to action, even as they noted that "Limited learning in the U.S. higher education system cannot be defined as a crisis because institutional and system-level organizational survival is not being threatened in any significant way."
This particular segment is available as part of the excerpt from the book on the publisher's website, and is worth reading in full, as it lists the different groups of people whose status quo is not under threat from students' "limited learning"—parents, the students themselves, professors and researchers, administrators, and government funding agencies. "In short, the system works," the authors concluded cheerily.
Much of the book's argument has aged well over the past thirteen years. It still applies, perhaps to an even larger scale, and the recent Chronicle article about ChatGPT abuse by students at Columbia University shows limited learning spreading to the Ivy Leagues as well. But the last part—the argument that the system works even if no learning happens for some students—galled me already when I first read it thirteen years ago. It is now even more blatantly apparent that this is not true. No, the system doesn't work, and this is a problem for, at the very least, parents, students, and professors.
I have three reflections in response:
The problems Arum and Roksa outline are ones that are more likely in some types of educational settings than others. It would be very difficult to achieve only "limited learning" in a small liberal arts college, or when taking small seminar-style classes on campus at any institution, really. Also, liberal arts and humanities courses practically everywhere continue to assign heavy reading and writing loads. In other words, there are pockets on every campus where a lot of serious, deep learning is happening, and as I have written here before, many students crave this deep learning. Small colleges with their tiny class sizes are particularly good at this kind of learning. We need to celebrate and support these places that serve students well!
There is a growing number of college-aged kids who are not going straight to college, including my own firstborn, a newly-minted high-school graduate. Perhaps, instead of talking about students as "academically adrift," we would do better to think of better local structures to support these college-aged individuals who are in various ways adrift in life right now, as they struggle to figure out their long-term goals. They need mentoring and support structures, and many of the same local mentoring programs, formal and informal, that could serve local college students would serve them well, ultimately, benefiting not just individuals but the community as a whole.
I would love to see more community partnerships with local colleges and universities, supporting students, especially those who are first-generation college. Arum and Roksa pointed out the difficulties of students who have to work extreme hours, and it seems like being "academically adrift" is the least of these students' concerns—those who are adrift in one sense are too often adrift in several other areas of life as well. They lack the support structures of family. As Dan and I have seen, they may not have anywhere to go for Thanksgiving dinner, and will welcome an invitation from a professor or local mentor. If we think of each college or university as, first and foremost, a local institution rather than a corporation and a part of state or national statistics, we would do well to remember that local problems benefit from local solutions. In my town, in particular, it has been a joy to see several local churches and campus ministries work hard to reach out to students, mentor and support them, and ultimately help them grow as a whole person.
In a world driven by machines and profits, we cannot forget that students are priceless people first.