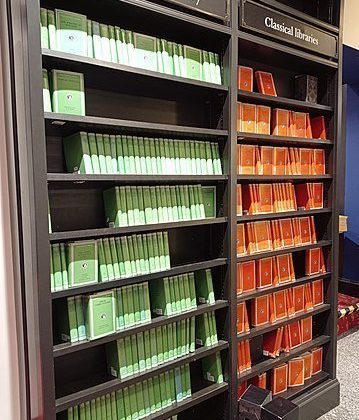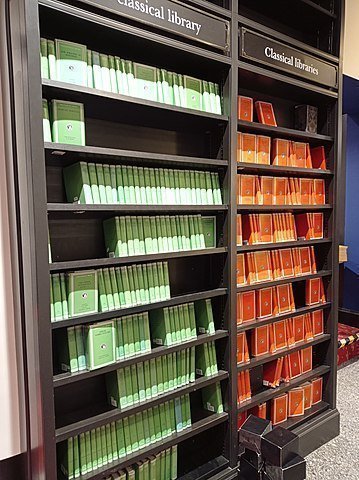 Most of the time, the well-merited jeremiads about the state of the humanities in American universities come from scholars. At the same time, most of the attacks themselves come from university administrators or system-level administrators (for state universities). But last week, re-reading Sarah Soltis's insightful piece in Plough about the purpose of university education from the perspective of a humanities major, reminded me that these discussions remain incomplete if they overlook the student perspective. It is students who populate classes and majors. They're the sine qua non supply factor in the higher ed supply-and-demand calculus.
Let's start with an unusual question that (I argue) is going to tell us something interesting about this supply-and-demand: What is the institution of higher learning in America with the highest ratio of (Greco-Roman) Classics faculty per student?
No, most people will never guess the answer. It is not Harvard, with its 19 full-time Classics faculty per 7,153 undergraduate students, a ratio of 1 Classicist per 376 students. It is not my PhD alma mater of Princeton—19 Classics faculty per 5,321 undergraduates, a ratio of 1 Classicist per 280 students). Nor my BA alma mater of UVA—11 Classics faculty per 16,793 undergraduate students.
As for CCCU's, most of them have never even had a Classics department to begin with, so they do not factor into these calculations. Baylor University is the rare exception, with 15 Classics faculty, but considering that they have 15,191 undergraduate students, this is a ratio of 1 Classicist per just over 1,000 students. Sure, many CCCU's offer Biblical Greek as part of the Biblical Studies department. But most do not offer Latin or teach the Greco-Roman Classics.
And yet, in these days of continuous humanities reductions, mergers, and outright cuts, including the cuts of multiple Classics departments over the past decade, there is one college/university in America that has six Classics faculty—and was hiring a seventh this academic year—for its tiny undergraduate population of 1,515 students. This yields an astounding ratio of 1 Classicist per 216 students. This institution, furthermore, does not have a PhD program in Classics. Unlike Harvard, Princeton, or UVA, whose Classics faculty spend much of their teaching time educating PhD students, this entire population of Classics faculty is devoted to educating undergrads.
The institution in question is… Hillsdale College.
Hillsdale College has been at the center of the culture wars – the subject for which it was the focus of an in-depth New Yorker profile just last week by Emma Green, on which I also commented in brief here. Green explored the strong connections between the school and the Republican Party, but during her visit on campus, she noted that the school was very different than perhaps she expected from its public face to the outside. It seemed remarkably like a small liberal arts college with a strong focus on the… liberal arts.
And this reminds us that analyses privileging politics to the exclusion of all other factors remain incomplete in this age when too many universities—including those in DeSantis's Florida—actively work to dismantle the humanities and liberal arts education, partly with the argument that there is no student interest in these majors. That conversation predates DeSantis, as I recall from my one academic year teaching at Florida Gulf Coast University, back in 2009-2010. To be fair, in many universities these majors are indeed in steep decline. But is this the complete answer?
The question I wish more people would ask is: Just how is it possible that a very small liberal arts college has a proportionally larger Classics department, and a higher rate of Classicists per student, than any other institution of higher education in America? What does this tell us?
And lest you marvel at the sheer love that Hillsdale has for the ancient world, I should clarify that the same trends there apply to the humanities and the liberal arts more broadly. As Green noted in her article, one third of the students are involved in music.
Hillsdale's History Department, by the way, features 19 faculty (to instruct, again, just 1,515 undergrads)—more than my current employer, who has 16 tenured and tenure-track History faculty to teach ca. 9,000 undergrads plus an MA program of ca. 40 students. This gives Hillsdale a ratio of 1 historian per 80 students. Even Yale, with its massive History Department of 68 faculty serving an undergraduate body of 6,536 students, has a ratio of 1 historian per 96 students.
I think that there is something interesting going on here that extends beyond the simplistic explanation that Hillsdale's general success in attracting students is merely the marriage of convenience between a college and the Republican Party. Political conservatism is undoubtedly an important part of the college's current identity, but it cannot explain everything here.
It takes a conscious investment from trustees and the administration to create an institution that values the humanities and liberal arts, creates a curriculum that revolves around them and hires tenure-track faculty (instead of adjunctifying) to keep up. So, there has to be an institutional investment. But that investment can pay off—not necessarily in the number of majors, but rather in overall enrollment at the institution.
How do I know this? Because I have seen in my current workplace the difference that an institutional investment makes in the flourishing of the humanities on campus. This flourishing may attract students to an institution, even if these students do not end up majoring in the liberal arts. During the six years when my current institution, a regional comprehensive state university in Georgia, had an opera singer as president and an English literature medievalist as provost, our enrollment grew every year.
This is anecdotal, but I have heard enough other such stories to know that this is not unique. Furthermore, while this is again anecdotal, I have yet to hear of an institution that reversed its enrollment decline by investing in trade programs at the cost of sidelining (or even eliminating) the humanities. And yet, school after school keeps proposing this fix. Please remind me: what's that term for when folks keep doing the exact same thing over and over while expecting a different outcome?
We need to remember that it is ultimately the students (not the politically-minded donors) who decide to apply and attend a particular college—a decision often made with parental assistance, of course. If these students and their parents did not value the particular type of education on offer, the politics of the school alone would not have drawn them. In the case of Hillsdale, its famous political bend certainly rules it out for some students and attracts others, but it is the curriculum that has the final word.
Maybe the humanities really do sell.