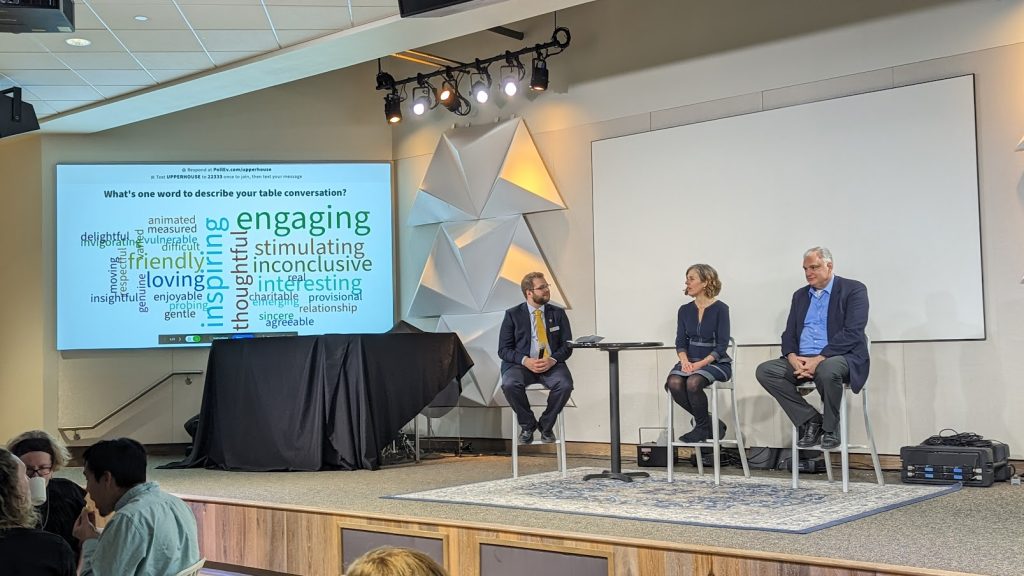 Yesterday I spent the day with the impressive staff of Upper House, the Christian study center on the campus of the University of Wisconsin-Madison. I was in Madison to participate in an interfaith faculty dialogue on listening and democratic discourse with members of the UW-Madison faculty, including several members of the history department. UW-Madison political scientist Kathy Cramer spoke about her research on listening and how her faith forms her work. I offered some of my own thoughts on democratic discourse in polarized times. And then faculty, grad students, and other invited guests used the questions we raised as discussion starters for some dinner dialogue on the best ways to engage public life with grace and civility. Not only did those in attendance discuss the nature of democratic discourse, but by all accounts they modeled it in conversations over some tough issues.
A few highlights of the trip:
I finally got to meet historian Dan Hummel. He is a contributor to Current and the author of a brand new book, The Rise and Fall of Dispensationalism: How the Evangelical Battle Over the End Times Shaped a Nation. I hope to have him on The Way of Improvement Leads Home Podcast soon. Dan is director of university engagement at Upper House.
I also got to spend some time with my old friend Eric Carlsson, a member of the UW history department. He informed me that we had not seen each other since 2014. In addition to his duties in the history department, Eric runs the fellows program at Upper House.
I got to meet members of the Upper House staff, including John Terrill, Cameron Anderson, Jean Collins, and Daniel Johnson. A few of us spent some time talking about the state of Christian college education, the spiritual formation of students, and the usefulness of the term "vocation."
One of the highlights of the trip was meeting University of Wisconsin historian Chuck Cohen–a scholar whose work I first read as a graduate student and have long admired. (See picture below).
I've been thinking long and hard about a question that emerged in response to Kathy Cramer's talk. When is it appropriate to speak and when is it appropriate to listen?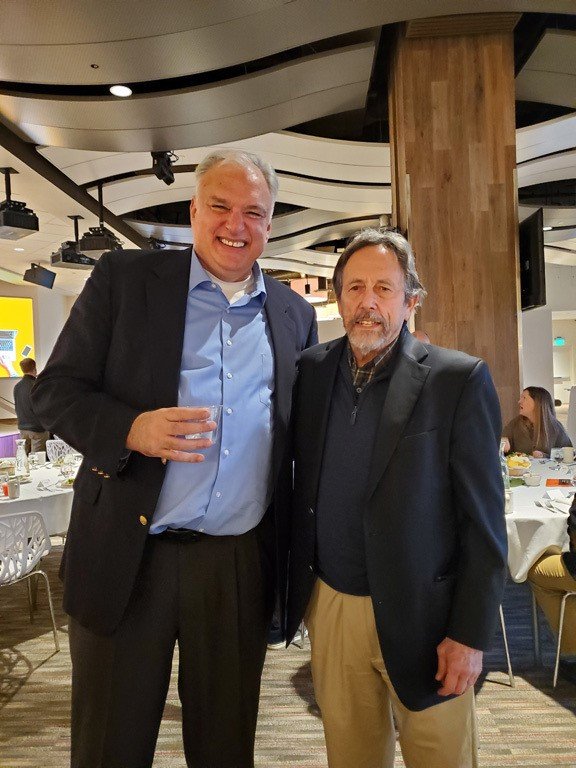 I left Madison early Thursday morning encouraged and hopeful. Not everyone who attended Wednesday night's dinner agreed on every issue facing American life today, but the commitment to civil conversation I witnessed was inspiring. It's amazing what can be accomplished when people aren't slinging tweets and subtweets at each other. Some of my Christian friends–especially those who regularly spew-forth on social media–could've learned a great deal from watching how people with deep differences engaged with one another at Upper House.
I also left Madison thinking that perhaps Christian intellectual life–the antidote to the so-called "scandal of the evangelical mind"–is cultivated better in Christian study centers on the campuses of major research universities than in Christian colleges that continue to cut funding for the liberal arts, invest their limited resources in professional programs, and tend to promote initiatives that privilege one or two identity categories.
On the plane ride home yesterday I realized that my sense of disillusionment and betrayal over what is happening at Christian colleges across the country may be subsiding. I am coming to grips with the fact that the kind of Christian thinking I hoped to pursue more than twenty years ago when I joined the faculty of a Christian college will not happen at such institutions in my lifetime. I get it: Christian colleges must do what they need to do to keep the doors open. Fair enough. This is the world of Christian higher education in which we currently live. So it might be time to stop tilting at windmills. Of course such schools will always need a few historians or literary critics or philosophers or theologians or language professors around to keep up appearances, deliver general education courses, and make sure the cash cow majors and programs get some exposure to the Christian humanities and liberal arts. So I guess that's good. And every now and then there are redemptive moments–a class, a group of students, a conversation with a colleague, etc. That is certainly good.
At Upper House I heard a beating pulse I haven't heard in a while. It was a pulse emanating from the heart of an institution committed to serious Christian thinking, the spiritual and intellectual formation of students, and critical engagement with ideas emanating from one of our country's great public universities.