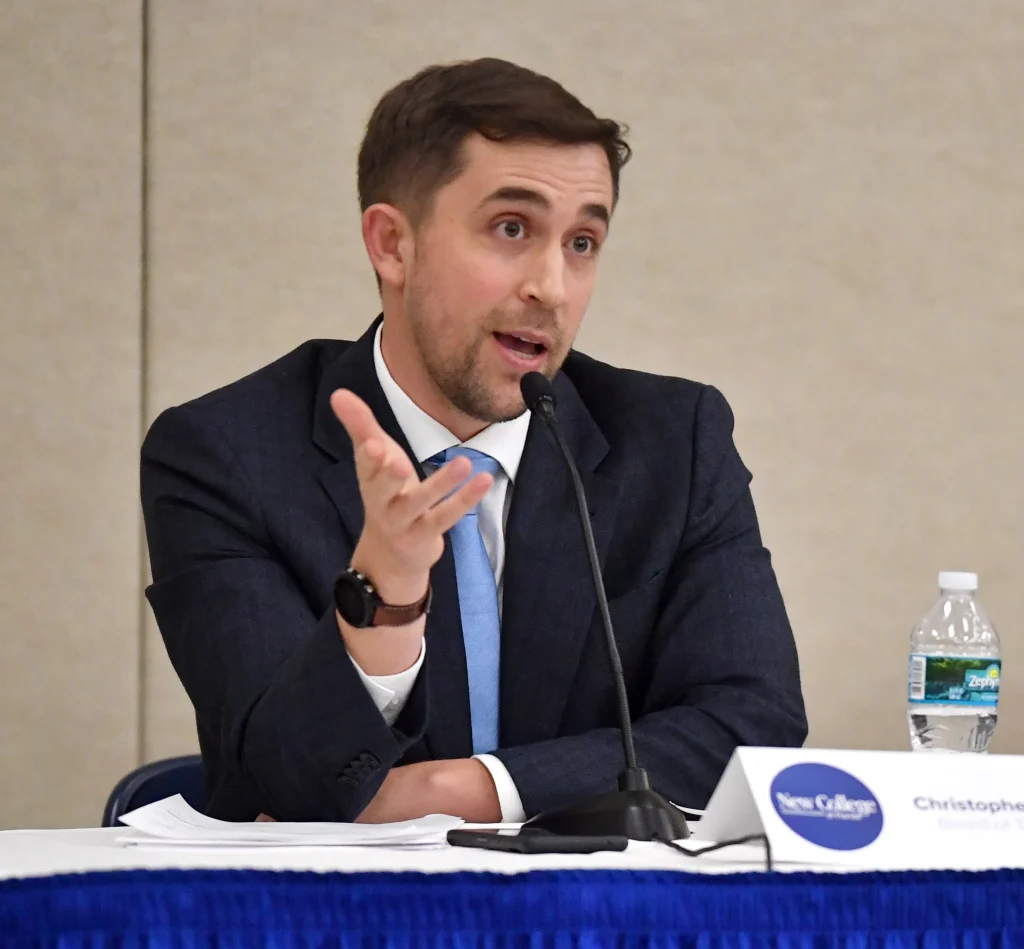 He was virtually unknown until he appeared on Tucker Carlson's Fox News show in September 2020 to attack critical race theory. At the time he was a "fellow" at the Discovery Institute, a conservative think tank best known for its advocacy of the "intelligent design" view of creation. After studying CRT for six months, Rufo concluded that the theory had become the "default ideology of the federal bureaucracy" and claimed that it was being "weaponized against the American people." He described CRT as a "cult indoctrination" and demanded that president Donald Trump bring an end to it immediately. Trump was apparently watching. After the Carlson-Rufo interview, Trump began a crusade against CRT in the hopes of using the theory to win votes in the 2020 presidential election. Rufo now works for another conservative think tank–The Manhattan Institute.
Roosevelt Montás and Annie Abrams recently suggested that Rufo's attempt to use the Western canon to advance a right-wing political agenda was "destroying" liberal arts legislation. Rufo also seems to model his conservative takeover of America after Italian community Antonio Gramsci. Florida governor DeSantis has found Rufo useful in his attempts to stop "woke-ism" in the state. DeSantis has used him in the fight against Disney and his attempt to takeover New College, a progressive, publicly-funded, Florida honors college.
Back in July 2022, after Rufo said that conservative culture warriors need to be "impolite," David Tucker of the conservative Ashbrook Center wrote:
…Rufo's incivility deserves to be questioned. One could argue, for instance, that rights are not at stake in the disputes over critical race theory and Disney's objections to Florida law, that these are, rather, differences of opinion over educational policies. Invoking rights tends to justify measures beyond the civil debate we expect over policy differences. Perhaps this is why the Florida legislation that Rufo defends styles itself "An act relating to parental rights in education." 
All those invoking a right to incivility to protect their rights should remember that the Declaration speaks of the need for prudence in the exercise of our rights of protest and revolution. One element of that prudence has to do with the relation of means to ends. Justifying our incivil protests by appealing to the rights we are protecting is a form of allowing the end to justify the means. This is always a problematic endeavor: How can we be sure we will attain the end that (ostensibly) justifies the means we use? If we don't attain the end in question, we are left with a world and democratic practice diminished by our incivility. Even if we do, we must calculate the damage done by incivility.
Progressives have always been more willing to allow the end to justify the means because they believe (however tacitly) that they are on the right side of history and that history will carry them to the end they envision. That's what it means to believe in "progress." Traditionally, a conservative (whom Rufo understands himself to be) would have been skeptical about letting the end justify the means. Such a person would have thought human understanding too weak to comprehend the meaning of history, and that unintended consequences—not reason—are the governing force in human affairs. Such a view always counseled moderation with regard to human action. That Rufo has adopted the ways of progressives and is championed by supposedly conservative institutions is a sign of the immoderation that now characterizes our politics.  
Yesterday Politico ran a longform piece on Rufo by Michael Kruse. Here is a taste:
Rufo, 38, is interesting and important in his own right. Not even three years ago, he was known, if he was known at all, as a short-lived Seattle city council candidate and a more or less middling maker of documentary films. Now he is, he says, a policy scholar and a political combatant, an activist and a polemicist — a journalist. He's "a right-wing propagandist," in the words of Rep. Jamie Raskin, the Democrat from Maryland. He's "a hired gun for the information wars," in the estimation of rhetoric expert Jen Mercieca. He's the only child of two attorneys who worked in Sacramento, the son of a father who immigrated from Italy, the spouse of a wife who immigrated from Thailand, a parent of three half-Asian children — and the biggest single reason critical race theory and diversity, equity and inclusion have been turned into the toxic, ubiquitous and politically potent acronyms of CRT and DEI.
But what might make Rufo matter most at this moment in American politics is what he says about DeSantis — as a governor, and as a potential president. DeSantis is "an operational ideologue," said a former aide, who like many former DeSantis aides was granted anonymity to speak freely. "He looks," this person told me, "for people" — even "fringe players" — "to operationalize his ideology." Distrusting to the point of paranoid with an inner circle that's really only his wife, anti-establishment but not anti-intellectual and not so much instinctual as systematically calculating, DeSantis over the last couple years has come to rely on less conventionally credentialed operatives to enact his chief policy and political aims. "New talent" that is "like-minded" but "non-traditional," said Brian Ballard, the powerful Florida-based Republican lobbyist. A different former DeSantis staffer described them to me as "outside-the-box knife-fighters."
Rufo is the latest iteration of a certain sort of person in the DeSantis orbit and operation — sicced at the governor's behest to pick a point-scoring fight that generates headlines and left-of-center outrage while simultaneously riling and feeding the most vociferous groups of the GOP's red-meat wings. Christina Pushaw, who has been an unlikely mouthpiece for DeSantis and his interests, was unleashed to clash with the press in extraordinary, hostile and hyper-public ways. Larry Keefe, a former Panhandle trial lawyer and Donald Trump-appointed United States attorney, has been as the governor's "public safety czar" the executor of his Martha's Vineyard migrant flights as well as his contentious suspension of the top prosecutor in Tampa. "But Rufo," Tallahassee fixture Mac Stipanovich told me, "is currently the principal example."
Part mercenary and part emissary, a mix of a think-tank wonk and a social-media troll, Rufo for the last year and a half has been a main source and surrogate for what DeSantis has sought to make his signature — school boards and higher ed, Disney and issues of teaching and tolerance of gender and sexuality, the overarching palette of policies that DeSantis describes as "anti-woke" and that has been the primary political fuel of his post-pandemic ascent. Rufo has shared stages with DeSantis around Florida. He has been a participant in one-sided roundtables of ideologically simpatico speakers to create content that can double as ammunition and bait. Now, though, he has his most formal role to date — at the fore of DeSantis' New College offensive, which is part of a broader statewide effort, all of which is very much a linchpin of his everything-but-announced 2024 presidential campaign. DeSantis in his recent book to seed his expected White House bid not only namechecked Rufo but cited his work in 11 separate bullet points across portions of three pages. Rufo has his own book coming out in July. They share a publisher. They share an editor.
Rufo of late has been "the bellwether for DeSantis," said Nicole Hemmer, a historian of conservative media and the author of Messengers of the Right. "The decision to use Rufo's activism as a kind of scaffolding for passing pieces of legislation that draw a lot of media attention and frame DeSantis as a culture warrior shows a kind of political intelligence," she told me. "Rufo has figured out which buttons to press," Hemmer said, "so by tapping into Rufo, DeSantis has a shortcut to tapping into that base."
Read the rest here.