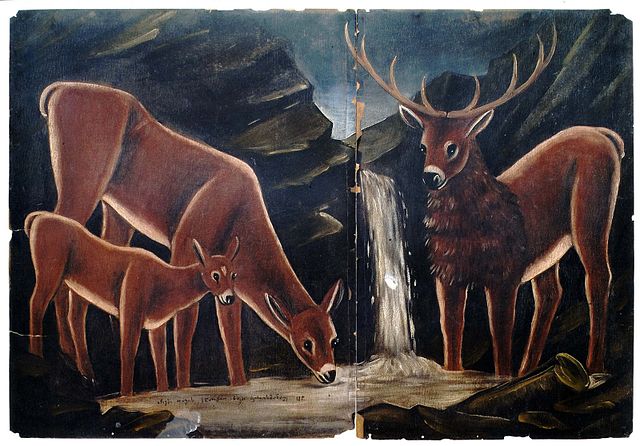 When Nadya and I visited a Presbyterian Church in America (PCA) congregation in Atlanta this past Sunday, one of the worship songs we sang was Shane & Shane's 2021 rendition of Psalm 42 ("As the Deer"), which includes this riff on a classic hymn: "Streams of trouble never ceasing call for songs of loudest praise."
Of course, in the original 18th-century hymn by Robert Robinson, "Come Thou Fount of Every Blessing," the word is "mercy," not "trouble."
But as Shane Barnard (one of the two "Shanes" in the partnership "Shane & Shane") explained: "The lyric of 'Come Thou Fount' was not where my heart was at. I wasn't feeling in that moment like saying 'streams of mercy never ceasing call for songs of loudest praise.' That is absolutely true, but what my heart was feeling in that moment was more like streams of trouble never ceasing call for songs of loudest praise. I opened up to Psalm 42 in that moment and just began to sing the scriptures. As the deer pants for the water, so my soul pants for you. Let songs of loudest praise come out of trouble."
After we sang Shane & Shane's version of "As the Deer," I thought back to my seven years in the PCA and realized that even though this was my first experience singing this particular worship song, rarely have I had a Sunday at church during the past seven years when I haven't heard something similar to Shane & Shane's lyric – that is, the idea that we praise God especially in the midst of trouble and suffering.
And it occurred to me that this insight is one of the great attractions of contemporary evangelical Reformed churches (whether Presbyterian, Baptist, nondenominational, or some other label).
At a time when most of the major denominations in the United States are shrinking, the PCA is continuing to grow and bring in significant numbers of adult converts. Between 2017 and 2021, the denomination experienced more adult professions of faith than professions of faith by children.
And the PCA is only one expression of a much larger movement of evangelicals who are rediscovering Reformed theology. By no means are the majority of American evangelicals Reformed, but for the past two or three decades, the theological tenets of Reformed thinkers such as John Calvin and Jonathan Edwards have been gaining traction especially among young professionals and young middle-class evangelical families who are seeking satisfying answers to questions about meaning and existence.
Foremost about those questions is the "problem of evil," which Asbury philosopher (and Christian theist) Michael L. Peterson called "the most formidable objection to theism" and Catholic theologian Hans Kung called "the rock of atheism."
Regardless of whether this has always been the case, there is no question that this became a major line of attack against Christian theism in the 20th century. It was central to the "death of God" movement among theologians in the 1960s. Where was God after Auschwitz, they asked? Was it rational to still believe in God after witnessing so much senseless suffering and evil in the world?
In the 18th century, the French Enlightenment philosopher Voltaire asked similar questions after the Lisbon earthquake killed tens of thousands of people, but such questions seemingly became even more urgent in the 20th century, when the Holocaust killed 6 million people and other totalitarian regimes killed millions of others. If Voltaire thought that belief in an omnipotent, beneficent God might be impossible after an earthquake that killed nearly 50,000 people in Portugal, what could one say after the 2004 tsunami that killed more than 200,000 in the Pacific?
One popular strand of evangelical theology in the late 20th century largely pushed these questions to the side in the midst of its optimistic focus on personal experience of joy in the Lord. An extreme version of this could be found in the charismatic-influenced faith-healing movement and prosperity gospel, which taught believers to "expect a miracle" or claim a blessing from God, because with God "all things are possible" for those who have enough faith.
The prosperity gospel still has enormous appeal. One of its best-known promotional texts, Joel Osteen's Your Best Life Now, has reportedly sold more than 100 million copies since its publication in 2004.
But the writings of evangelical Philip Yancey, which offer a sharp rebuttal to the prosperity gospel with their numerous documented cases of unanswered prayers and unhealed pain, have had widespread appeal as well, with Yancey's books collectively selling more than 15 million copies.
Yancey's book Disappointment with God prompted numerous people to share with him their heartbreaking stories of unanswered prayers: repeated rape from a family member that wouldn't stop despite a young girl's pleas to God to end the abuse, a mother with Alzheimer's who became violent (and who God would not heal or take away), painful cancer, family violence, global injustice and famines – the list goes on. In Prayer: Does It Make Any Difference?, Yancey told these stories and honestly admitted that although he continued to pray and trust God, there were numerous moments when prayer never led to the relief that its practitioners were sure that a benevolent God would grant.
Many evangelical Christians have appealed to human freedom as an explanation for the pervasiveness of evil and the puzzle of unanswered prayers for relief. Perhaps, they say, God sometimes chooses not to intervene simply in order to preserve human free choice and its consequences.
But Reformed theology offers a different explanation. God is fully sovereign, Reformed Christians insist – which means that not only does God know about future evils, God ordains future evils. God is not the agent of sin, Reformed Christians insist. But God takes the sins of people who freely will to commit them and uses those evils to accomplish his own purposes for the good of his children. There is therefore no natural or moral evil, no matter how heinous or devastating, that will not ultimately fit into God's plan for the redemption of the world and the revelation of God's glory.
"You meant evil against me, but God meant it for good" (Genesis 50:20) is one of Reformed evangelicalism's favorite verses when it comes to explaining God's role in evil and suffering.
In that biblical passage, Joseph reflects on all of the evils that he had experienced in his life – which included being sold into slavery at the hands of his brothers when he was only 17, being falsely accused and thrown into prison for a crime he never committed, and then being left to languish there for years by people who had forgotten him – and concluded that the evil actions that his brothers had committed against him with the intention of harming him had actually been the very things that God had used to bless Joseph and accomplish a great deliverance for the southern Mediterranean world in the midst of a severe regional famine.
In the same way, Reformed evangelicals believe, God is taking the evil actions that people in the modern world commit against believers – abuse, rape, betrayal, backstabbing, false accusations, etc. – and is using those evils for the good of God's children and the advancement of God's glory and kingdom.
It's a radical claim, but if it's true, it turns the "problem of evil" on its head, because it suggests that the presence of evil in the world is not an embarrassment for Christians but is instead at the center of how God is accomplishing his purposes in a fallen world. Just as Jesus accomplished redemption of the world through the evil actions of unbelievers who nailed the Son of God to a cross, so God is continuing to advance his purposes through the suffering of believers today. And just as God chose to experience unfathomable suffering at the cross because of the knowledge of what it would accomplish, so believers today can confidently enter into periods of much more limited suffering because of the certainty that God will accomplish something wonderful through that pain.
Reformed evangelical Christians such as Timothy Keller insist that what makes suffering unbearable for some people is not the pain of suffering, but rather the perception that it's meaningless and that prolonged suffering is hopeless. The theology of suffering that Reformed evangelicals present doesn't promise to remove the pain, but it does promise to give meaning and hope in the midst of suffering. If believers understand that God is fully in control not only of their suffering but all of the evil in the world, and if they understand that the pain and evil will end at some future date and that a renewed creation free of suffering and evil will be revealed, they will have the courage to persevere. And if they also understand that their suffering has a purpose in God's eternal plan, they'll have the confidence to sing praises even in the midst of their "streams of trouble."
This is actually not a uniquely Reformed message. It has deep roots in traditional Catholic theology (which has long viewed suffering as an intrinsic part of the process of becoming holy), and it is not far removed from some of the views of the historic Black church which, like Martin Luther King Jr., has long proclaimed that "unearned suffering is redemptive."
But regardless of how deeply rooted in traditional Christian theology this view might be, it comes as a surprise to a lot of contemporary American Christians who aren't used to identifying suffering, pain, and evil with the purposes of God. Yet apparently, when some discover this message, they find it strangely satisfying, as the evidence of the influx into Reformed evangelical churches indicates. It's a countercultural proclamation in our own time – and perhaps that's part of its appeal to the millions of Christians who are singing praise to God in the midst of "streams of trouble."
Reformed theology has an unfortunately well-deserved reputation for often being the refuge of the privileged and the comfortable who find in Calvinist predestinarian theology a justification for the preservation of the status quo. Perhaps the real test, therefore, for Reformed theology will be whether the comfortably dressed, relatively affluent, white, educated Reformed Christians who say on Sunday mornings that "streams of trouble" call for songs of loudest praise will persist in singing those praise songs at times in their lives when they're no longer comfortable and when they are experiencing tremendous suffering.
If they do, it will be evidence that the countercultural theology of suffering that the global Christian church has long proclaimed really can offer a sustained response to the problem of evil and that one can still believe that even the most horrendous evils in human history are no match for the ultimate redemptive purposes of God.