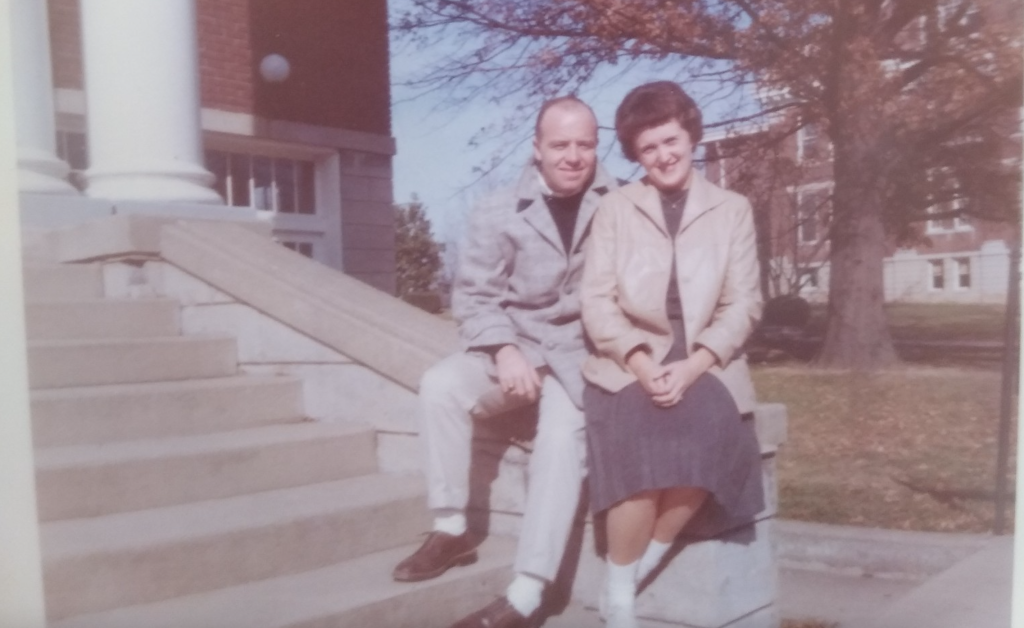 My mother hails from East Palestine, Ohio. Her roots there run deep. Around 1908, her grandfather left his Tyler, West Virginia home with his young family—including their toddler son, George, my grandfather—in search of steady work. They traveled north up the Ohio River until they reached East Palestine, which was, at that time, a pretty good place to find a job. Ideally situated near a nexus of several railroad systems connecting industrial economies from Chicago and Cleveland to Pittsburgh and New York, East Palestine was a small but bustling village (pop. 5,700 at its height in 1970) that sustained various light industries, including shops that would employ my great grandfather along with his sons and grandsons.
Mom grew up in a two-story house on East Martin Street with her parents and three older brothers. She experienced what always felt to me like a prototypically "Norman Rockwell" childhood of small town, postwar America: strong bonds of friendship and an ample supply of extended family rooted in faith, economic security, and deep-seated civic pride. East Palestine offered a vivid picture of what the Rust Belt was like before it became rusty.
After graduating from EP High in 1959, she headed off to Asbury College, a Holiness-oriented Christian school located in Wilmore, Kentucky. For Mom, Asbury combined serious training in Christian discipleship with academic preparation for becoming an elementary school teacher. It would also be a perfect place to meet like-minded suitors. During her junior year, she began dating a fellow member of the class of 1963, a fellow future teacher, and a fellow future parent of me: my dad! They married a few weeks after graduation.
These two tiny "nowhere" places, East Palestine and Asbury College shaped nearly every facet of my mother's life and character from birth through early adulthood. They conspired to launch her into a fulfilling career and what she would say has been an even more fulfilling marriage and family life. Both places retain deep meaning for her and for my whole family, and both hold precious memories—too many to count. Of East Palestine, for me, regular weekend visits and long summer vacations were spent with my grandparents who continued to live at that East Martin address until old age and sickness forced them to give it up. Of Asbury College, annual and semi-annual pilgrimages to Wilmore for concerts, board meetings, reunions, and prospective college visits (sadly, for my parents, neither my sister nor I ever enrolled).
As you may have surmised, February of 2023 has been an interesting stretch for our family. During the past few weeks, these two woefully obscure places have become prominent fixtures in the national news cycle and substantial fodder for countless blog posts, social media productions, and common water cooler chatter.
The catastrophic February 3 Norfolk Southern freight train derailment in East Palestine sparked horrendous chemical fires and dangerous environmental hazards, making the roiling disaster a political flashpoint and a source of endless debate. The nation watched in horror as village residents evacuated their homes and questions swirled regarding air quality, water safety, and "WHO IS RESPONSIBLE?"
And a routine Wednesday, February 8 chapel service on Asbury's campus continued for nearly two uninterrupted weeks of prayer, praise, confession, and testimonies of God's movement among his people. The energy arising from Hughes Auditorium drew thousands of people from across the nation and around the world who traveled to tiny Wilmore to witness and partake in the "Asbury Revival."
I recognize that very little ties these two extraordinary events—or these two places—together beyond their coincidental timing and their peculiar relationship to my mother's story; and to my own. But, on further reflection, I have begun to contemplate something else they share in common.
Over the past two weeks, both of these very real places have been transformed into symbols that feed and fuel American discourse and debate. East Palestine became a symbol of institutional failure, political marginalization, and the "forgotten man" grievances of MAGA America. It is little wonder that the train wreckage became a magnet for people like Marjorie Taylor Greene, J.D. Vance, and Donald Trump himself. Asbury, on the other hand, became a symbol of hope and a heartfelt desire to transcend the deep divisions that beset our nation—and our world—with an appeal to God's healing spirit and the promise of renewal. It too became a magnet for powerful voices eager to celebrate—and, in some cases, to exploit and monetize—the massive positive energy flowing from Wilmore, Kentucky.
There is nothing inherently wrong with making of such events symbols for reflection and analysis. In fact, I would say that doing so is an essential and inevitable part of working through our disagreements, clarifying our values, and seeking to solve our collective problems. Like any other American, I participate in this kind of thing all the time. But I rarely get to do so with places I know so intimately and love so deeply, and doing so in this case has revealed to me just how vulnerable such places are to abuse, misunderstanding, exploitation, and other sorts of chicanery.
The next time I seek to comment on a particular event in symbolic reflection on larger concerns, I hope I will take time to remember the real people of East Palestine and the real students at Asbury. There are important larger symbolic issues to draw from in such places, and such stories must be explored, discussed, and debated. But in doing so we all must remember that such places inevitably contain some very real people–even future mothers–whose particular stories need to be treated with caution, care, and reverence.