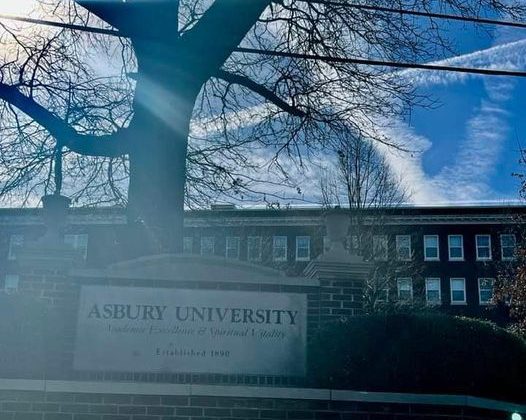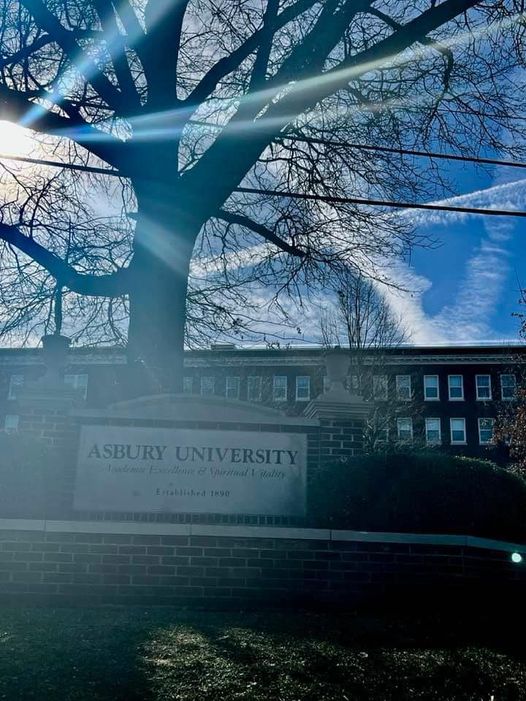 Read all of these posts , including the original post (covering Day 1 to Day 3 of the revival), here.
On Tuesday and Wednesday, February 21-22, the Outpouring services in Hughes Auditorium are reserved for participants 16-25 years old. However, a public live stream remains available during these services. If necessary, there will be a live simulcast for the general public in Estes Chapel at Asbury Theological Seminary during these service times. There will be no morning or afternoon services.
The first documentary was just released:
Pilgrims from College Station, Texas.
Baylor:
Instructions for Baylor students praying for revival: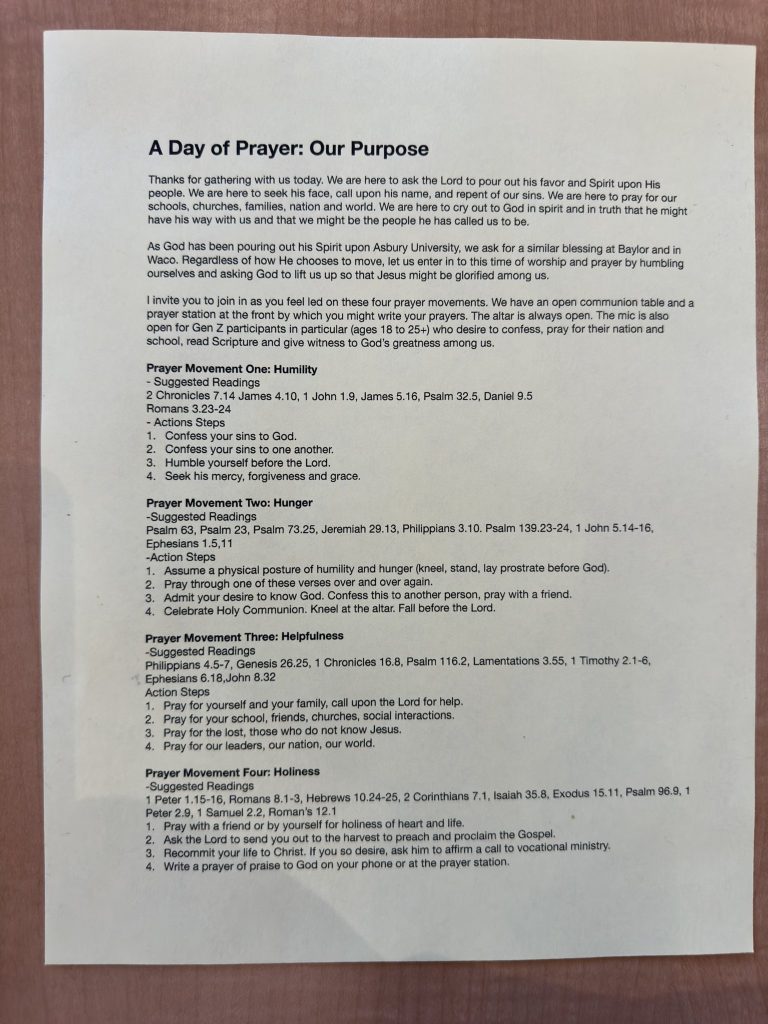 More from Baylor here.
Fox News on the ground:
Biblically unsound?:
On the ground yesterday:
A testimony from Sherry:
There is a hunger and it's growing stronger every day. My friends I want to let you know about my experience at Asbury this past weekend.
I rolled into Wilmore about 2:30 Eastern Time on Saturday afternoon. When I got to the campus I pulled into a parking lot and as I did a car was just pulling out of a parking spot so that is exactly where I was able to park. I didn't realize how much of a miracle that truly was until later.
Have you ever heard the phrase when God guides He provides? Well he certainly did. So I got out of my car and as soon as I put my two feet on the ground of the campus, I immediately knew that I was in for something special.
I immediately heard the sounds of people testifying through the loudspeakers outside of Hughes Auditorium. Tears were welling up in my eyes as I drew closer to where the event was taking place. As I approached the street I realized I was coming from behind the library. There on the porch of the library was a variety of places to sit to observe and soak in the glorious presence of our Lord coming from directly across the street. The anointing of God got stronger as I crossed the street. Everyone on campus was so filled with joy and love and even though you were stranger you were accepted not as a stranger, but a friend. The atmosphere was filled with worship. People were crying, people were hugging, people were praying for one another in the lines waiting to get into the auditorium. The line stretched far out around the corner of the campus and the wait time was an average of 4 hours just to get in to the auditorium. In addition, they told me about three other overflow buildings but each building also had people standing in line to get into the overflow buildings. There were no special big named speakers, or singers, or preachers. There were no performances whatsoever. This was humanity hungering and thirsting after God and His righteousness alone!!!
The entire town of Wilmore is only made up of 6,027 people. It only has two stop lights in it. It is truly in the middle of farmland.
Then we heard that the officials state 10,000 more people showed up on Saturday then in the previous two weeks. 10,000 more people.
And every one of the people were engaged with what was happening inside this Auditorium that was being broadcasted on the jumbotron. People were worshiping, people were crying, people were kneeling everywhere on the campus. Inside or outside it did not matter. It was truly a sight to behold. I imagine this is sort of a taste of what heaven will be like. There was pure love being given out and being received.
There was even a food truck giving away food and water for anyone who needed it and there was also room in that truck for people who needed private prayer. The local gas station on the corner was also giving things away. The other churches surrounding the campus had signs that they were open for prayer and restrooms were there as well for public use.
Everywhere I turned in the town of Wilmore, people were filled with wonder and you could see a hunger and thirst in their eyes but at the same time, filled with love and acceptance from our Heavenly Father. It was genuine love in ways that I've never seen from a public perspective or in a business perspective before.
My time at Asbury seems like just a preview of what I believe is coming to the whole nation/world. God said in His word that there will be a day when He is going to pour out His spirit upon All flesh. This is the time in which God is just starting to cover all the Earth with the knowledge of His glory…His beautiful presence and His goodness. His pure and genuine love will be experienced by all humanity.
Rhema shares this photo from Texas A&M University: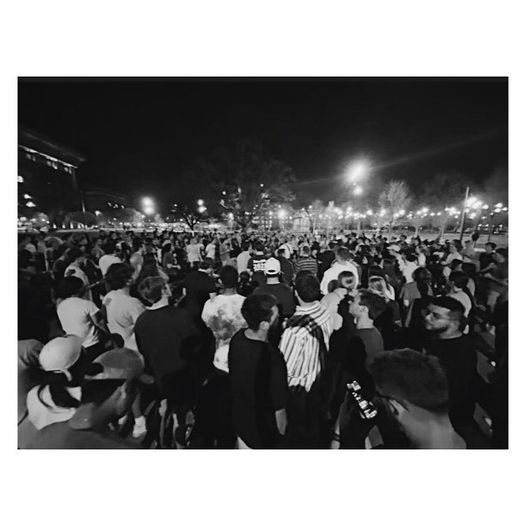 And here is Rhema's FB post: "It would be difficult to count the places and spaces that the power of God is breaking out around the Earth right now. In a matter of two weeks thousands of people have begun gathering in hunger. What began at Asbury college is now unable to be contained. This is a picture from last night at Texas A&M. A few college students started an outdoor prayer meeting and the power of God fell on over 400 young people outside as a 9 year old girl sang a prophetic song."
More testimony. A Chicago visitor. Watch the interviewer try to manipulate the interviewee to serve his agenda:
A testimony from Laura:
I'm sitting in Estes chapel at the asbury revival. The Lord is dealing with me to write down what I see and have seen. I've seen hearts on fire with a flame of repentance. As I walked through the door way I felt an overwhelming presence- I honestly can't even put it into words. I've seen grown men weeping under the convicting power of the Holy Spirit. Men women and children from all nationalities worshiping together- praying together- crying together- repenting together. It's beautiful. The Lord is beautiful I seen a man- probably 50 years old, as he came into the sanctuary I noticed he went straight towards the altar. As if his number 1 mission was to find an empty space to pray and repent- and he hesitated. He stopped at the end of the second pew from the the front of the church nearest the altar. I could see years of wear and tare upon him. Tattoos and scars remnants of old wounds and when he hesitated I was reminded….. that was me! I was him!!! I remember seeking for an altar when I was so lost— and wounded and full of sin and shame- I remember hesitating…. And with BOLDNESS the man took the next three or four steps towards the altar and fell down on his face and began to cry. All I could do was weep under the convicting power of the holy spirit. I was being reminded of where I came from! *This big bald scary man he was humbled and brought low and hugged up into the presence of God just like the prodigal son. He stayed at the altar for a long time. To be honest.. time was different at the asbury revival. What felt like 10 minutes was actually 4 hours. When he finally stood up he didn't look the same. His face had changed. There was light where once was darkness. It was so beautiful.
-I met a lady from Brazil who could speak very little English. She brought her husband and family there to experience a move of God. In the pew behind us a young woman was sharing the journey she had came to be there. She was from Houston Texas and her friend from Albuquerque New Mexico. They met at the airport in Houston and flew from there to Nashville Tennessee and drove the rest of the way just to experience a genuine move of God. In one mind and one accord hundreds possibly thousands of people sang praises to the Lord. There was no agenda. There was no introduction and fancy smancy band or attire just a people HUNGRY for God. I seen children as young as 5or 6 at the altar praying and weeping. I seen the staff rushing to pray for those who filled the altars not as if it were a task but as if it were an honor. They wept with folks both young and old. They held one another rejoiced with one another. I seen the most unlikely of people who wouldn't normally share a conversation together- not only talking but weeping and praying. It was so beautiful. The move of the holy spirit at Asbury University is beautiful. Oh so beautiful. <<<<<<<written Sunday 2/19/23 during the Asbury revival and finished at home the following day.
Mapping the revival:
Coincidence?: "The Collegiate Day of Prayer, an annual nation-wide event, is this Thursday. The simulcast will be hosted in the chapel at Asbury University. This was planned long before the current revival broke out in that very room. ALSO… the movie, Jesus Revolution, releases this weekend about a major youth revival in the 1970s. ALSO… Ash Wednesday is this week when lots of Christians set aside time for fasting, prayer & repentance. There are a lot of "coincidences"
God send revival."
More Tim Beougher:
Ron reports from an Oklahoma prison:
My wife and I are volunteer assistant chaplains at a medium-security prison. We have been intently watching from afar in Oklahoma. I have done the research on the outpouring in 1970. On Friday we will be giving testimony from 1970 & 2023. The Holy Spirit is moving on the yard. Last year we saw 166 decision for Christ, 65 baptized and many physical healing, including stage 4 cancer. We have already seen over 2 dozen decisions for Christ and 3 baptized, this year. But God! We are hungry for more of His Spirit. COME HOLY SPIRIT, COME! BE praying for this please. Going in tonight for 3 hours to lay the foundation with to top leaders and the inside pastors of the different church communities. 5:30-8:30 central time. Then, all day inside the prison tomorrow.
Just got home from 9 hours inside. Gave 1.5 hour message recalling 1970 Revival and stating what is currently happening. I have never cried so much giving a message. It gutted me, HIS GRACE IS SO ABUNDANT. Many of these men were crying a river. The challenge is working within the system of body count times,but we must render under what is Ceasars what is Ceasars and render unto God what is God's. In the natural I can't see a way,but my God can make a way, where there is no way. The seeds are planted, God will give the increase.
A Baptist pastor visits Asbury and writes about it at The Gospel Coalition: