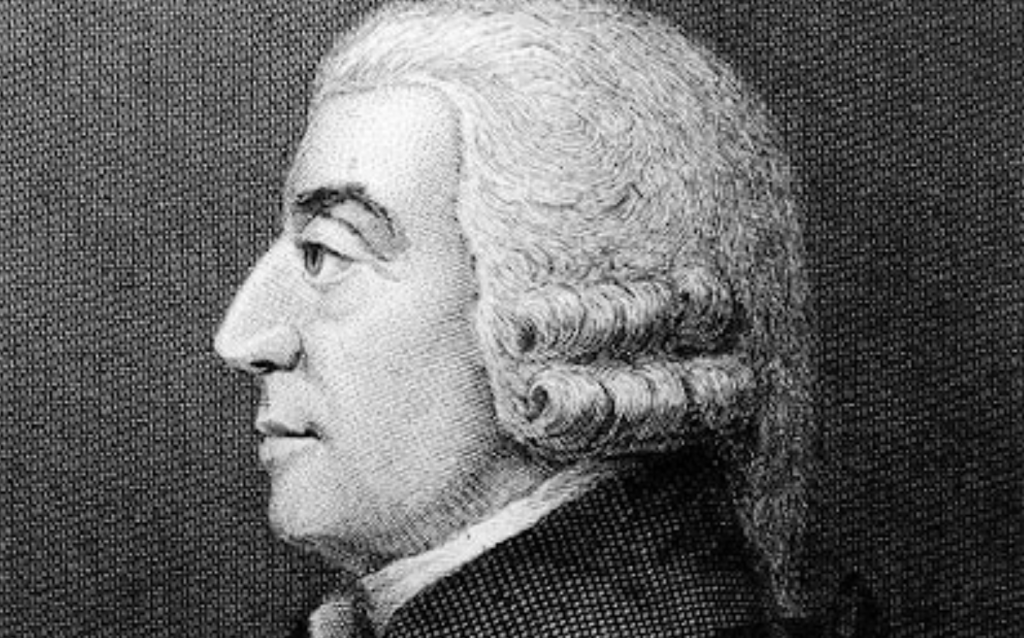 There may be no satisfying answer to this question, says Glory Liu
Adam Smith's America: How a Scottish Philosopher Became an Icon of American Capitalism by Glory M. Liu. Princeton University Press, 2022. 384 pp., $35.00
Few economic theorists have ever had their image put on a commercially marketed necktie. Yet between 1980 and 1982, 10,000 Adam Smith ties were sold. By that point the Scottish philosopher's landmark tome, The Wealth of Nations, was more than 200 years old, but his status as the prophet of laissez-faire capitalism had only increased with time.
As Glory Liu's book Adam Smith's America suggests, to many Americans Smith is not merely one economic thinker among many; he is the premier economist—the genius who discovered the only way that an economy can work successfully. To proponents of laissez-faire capitalism, The Wealth of Nations is what Charles Darwin's The Origin of Species is to evolutionary biologists: the book that outlined a new paradigm that changed everything.
But how did Adam Smith and his Wealth of Nations acquire such a status? And have Smith's acolytes really understood his message correctly? These are the questions Liu's book seeks to answer. By tracing the history of how American economic thinkers have portrayed Smith's economic ideas for the past 250 years, Liu demonstrates that while most American economic thinkers always respected Smith, they did not assign him a uniquely reverential status until the second half of the twentieth century—and when they did, they probably misunderstood his ideas.
It might be tempting to think that since Smith published The Wealth of Nations in 1776 (the birth year of the United States), America and Smith-style laissez-faire capitalism grew up together. After all, isn't Smith's economic philosophy—especially his argument that the "invisible hand" of the market creates a more efficient economic system than any government-planned economic system can provide—as American as apple pie?
But that wouldn't be entirely accurate. Smith's book circulated widely among educated Americans from the date of its publication. John Adams, a voracious reader who was always ready to engage with intellectually stimulating ideas, read the book while he was vice president. Smith's work remained somewhat widely quoted among American economists throughout the nineteenth century. Yet for nearly all of the nineteenth and early twentieth centuries, Smith's economic philosophy met more often with mild criticism than unmitigated praise among American economists.
While American economic thinkers of the mid-to-late nineteenth century usually had great respect for capitalism in theory, they were much less enthusiastic about free trade than Smith was. The Republican Party of the time favored protectionist tariffs in order to promote American manufacturing. Even their opponents favored modest trade barriers for revenue purposes. While free-trade Democratic-leaning economists sometimes quoted Smith in arguments with Republican protectionists, more often than not the proponents of high tariffs countered that Smith's eighteenth-century ideas needed to be updated for the modern world. Smith's philosophy sounded good in theory, they said, but it was obvious from practical experience that American economic growth depended on protectionism.
Economists of the early twentieth century who favored greater state intervention in the economy took a similar approach. Smith might have been a great thinker, they said, but his ideas were not gospel. They were not going to let The Wealth of Nations stop them from advocating for an expanded state and more government economic intervention.
It was the opponents of this expanded welfare state who rediscovered Smith and gave him his exalted status in American thought. During the forty years after World War II, free-market advocates at the University of Chicago treated Adam Smith as a saint and attempted to give The Wealth of Nations the status of scripture in the field of economics.
George Stigler, a Chicago economist who once had himself photographed sporting a T-shirt that said "Adam Smith's Best Friend," proudly declared that because of the efforts of his pro-free-market colleagues, Smith was "alive and well and living in Chicago."
Foremost among the Chicago proponents of Smith's ideas was Milton Friedman, one of the many economists who began wearing an Adam Smith tie in the early 1980s. Friedman became a household name among Reagan voters when his bestselling book Free to Choose was turned into a documentary series on public television. According to the Chicago economists, Friedman's free-market advocacy and libertarian-leaning opposition to government economic regulation were simply a twentieth-century channeling of Adam Smith's 200-year-old gospel.
But Liu argues that the Chicago venerators of Smith's ideas misunderstood him. For them, Smith's main contribution to economic thought was that "self-interest" was the foundational principle behind all of economics, politics, and maybe even life itself. Self-interest was to the Chicago school what natural selection was to Charles Darwin: the key to understanding everything.
"The Wealth of Nations is a stupendous palace built upon the granite of self-interest," Stigler proclaimed. Self-interest explained so much in human behavior that the principle was "Newtonian in its universality," he believed. It was a "theorem of almost unlimited power on the behavior of man."
In the view of the Chicago economists (some of whom became advisors to the Reagan administration), this principle had clear policy implications. Instead of seeking to curb individual self-interest or regulate the economy, the government should instead leave the free market alone. The government should also give people freedom to be as self-interested as they wished, content in the knowledge that self-interested individuals would, in an unregulated economy, pursue the course that would lead to the maximum economic efficiency and greatest happiness for all.
For Reagan Republicans, Smith became the intellectual guru of a deregulatory political movement that treated Keynesian economics—the mid-twentieth-century macroeconomic theory that had been used to justify state intervention in the economy—as its nemesis. As Herbert Stein, chair of the Council of Economic Advisers, observed, "People who wear the Adam Smith tie are not doing so to honor literary genius . . . They are doing so to make a statement of their devotion to the idea of free markets and limited government."
But was Smith really a libertarian who opposed both moral and economic regulation and who made a virtue out of selfishness? It seems hard to believe that an eighteenth-century Scottish professor of moral philosophy and author of the widely disseminated book The Theory of Moral Sentiments (1759) would have intentionally built a literary "palace" on the "granite of self-interest," as Stigler believed.
The Chicago economists who imagined Smith as a prophet of libertarianism could find no plausible way to reconcile his Theory of Moral Sentiments with his Wealth of Nations, so they simply treated The Wealth of Nations as an implicit repudiation of his earlier work and its search for a moral and just society. It was as though Smith had wandered in darkness for years, blinded by his training in moral philosophy, until he finally saw the light and realized that the self-interested behavior that orthodox Christians had long associated with the effects of original sin was actually the key to economic efficiency and human flourishing.
This is not historically plausible, Liu argues, and for that reason, few if any historians of Adam Smith's ideas accept the Chicago school's portrait of him.
Liu is a bit more sympathetic to the picture of Adam Smith that emerged from late twentieth-century neoconservatives such as Irving Kristol and Gertrude Himmelfarb, who wanted to reintegrate the ideas of The Theory of Moral Sentiments into an understanding of Smith's writings on economics. Since they shared the Chicago school's opposition to economic regulation but disagreed with the Chicago economists' libertarian dismissal of moral reform, they sought a way to integrate free-market economics and moral regulation by arguing that Smith's laissez-faire system depended on each individual's self-regulation.
Smith did not view self-interest as a virtue, the neoconservatives claimed. Instead, while recognizing the harm that could come from regulation by the state, Smith, they believed, held that individuals would have to regulate themselves through self-discipline—a concept that seemed to be missing from Stigler and Friedman's portrayals.
But today many scholars think that perhaps the most morally problematic aspect of capitalism is not necessarily its threat to individual virtue but rather the great inequality it produces between the rich and the poor. What would Smith have thought about that?
A new generation of Smith scholars has answered this question by showing that the author of The Wealth of Nations actually cared a great deal more about poverty and inequality than previous interpreters of his work have assumed. The Theory of Moral Sentiments argued that people have a natural inclination both to self-interest and to concern for others—and that "mutual sympathy," as Smith phrased it, will lead to moral behavior and a just society.
Perhaps, therefore, Smith implicitly assumed in The Wealth of Nations that a free market composed of individuals who care about the well-being of others will not behave in the sort of avaricious ways that have sometimes characterized American industrial or post-industrial capitalism. Indeed, there is substantial evidence that Smith favored free-market capitalism precisely because he believed that in the long term, it was the economic system that would result in the greatest reductions in poverty and maximum amount of prosperity for people of all social classes.
"No society can surely be flourishing and happy, of which the far greater part of the members are poor and miserable," he wrote. Those who worked to "feed, clothe, and lodge" others should themselves be "tolerably well fed, clothed, and lodged."
Despite being remembered as the proponent of laissez-faire capitalism, Smith actually favored modest interventions in the economy when they were necessary to secure a level playing field. Modest progressive taxation could help the working class, he thought, but he favored above all universal, compulsory, free public education to give the children of workers a chance to advance in a free-market economy.
So, what would Adam Smith do in 2023? Would he embrace libertarianism and decry government regulation of the economy? Or would he advocate state subsidies to make college education free for all? Would he campaign for a living wage in order to ensure that the benefits of capitalism could be enjoyed by all laborers?
It's difficult to answer these questions because Smith lived at a time when laissez-faire capitalism was a theoretical ideal, not a lived reality. He imagined that a free-market economy would lead to reductions in poverty and increased flourishing for not only the wealthy but also the working class. He imagined that a capitalist system could comfortably coexist with the beneficent moral behavior he had described in his earlier work.
But people continue to debate Smith's ideas precisely because his optimistic vision has not been realized. When economic inequality increases and when the moral society based on "mutual sympathy" that Smith imagined fails to appear, is the answer more of Smith's philosophy or less?
Liu argues that we continue to study Adam Smith because we imagine that an application of his economic or political ideas will improve our society in some way or impart some wisdom that will be useful for the present. For most students of Adam Smith, Smith is never merely a historical figure; he is always a potential prophet for our own time. But because of the difficulty in figuring out how to translate his eighteenth-century thinking for the problems of the twenty-first century, Smith will always in some ways remain elusive.
In other words, the question "What would Adam Smith do?" may not have a satisfying answer.
In the end, we may have to settle for the view that most American economists of the nineteenth century adopted: Smith was a brilliant theorist, but his writings were not universally applicable and should never be treated as infallible scripture. When we adopt this more nuanced view, Liu's book suggests, we may finally be ready to abandon the imaginary Adam Smiths of our own creation and learn something useful from the real Smith himself.
Daniel K. Williams is a professor of history at the University of West Georgia and the author of several books on religion and American politics, including God's Own Party: The Making of the Christian Right and The Politics of the Cross: A Christian Alternative to Partisanship. He is a Contributing Editor at Current.