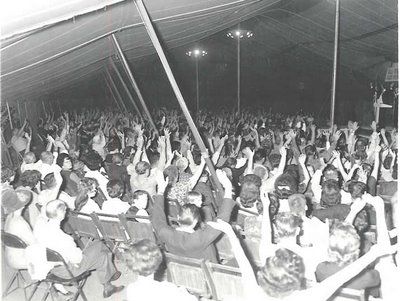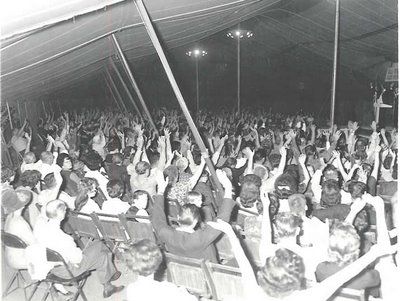 What is happening in Evangelical Land?:
For those interested in the Asbury Revival, we are covering it extensively here.
More on Latino evangelicals in Florida who are trying to get Ron DeSantis to take a man off death row.
Charlie Dates on the Black church in Chicago.
Evangelical churches in Argentina are growing. Why?
Love it:
Beth Moore on racism and justice.
Evangelicals unite for a more just and sustainable world.
Michael Wear on Jimmy Carter:
And Lisa Sharon Harper:
A never-before heard Rich Mullins recording (HT).
A new book by the vice-president of the Evangelical Environmental Network.
Jack Hayford's memorial service:
Jim Wallis and Jemar Tisby:
Syrian evangelicals respond to earthquakes. More here.
Shane is in Harrisburg and he is wearing a tie:
More on the LGBTQ controversy at Seattle Pacific University.
News about Samaritan's Purse in Turkey.
African bishops tell the Anglican Church to "repent" for its decision to bless same-sex marriages.
Blast from the past:
Mike Pompeo: Israel has a biblical right to Palestine.
Richard Land says a recent book on social conservatism is "a classic."
Mike Huckabee had a crush on Raquel Welch. I wonder if he knew that Welch attended a Presbyterian Church in America (PCA) congregation:
Court evangelicals in Hollywood:
Preston Sprinkle is changing his views on complementarianism and Denny Burk is not happy about it.
Franklin Graham, Michael W. Smith, and a sombrero:
Graham on Carter:
An evangelical pastor in Mozambique has died after trying to imitate Jesus's 40-day fast in the wilderness.
Where are the "biblical men"?
More on the Bruxy Cavey scandal at The Meeting House in Toronto.
A member of the Southern Baptist Convention sexual abuse task force has resigned.
The woman at the center of the abuse allegations at John MacArthur's Grace Community Church.
Lance on the World Health Organization:
Lance on the "mysterious octagonal object" over Michigan:
Two evangelicals having a conversation about Ukraine:
Charlie "Support our Troops" Kirk responds:
Trump court journalist David Brody of Christian Broadcasting Network talks to Nikki Haley about vaccines:
Also on the World Economic Forum:
And John Hagee. Notice how Brody says nothing about this.
And on courting evangelicals:
More David Barton false claims.
Jack Hibbs compares himself to John Adams:
Robert Jeffress and Coach Kennedy. But has the coach returned to his job yet?
When did public transportation become part of the Family Research Council agenda?:
Paula's new book:
Only Albert Mohler can make Jimmy Carter's impending death about himself.
Tom Buck does not like the He Gets Us campaign because of its stand on abortion: